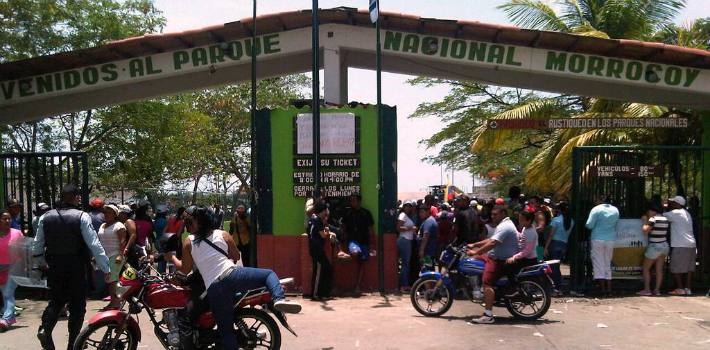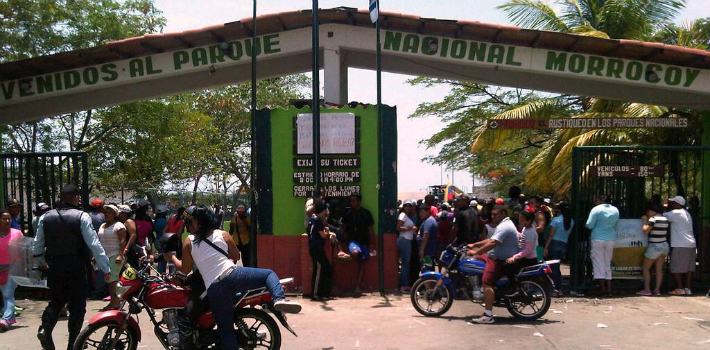 EspañolOn the afternoon of August 15, Twitter was abuzz with news of protests from residents and tourists of Tucacas, located in the state of Falcon, Venezuela. Their opposition has been to Morrocoy National Park's higher admission fees, and the alleged state appropriation of one of its islands for the exclusive use of state-run Venetur Hotel.
Protesters denounced repression by the National Guard, who targeted them with tear gas and rubber bullets. Three people were injured, and seven others were arrested for disorderly conduct.
The day prior, Tourism Minister Andrés Izarra announced new rules for Morrocoy National Park, and these include an increase for the price of admission, from 5 Bs. (6 US cents) per vehicle to 80 Bs. for small cars and 150 Bs. for trucks, a 15-fold increase. Through a press release, the National Parks Institute said that "the new rates reflect the need to adapt to the maintenance costs of the park."
Protesters also expressed concern over the eviction of informal traders who were serving customers on Boca Seca Key in Tucacas. The official justification was the need to rehabilitate the island, but suspicion has remained among locals that this measure is to prepare the beach for Venetur Hotel guests only.
One man who normally sells ice cream from Chichiriviche, Miguel Bazora, commented that "the government doesn't have money, so President Nicolás Maduro is using Tucacas like a mine for resources and assets."
Looming Service-Provider Cartel?
The National Parks Institute has explained that the Boca Seca Key will fall under their eco-tourism plan, and they will manage all commerce in the area, from restaurants to accommodation. The stated objective is to reduce the human impact from personal possessions on the beaches. The construction of a jetty and various other state-led infrastructure projects has already begun.
However, the eviction measure against the people providing these services up until now on Boca Seca Key is reminiscent of prior expropriations, and could spell limited access. The Chavista regime has conducted thousands of these, throughout various economic sectors, including when they gained the Venetur Hotels themselves.
Venetur Hotel (Venezolana de Turismo), of which there are 14 locations, is recognized as "Chavista property." In fact, they are known to reject individuals critical of the regime, those who do not share the socialist ideology. On the Venetur website, they define their hotels as a "tourist landmark … on account of the wishes of Venezuela's Bolivarian government under the guide of El Comandante Supremo, Hugo Chavez, and the president of Venezuela, Nicolas Maduro."
Protesters allege that this state monopolization of the area would be illegal, if it were to be limited to hotel guests. The Morrocoy National Park was created by a 1974 executive order, to defend against human intervention, such as illegal occupation, unplanned urbanization, pollution, and landscape degradation — not to favor certain sectors.
Protesting residents point out that the law explicitly decrees that the park cannot discriminate against the entry of citizens. In addition, local resident María de Llesca notes the poverty they suffer through, as government money is wasted: "While the people of Tucacas cannot make repairs to their homes, Venetur is destroying protected mangroves to build their luxury accommodations."