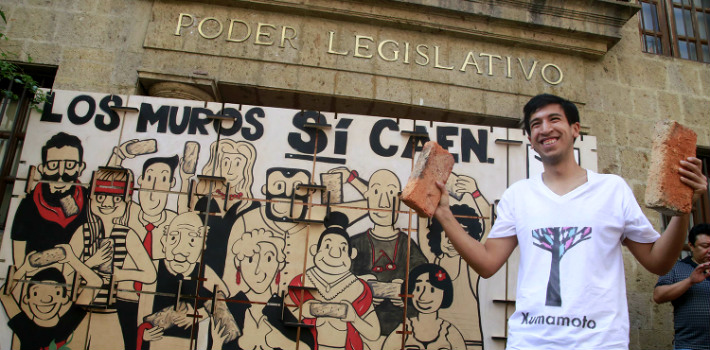 EspañolIn a country where politics is synonymous with corruption, elitism, and tradition, Pedro Kumamoto's rise is truly a David versus Goliath story.
The world knows him as the 25-year-old who defeated Mexico's most powerful political parties with only US$1,100 (MEX$18,626) in state funding.
One month since his historic victory on June 7, Pedro Kumamoto, the first independent congressman in the state of Jalisco, shares with the PanAm Post his experience during the campaign, as well as his expectations to create a more participatory democracy in Mexico.
In the age of social media, Kuma, as he's known in the city of Zapopan, says candidates do not need party affiliations, big donors, or false promises to connect with citizens. Instead, they should seek to engage with the public and turn the system into a one that is more inclusive and community oriented.
You studied Cultural Management at ITESO and were a founding member of the Wikipolítica democracy project. When did you realize you wanted to run for Congress?
More than a specific moment or the interest to run for public office, what changed was my desire to get involved in the politics that lies within the government. We decided that we had to get involved in the decision-making process. This began since we started the Wikipolítica platform.
It was a process in which the 17, 18 people who worked in the organization decided that that I should be the candidate, perhaps because of my role as president of the Student Association or as researcher at ITESO's Legislative Observatory.
Given Mexico's recent political history, we decided to exercise our right to vote and be counted, and not just through traditional political parties but with an independent candidacy.
You collected US$16,000 in donations and were heavily outspent. How did you come up with the motto, "Los muros sí caen" (Walls do fall)?
I said the phrase during an interview. Afterwards, I tweeted it, and it went viral. We then realized that it was a worthwhile slogan. After consulting with some of our advisers, we realized that it could be a good motto to develop a really important concept for us: "political changes are born, forged, and conquered."
"Los Muros de la partidocracia sí caen, los muros de la desesperanza sí caen. Hagamos historia juntos" #YoVotoKumamoto #LosMurosSíCaen

— Pedro Kumamoto (@pkumamoto) May 27, 2015

"The walls of the political-party system will fall. The walls of despair will fall. Let's make history together."
When the campaign kicked off, did you think the stark monetary and advertising difference between you and your opponents would be a disadvantage?
No, on the contrary. In the end, those things do have their benefits, but we were really happy and convinced that we could run a different sort of campaign without an absurd amount of money. That freed us up to use our creativity as an asset.
In other words, we did not have a lot of money, but we had a lot of people willing to dedicate their entire day to volunteering, thinking, and canvassing. That was an advantage over the political parties, whose supporters often will not show up and help unless you pay them.
How did your team coin the narrative "citizens conversing with citizens" to generate a more democratic culture?
Well, that was one of the most important aspects of Wikipolítica. We'd been working on that for two years. That's two years of theorizing, talking, and raising different issues. It was through these conversations that we came up with this narrative.
It took many hours and lots of debate, but we think we came up with something solid in the end.
Yours was a victory for social media and innovation over money. How did you capitalize on the hype and make sure it didn't  stay online only?
Actually, we hit the streets all the time. To put it one way, digital social networks mirror traditional, "analogue" social networks. It's utilizing, developing, and empowering trusted networks that are based on the principles, the ideas and the honesty that you can generate. Therefore, we were not a social-media movement.
Although it is true that many people came to us thanks to our online outreach efforts, it is also true that we were not tweeting all day. I was on the ground, giving away stickers, at local markets, at universities. We went out and fought on both fronts. What you saw on social media was also happening on the streets, and vice versa.
We believe in the power of social media, but we know that the power of face-to-face interactions will never be replaced.
What was the key to winning the seat for Zapopan's 10th District?
On the one hand, there's the utter discontent and rejection of traditional political parties by the people who live in my district. It's a deep-rooted rejection. My municipality historically votes for the opposition. On the other, we connected with experts and interest groups that provided us with legitimacy.
To get there, we needed to have a creative campaign, one that aimed for innovation, not only in regards to technology but also on transparency and accountability, on generating a sense of belonging and establishing an inclusive platform.
I think that the last component was the work of a great team, one that worked around 15 hours every day to win this seat.
Based your experience, what would you say to other young adults across Latin America who, like your team, are also tired of the political party system in their own countries?
I would tell them that they have every reason to be angry and to be tired of traditional politics, but I would continue with the same idea that we really want change. To reach our dreams, we need to get in the mix, and achieve them with our own hands.
It's important that we make sure that no one, in any other future generation, has to fight for what our generation is fighting for today.
There are two fronts. Perhaps one will be within the realm of traditional politics, and perhaps another outside of it. The key here is that we realize both are essential to achieve the society we are fighting for.