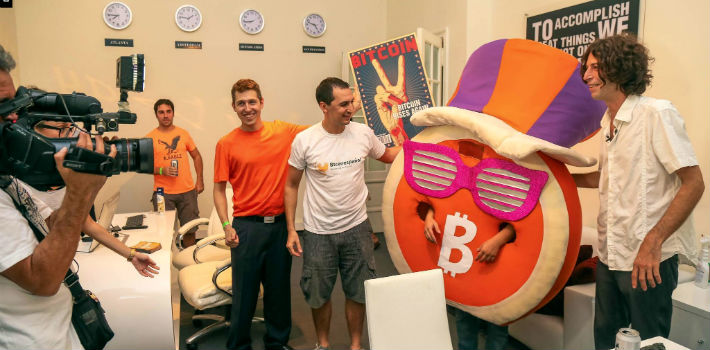 EspañolDue to Argentina's recurring inflation crisis, capital controls, and overall financial repression, it's become a staple opinion in bitcoin circles to predict that the country is set for a crypto-currency boom.
Actually, Argentina is very far from widespread bitcoin adoption, and it's likely that most people never used it. However, a lot of Argentineans have heard about bitcoin through the media, and they are perhaps more willing than others in Latin America to try it out.
As such, it's worth taking a look at the current situation of Argentina's bitcoin community and how people use it.
Multiple Uses
Argentina is suffering annual inflation higher than 30 percent, and has in its recent history hyperinflationary episodes that even reached monthly rates of 200 percent (1989). It's also experienced blocks on bank deposits (2001) and confiscations of the same (2002).
Meanwhile, transfers of money abroad require special permits that the average citizen rarely obtains. Receiving money from outside involves the Central Bank taking a cut of over 30 percent of the sent amount, given that foreign currencies are forcibly exchanged to Argentinean pesos at the official exchange rate, which is 30 percent worse than the going rate for pesos on the street.
These kinds of experiences, a regular feature in the history of Argentina, have made locals accustomed to unorthodox situations: from saving and exchanging certain goods or services in a different currency to the peso, to buying shares in companies valued in national and foreign stock markets, buying them locally but selling them immediately on foreign markets, "sending" money abroad.
It's here that bitcoin has awakened a particular interest among those who are used to struggling with non-traditional financial solutions, storing money outside of the banking system, and realizing exchanges without letting political borders get in the way.
In this category are freelance workers, programmers, graphic designers, and other small entrepreneurs who need to collect and send money internationally. For these kind of users, bitcoin is an easier option than selling, for example, through Paypal or Skrill, given that bitcoin comes with more buy/sale locations than other payment processors; due to government financial restrictions, it's not easy to transfer virtual balances into cash.
While some services like Neteller now allow people to top up online accounts via bitcoins, for many Argentineans they have to take the reverse route to be able to convert Neteller or Skrill balances (for example via oDesk jobs), to bitcoins, to to able to sell locally with ease. Today, the conversion between these kinds of balances and bitcoin is carried out through services like Saldo.com.ar.
Other local uses include currency remittances and transfers for those who have overseas bank accounts and need to deposit or withdraw from them, using services like Coinbase, Safello, or Bitstamp, among others, with this objective. In general, this is usually for people and their personal savings or small companies; large corporations use other mechanisms that don't rely on bitcoins for these kinds of operations.
Finally, we have traditional users, independent on the particular economic situation of Argentina. Here, the reality isn't very different from the rest of the world: purchases are made online of all kinds, and some physical businesses accept bitcoins as a means of payment, but such transactions are still relatively scarce.
Growing Community
Beyond certain exceptions, it can be said that local bitcoin activity began in April 2011 with a post on gaming forum 3DGames. Gamers, accustomed to having good 3D video equipment, shared their experiences about "mining" bitcoins using their GPUs and exchanging batches of 1,000 bitcoins (almost US$250,000, according to the current exchange rate).
The majority of these "miners" sold their bitcoins rapidly and only a handful of them today are part of the local bitcoin community. Meanwhile, the website elBitcoin was being created, the only site in Spanish of the era that had information about bitcoin.
Towards the end of 2012, Wences Casares, today the CEO of Xapo, created a meeting via the Meetup platform. From that point onwards a community was formed that organized regular events; the same Meetup group now has more than 1,500 members, one of the five largest in the world linked to bitcoin.
In 2013, the NGO Bitcoin Argentina was born with the objective of promoting and facilitating the use of bitcoin and related technologies. It led the way with talks in universities, colleges, and governmental institutions.
The Latin American Bitcoin Conference (laBITconf) of 2013, held in Buenos Aires amid a dramatic surge in the value of bitcoin and organized by Argentineans, attracted hundreds of interested people, and boasted the principal companies and supporters of bitcoin technology. In 2014, the same organizing group collaborated with the Fundación Bitcoin Brasil to bring the conference to Rio de Janeiro, where a huge quantity of Argentineans attended, more than 20 percent of those present.
In parallel, an ecosystem of bitcoin businesses began to emerge in Argentina. The creation of the Espacio Bitcoin (Bitcoin Center) in 2014, a virtual currency hub located over three floors in a building a handful of blocks from the financial districts of Buenos Aires, is now set to become one of the most vigorous centers of the global bitcoin community.
Translated by Laurie Blair. Updated: April 8, 02:26 p.m. EST