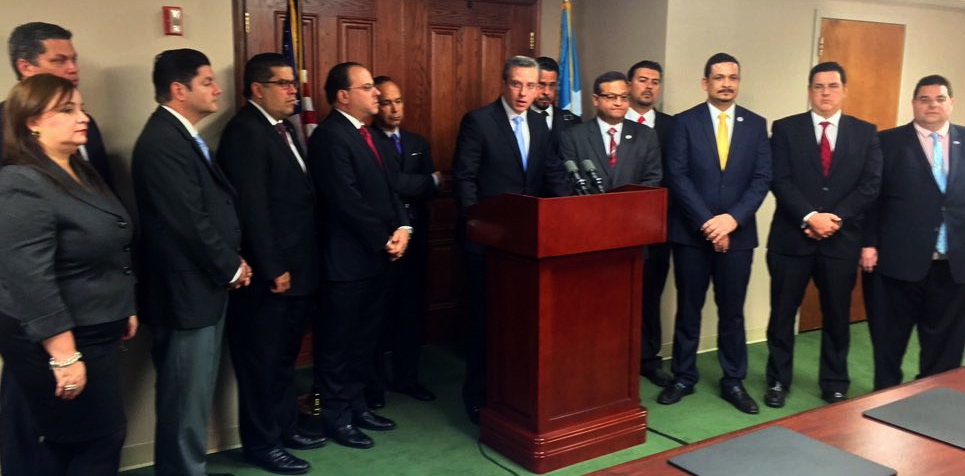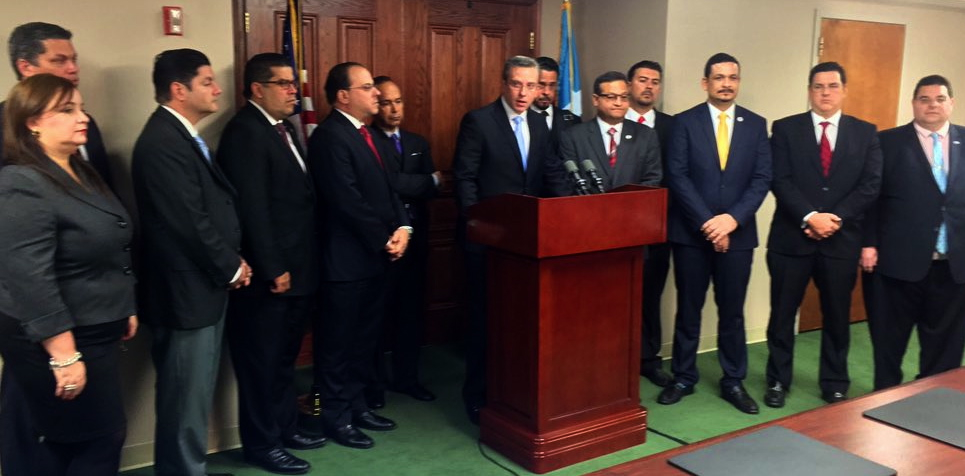 EspañolWith US congressmen preparing for Christmas break at the end of the week, a bevy of Puerto Ricans made the trip to Capitol Hill on Wednesday to tell them not to go anywhere — not before approving bankruptcy proceedings.
On December 1, the island's government made a US$250 million debt-service payment, but Governor Alejandro García Padilla testified before the Senate Judiciary Committee that he had exhausted cash reserves and could no longer attract lenders. The US territory's fiscal management, with an estimated debt of $110 billion, ranks worse than all the states and makes them look almost enviable by comparison, as detailed by the Mercatus Center at George Mason University.
Now the governor's message, flanked by various political leaders, is that Puerto Rico must be able to declare bankruptcy, and before the new year. To highlight this point and up the pressure on Congress, he held a press conference and "distress call" at the Puerto Rico Federal Affairs Administration this morning, 10:30 a.m. EST.
The island must "restructure" its liabilities, García claims, or default is unavoidable and the fiscal and humanitarian crisis will "have significant consequences on the American economy and global financial markets." He says Puerto Rico has already engaged in "fiscal gymnastics," and is asking "for the tools to do the job," but "not a bailout."
The Treasury Department and the White House have prepared crisis plans for Puerto Rico, and there is bankruptcy legislation pending in Congress. However, the Treasury proposal includes increased federal funding for the island, a brake on its passage, and the legislation is unlikely to see a vote this week.
[adrotate group="8″]
The degree to which Puerto Rico's problems are self made also remains a matter of hot contention. The commonwealth's treasurer even admitted in July that the money was there, but that it should be used "for other things."
Likewise, Puerto Rican lawyer and commentator Luis Davila has choice words for the governor. He hits back that default is "a discretionary public-policy decision, made to benefit pork, waste, and political patronage.… The Puerto Rican government has enough funds, but they have chosen not to cut the fat, for political expediency."
Instead of handouts or bankruptcy, Davila wants to see public hearings and "criminal charges for fraud, violations of securities laws, and the taking of property without due process.… the biggest securities fraud perpetrated under our American flag." He proposes that Congress "separate a percentage of current federal funds that are not entitlements to help the colony meet its constitutional obligations."
Congressman @RepGutierrez now offers his remarks on today's press conference – watch live: https://t.co/FXJQ61Cgpe pic.twitter.com/mHtgpTqBpy

— PRFAA (@PRFAA) December 9, 2015
Those at the press conference, though, deflected any culpability and said that the crisis had been building for decades. Congressman Luis Gutierrez (D-IL) made an appearance and promised to withhold his vote on any major spending bill and do all that he could to get the Puerto Rico crisis dealt with.