EspañolCanada has a problem. Her highest court ruled in 2013 that prostitutes have a constitutional right to work, but federal officials still do all they can to impose prohibition on the industry.
These acrobatic lawmakers no longer prosecute prostitutes — so long as they remain out of sight — but they do go after "johns," the consumers. In addition to the demand-side prohibition, the 2014 Protection of Communities and Exploited Persons Act (Bill C-36) outlaws solicitation and advertising of sex work.
This ad hoc law is likely unconstitutional as well, as affirmed by Mami Soupoff of the Canadian Constitution Foundation. However, a much-needed mini documentary by Vice Media looks beyond the legalese to the heart of the matter: why Canada's reining politicos remain determined to crack down on prostitution, and the impact on those working in the industry.
The New Era of Canadian Sex Work, released in June this year, opens with the great divide. The film host and narrator, Lowell, posits that prostitution is known as the oldest profession, implying the futility of prohibition. But as soon as the words leave her mouth, Representative Joy Smith (Conservative-MB) counters that it is "one of the oldest oppressions."
And herein lies the most important assertion and finding of the 35-minute film: the prohibitionists are driven by moralism, as opposed to policy outcomes and concern for the wishes of prostitutes. This becomes apparent as they frame all prostitution as coercive and parrot the unbacked claim that Canadians enter the industry on average between the ages of 12 and 14. John Lowman of Simon Fraser University in British Columbia has rightly dismissed such assertions as urban myth.
Senator Donald Plett (Conservative-MB) even let the cat out of the bag during parliamentary debate over Bill C-36: "both of you have talked a number of times about how this is making it more dangerous for prostitutes. Well, of course, we don't want to make life safe for prostitutes; we want to do away with prostitution. That's the intent of the bill."
Yes, of course, because how could pushing an industry further into the shadows make it safer for the participants? The ban on communication and advertising, in particular, cuts down on screening procedures that sex workers might have before meeting someone.
In fact, when it comes to practical enforcement, prohibition efforts in the United States have seen prostitutes more likely to have "freebie" sex with officers than get arrested. Further, sites such as SugarDaddie.com and others for "mutually beneficial arrangements" beg the question as to when dating ends and prostitution begins (as pointed out on the Bob Zadek Show with Maggie McNeill, a call girl turned blogger).
The refrain that sex work cannot be voluntary, from Joy Smith and other prohibitionists, is presumably a rhetorical ploy, since an acknowledgement otherwise would tip the scales of public opinion. Nonetheless, counterexamples abound, and Producer Adri Murguia includes many of them in her film, both in Canada and Nevada, where it is legal and regulated in some counties.
One prostitute in Canada, with her voice disguised, states flatly that coerced sexual acts are not sex work at all, but rape. These are two different matters, and conflating them, she says, is condescending towards fellow adults, since it implies they are incapable of making their own decisions.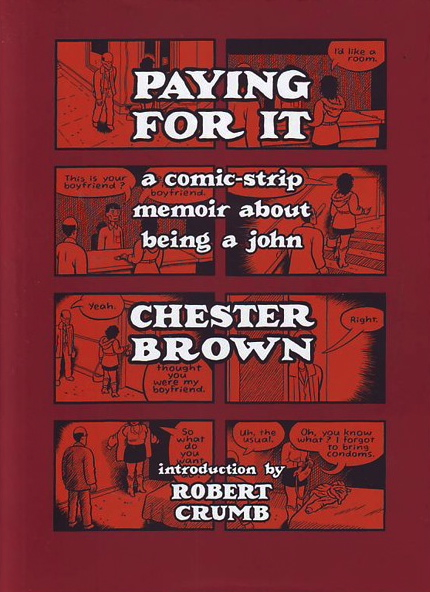 Murguia does not forget to include a Canadian john in the film, since consumers are now the chief targets for prosecution. Chester Brown, a cartoonist and author of Paying For It, is not afraid to admit his activity, and even jokes about the incapacity of police to enforce the laws on him. He claims to be monogamous with one prostitute and says all "the negative things that happen in sex work … are covered by other laws … assault laws, rape laws, whatever."
The climax of The New Era, though, is the profiling of how the industry works in Nevada, where lawmakers acknowledge and handle it with great care for safety. A lady brothel owner in the town of Pahrump even shares that she has seen increased inquiries from Canadian women who want to work there, although she must turn them down due to immigration controls.
Such a revelation presents a challenge to Canadians: how liberal is the nation when it comes to the plight of prostitutes? Is Canada "actually really backwards," in the words of one of the expat sex workers in Nevada?
The unspoken implication throughout the film is that a better informed constituency would not allow such a policy error to go on, and for that alone it is to be commended. But The New Era asks for more than that. It calls on those who want dignity for prostitutes, be they for or against their activities on a personal level, to follow through and listen to them.