EspañolMonsanto Company executives probably wanted to keep a low profile on Saturday, as vehement and organized opposition came out in force with 453 demonstrations in 38 countries. Florida alone had 23 gatherings for the March Against Monsanto, including a focal point in Miami of approximately 400 activists and headliner Jill Stein, the 2012 presidential candidate running again for the Green Party.
The peaceful and noticeably family affair in South Florida, with many mothers and young children present, attracted an alliance of people concerned about genetic engineering and environmental damage from pesticide use. Participants called for an end to gene patents and any form of subsidy or tax break for Monsanto, and the most common chant was "hell no GMO, we deserve the right to know," in reference to mandatory labeling.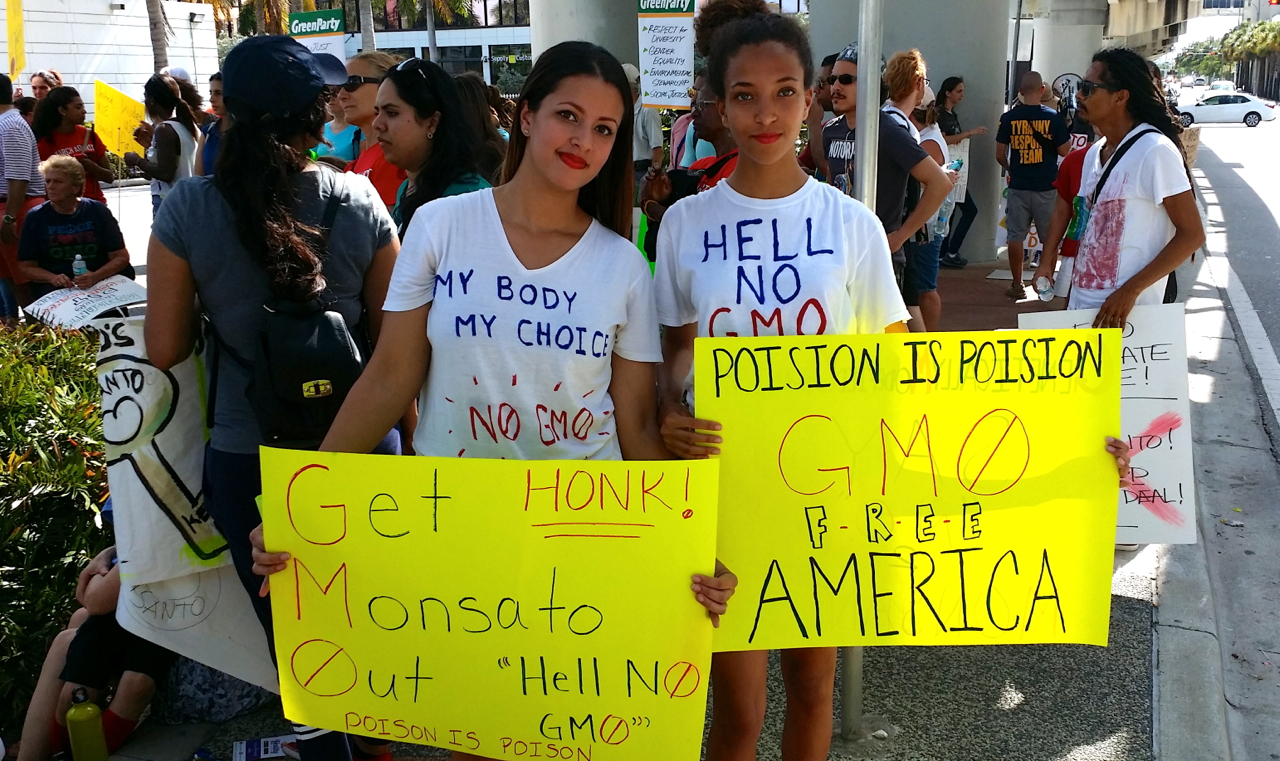 The environmentalist themes aligned closely with the Green Party, and organizer Elizabeth Taveras sported a badge that affirmed the connection. The state co-chairman, Cathy Gilbert, was also on hand recruiting. "We are the people's party," she said. "We don't take corporate money. We're able to be independent from the corporate influences that the Democratic and the Republican parties are both, unfortunately, hooked to."
However, the anti-establishment coalition included a former Libertarian Party candidate for state office, Omar Recuero. In addition, Barry Sacharow, a precinct captain of the Democratic Party in Broward County, claimed at least 25 Democratic activists in attendance, "most of whom lean left."
The Miami crowd marched for approximately an hour — just north of downtown — with various stops for brief speeches and to interact with passersby. Participants then gathered by a local metro station for booths and about a dozen featured speakers, before an after party in the Wynwood district.
"What we see here today … is about the right to know what we are eating, so we are eating food that is healthy, that is just, that is sustainable," Jill Stein said to eager applause.
She and other speakers echoed what they saw as the futility of the Republican and Democratic parties, and a vacuum open for alternative parties. They also encouraged direct action such as responsible consumption and home gardening.
Barry Sacharow cautioned, though, that "nobody is going to win on a third party in the next election. I want to support the aims of the third party; I want to support the third party; but … I don't want to give up my vote to go to Jeb Bush for the sake of that."
Two protesters, Isabel Malagon and her sister Viridiana, had multiple concerns, but they specifically identified Monsanto pesticide Roundup as problematic (with glyphosate as the key ingredient), along with declining bee populations. They remain pessimistic about Monsanto responding and becoming more environmentally friendly: "You have to be realistic … Do you actually think they're going to back track [on] millions and millions of dollars?"
While Monsanto has not released a press statement in response to the hundreds of demonstrations, last week their chief technology officer did write an op-ed with USA Today. Robert Fraley raised "gaps between what scientists and the [US] public think" —  a problem that "poses risks to society at large." In particular, Fraley highlighted a disconnect regarding the safety of genetically engineered foods, with the wider public much more skeptical than those working in the field.
"Access to nutritious, affordable food is a challenge that will affect us all," he wrote, "as the world's population grows and the effects of climate change impact farmers' ability to grow food." He then touted genetic engineering as tool to address the problem, but the "perception gap hinders our collective ability to do so."