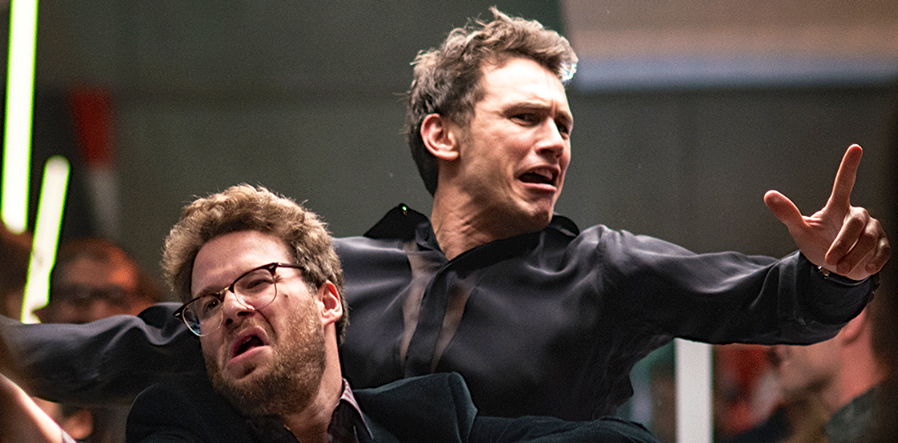 Español All the hubbub over The Interview would suggest explosive revelations and a narrative that lays waste to Kim Jong-un. Don't get your hopes up.
The 112-minute Columbia Pictures film follows a plot to kill the North Korean "supreme leader" — at the hands of a TV host and his producer — and has incited retaliation from hackers and condemnation from foreign officials. Given the purported threat of violence, parent-company Sony cancelled the New York premiere, and the two leading characters, Seth Rogan (who also directed) and James Franco, declined their promotional media appearances.
Both those denouncing the film and those cowering to them, however, are making a mountain out of a molehill. In fact, the chief take-home message from The Interview has nothing to do with North Korea. How could it? The film's creators have obviously made a mass-market comedy, and offer nothing in the way of a believable story or an insightful portrayal of life in the Stalinist nation.
Rather, the failure of the film to achieve much of anything, except a few cheap laughs, is testament to the desperation of US comedy filmmakers. Perhaps it is just a sign of what audiences now expect, but they continue to push the envelope of crudeness and appeal to the lowest common denominator. As with The Interview, a showing of Horrible Bosses 2 in Caracas, Venezuela, had me appalled at the version of US culture that foreigners receive through film.
An unraveling of the demigod status that surrounds Kim Jong-un is indeed a noble goal, and a worthy theme for a film. But that does not apply to The Interview, and Hollywood can hardly be relied upon to promote freedom and liberal democracy. At this point, it would take a talented, maverick filmmaker, willing to go out on a creative limb and threaten revenues, to do such a story justice — in contrast to Rogan and Evan Goldberg, who resort to bestiality jokes for shock value.
Depending on how one assesses a film, though, you might even have praise for the creators. If you put widespread appeal at the top of your priorities, The Interview is a success. The creators did not let expectations of political or social reform get in the way of sales, and the film was number one of the pay-per-view selection on YouTube and Google Play in 2014.
Who knows; perhaps they were glad to have baited North Korean officials into condemning it, and that hack may have even been an inside job, as reported by Bloomberg. Regardless, media outlets ate up and fueled the controversy, offering plenty of free publicity to a film that did not deserve it.