EspañolThe dire situation in Venezuela, with dialogue at a halt and the crackdown on protesters only heightening, energized a sanctions-strategy meeting at Florida International University on Saturday. Given hesitancy, conflicting messages, and apparent misstatements from the US federal government, those in attendance sought to offer both a show of support and a plan of attack to "influence change."
"The best friend of tyranny is silence," said US Representative Mario Díaz-Balart to an audience of approximately 45 roundtable participants and 20 observers. Although other elected officials — including Representatives Debbie Wasserman Schultz (D-FL) and Ileana Ros-Lehtinen (R-FL) — sent messages of support, Díaz-Balart came in-person and said the crisis is generating an aggressive, bipartisan response. He is concerned, however, that reluctance in the Obama administration has delayed proceedings.
"What we have is a dictatorship," he asserted, and it was "a Chávez dictatorship before that.… Not only is it a dictatorship, it is a cancer in our hemisphere."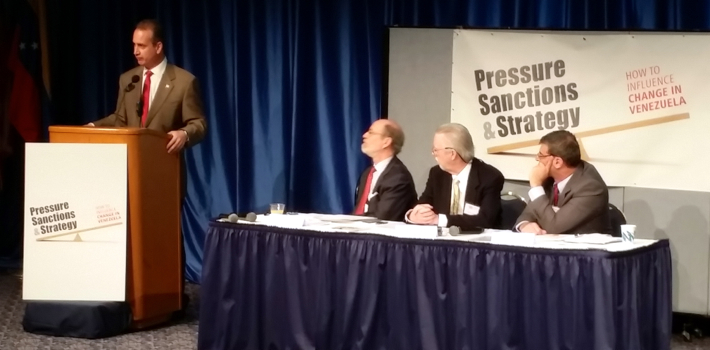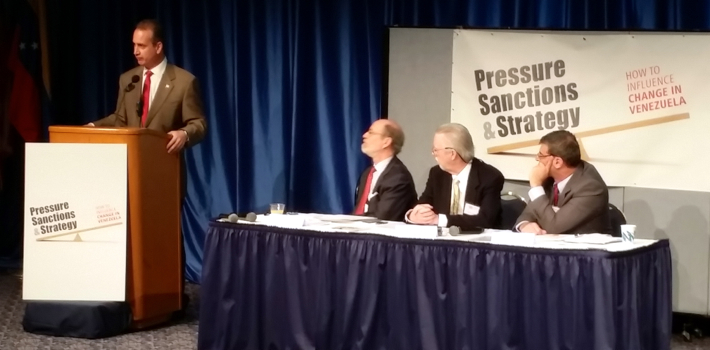 Sanctions on Whom?
Following introductory remarks from Díaz-Balart and Frank Gaffney of the neoconservative-leaning Center for Security Policy, the event proceeded in two parts: three expert testimonies and then comments from roundtable attendees. The testimonies came from Michael Rowan, a columnist with El Universal; Luis Fleischman, a senior advisor to the Center for Security Policy; and Russ Dallen, editor in chief of the Latin American Herald Tribune.
Their consensus appeared to be that specific, targeted sanctions are a worthwhile proposition and that Venezuela still has tremendous economic potential, should policies change and international investors return. Such sanctions, intended for the Chavista perpetrators of the worst violence in Venezuela, would include punitive visa revocations and rejections, asset freezes, and perhaps rejection of Venezuela's nationalized oil for refinement.
Fleischman offered the following diagram as a breakdown of idealistic and US-national-interest motives for sanctions, with confidence that the United States has significant leverage. He did, however, say that the leverage would be multiplied if other nations and trade blocs, such as the European Union, were to get on board with the plan.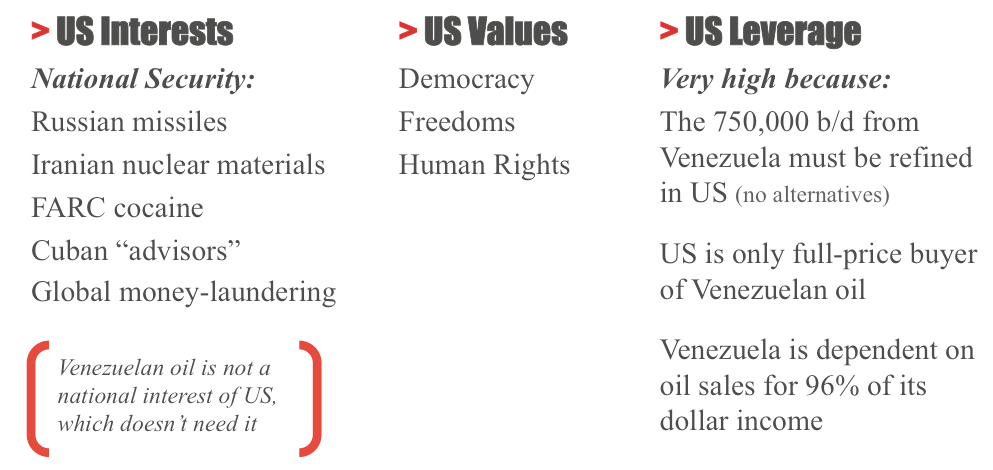 Beyond sanctions, Rowan said that advocates would need to make the case to the barrios and avoid "falling for the trap of dividing up the population." He even recommended dropping the word opposition, since it implies a split nation, which he believes is a fiction made up for political gain. Instead, he recommends people identify themselves as independents.
On the other hand, Dallen emphasized timing, that the kleptocratic regime is particularly vulnerable now. He cited various negative economic indicators — falling foreign reserves, perilous inflation, shortages, falling oil exports and production — that may well become the new normal, should they sit for a matter of many months or even years.
The consensus for targeted sanctions did not necessarily translate into optimism, as Díaz-Balart explained. While he foresees passage in Congress within the next few weeks, he does not know when President Barack Obama might implement the policy, since the evidence has already been available for months. Even if implemented, he doesn't "think we should be naive, thinking that the Maduro regime is just going to all of a sudden say, 'just kidding; we're leaving now.' So, we need to continue to apply pressure, and we need to continue to strengthen the pressure."
The Chorus for Action Weigh In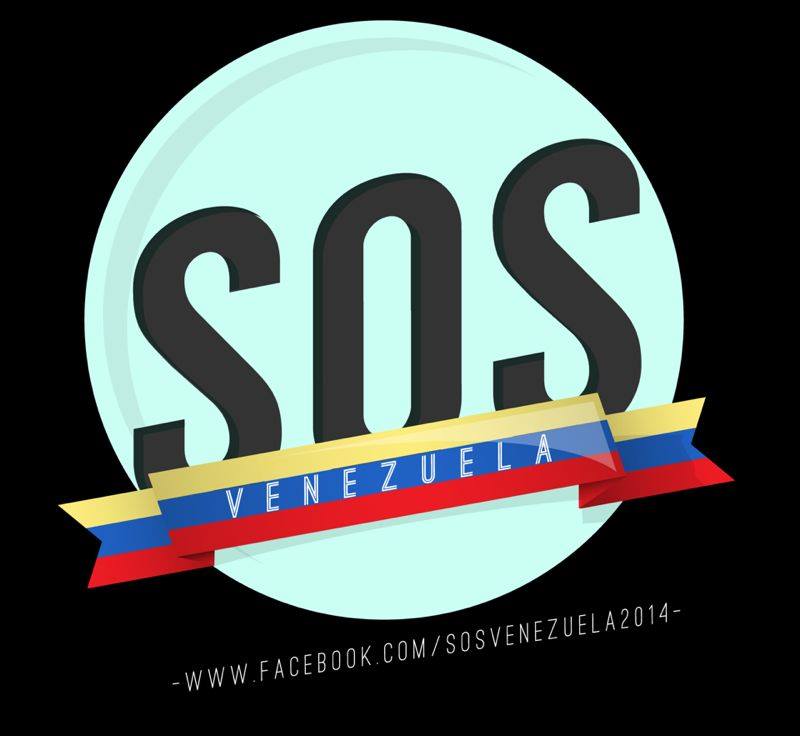 The event had a strong bilingual presence, with simultaneous translations in Spanish and English available. Individuals switching back and forth and broadening the topic, combined with emotions running high, made for an animated roundtable period. In fact, many people went well over the stipulated one-to-two minutes and resisted attempts to hasten the discussion. The event, therefore, ran for an additional half hour.
The roundtable period demonstrated the immense interest in this topic, with people traveling from afar to attend. Cassandra Izaquirre, for example, came from Michigan to represent SOS Worldwide. It is a new advocacy organization, founded after the February uprising, and already it has a Facebook page with 207,808 "likes."
Fifteen-year-old Gabriela Alvarado, who arrived from Zulia state two months ago, attended to share the desperation of the situation. She affirmed that she and many others do not harbor the hostility towards the United States that the regime foments.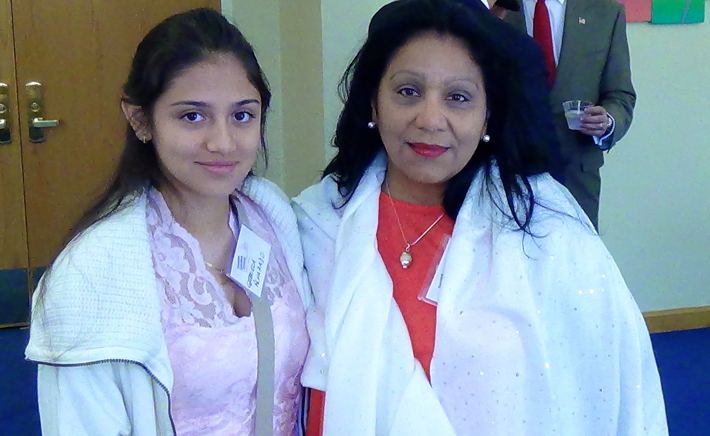 There was also plenty of self-criticism to go around. Raúl Leoni, one of the roundtable attendees and the son of a former Venezuelan president, said there is "too much preaching to the choir. We need to preach to the audience, to the world." Similarly, Alberto Barreto, founder of Venezuela, Got Democracy?, believes too few English-speakers even know how to locate Venezuela on a map, let alone follow the nation's latest developments.
Attendees acknowledged the ideological challenges that remain, given the impact of a sustained period of state propaganda and authoritarian rule. María Teresa Romero, a PanAm Post columnist and professor at the Central University of Venezuela, participated and supports the "smart" sanctions. However, she worries over what she sees as a strong cultural tendency towards totalitarianism, militarism, and populism.
"You have to take into account this reality, because we are not a pure, democratic collective."
There is a militant minority of Chavista individuals, she says, who will stand by the regime and fight to maintain it — approximately 15 percent of the population.
Despite a burgeoning population of Venezuelan immigrants in the Miami area, there was little mention of visas or immigration challenges. Fleischman noted a broader intent to include Temporary Protected Status for those in the United States illegally, but neither bill pending in Congress affirms that. Only Ros-Lehtinen's in the House even makes mention of lenience for Venezuelan immigrants.
Carmen Gimenez, in attendance and deputy president of USA Refugees & Immigrants, said this matter should be a higher priority. "We need to protect those who might have to return," she says, "where they could be killed or tortured." Specifically, her organization is opposed to E-Verify, which may dissuade people from finding employment and only worsen their plight.
Steps Towards Action
Rowan, one of the three leading speakers, took in written statements from attendees and plans to compile the notes into a new website: PressureSanctionsAndStrategy.com. At this stage, he has the domain registered and will begin uploading content soon. He also hopes it will serve as an ongoing discussion forum for attendees and other interested parties.
The two most relevant pending pieces of legislation — Senate Bill 2142, sponsored by Senator Robert Menendez (D-NJ), and House Resolution 4587, sponsored by Ros-Lehtinen — are, respectively, assigned to committee and awaiting a vote.
Editor's note: the section on SOS Worldwide has an update, to note that the organization does have a live website devoted to Venezuelan concerns.