Español "Limited government, federalism, free markets"; that's the creed of the American Legislative Exchange Council, and for the past seven years, its staff have ranked each state's policies by those ideals.
This year's installment of Rich States, Poor States, a forward-looking assessment of 15 policy variables, sees less-populous states in the Midwest and West comfortably outcompete other regions of the nation and monopolize the top five spots: Utah (1), South Dakota (2), Indiana (3), North Dakota (4), and Idaho (5). Utah continues its clean sweep of victories, dating back to the first ranking in 2008.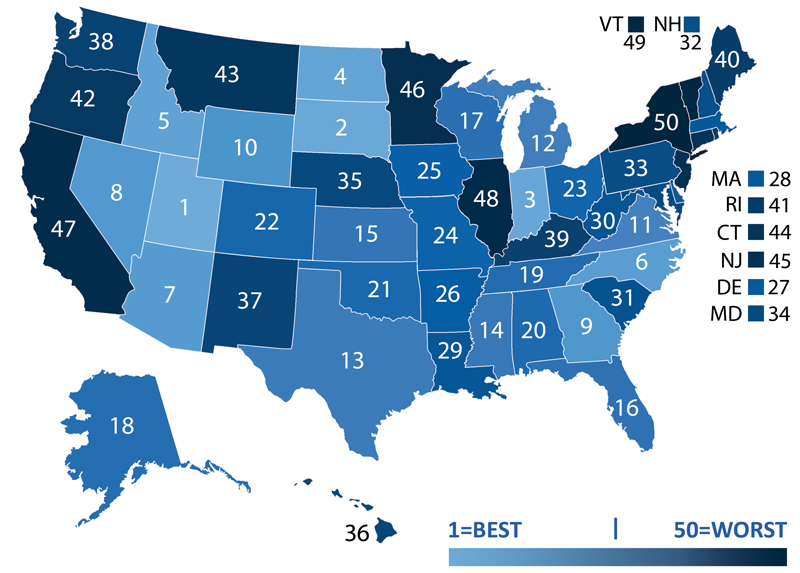 On the other hand, the authors of the report — including prominent economists Arthur Laffer, Stephen Moore, and Jonathan Williams — find Minnesota (46), California (47), Illinois (48), Vermont (49), and New York (50) languishing and heavily indebted.
By far the biggest winner, in terms of improvement, is North Carolina, rising from 22nd in 2013 to sixth this year. Indiana is nearest in that regard, with an improvement from 14th to third. That led Jonathan Williams to hold the press conference in Raleigh, North Carolina, flanked by Governor Pat McCrory (R) and John Hood, president of the John Locke Foundation — North Carolina's classical liberal policy institute.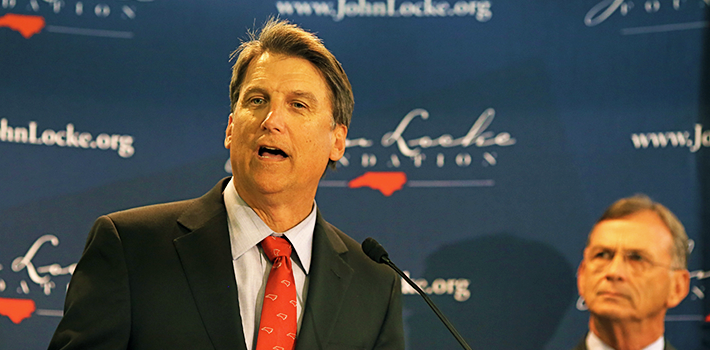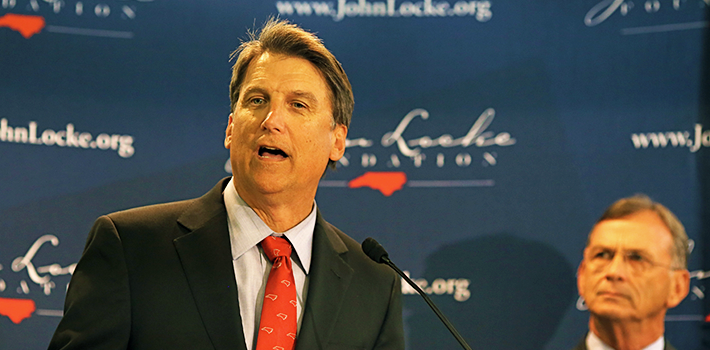 McCrory was glad to share in the occasion and commented that "Ultimately, it's about North Carolinians keeping more of their hard-earned money for their paychecks, so they can buy, save, and invest more for their families."
Similarly, Hood commented that tax reform had been the major contributor to North Carolina's rise, but that the economic results were still to come.
"Tax reform is a long-term investment," Hood said to the Carolina Journal. "It's not just a short-term stimulus. It will take years for its benefits to fully manifest themselves in higher employment and income growth in North Carolina."
Popularly (and not-so-popularly) known as ALEC, the organization comprises the largest association of state legislators in the United States, rivaled only by the National Conference of State Legislatures. Their research and publications go hand in hand with model legislation, that members refine, approve, and then seek to pass in their home states.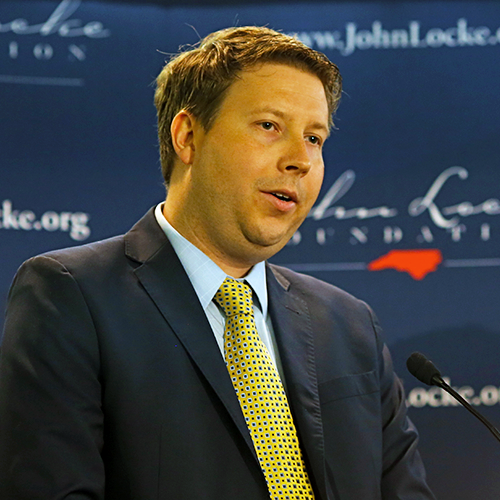 With this research, the authors focus on prudence and restraint; they contend that their "forward-looking" ranking measures "how each state can expect to perform economically based on 15 policy areas that have proven, over time, to be the best determinants of economic success."
The policy areas include various tax rates and burdens, labor mobility (such as right-to-work laws), the minimum wage, debt servicing expenses, government employees per 100,000 residents, and constitutional restraints on state spending and debt (PDF, p. 57).
While plenty of dispute exists over the ingredients for economic growth, ALEC Legislative Analyst Ben Wilterdink contends that states "with no or low personal and corporate income taxes, less spending and right-to-work laws [are] most likely to have a better economic outlook than states with high income taxes."
ALEC is the principal defender of federalism in the United States, which in the US context means a form of localism that promotes state and municipal governance, in the tradition of the Tenth Amendment to the Constitution. In particular, the authors and members of ALEC want to generate greater competition between states.
However, critics such as Mary Bottari and Rebekah Wilce of the Center for Media and Democracy have characterized these efforts as a "race to the bottom." The center publishes ALEC Exposed, and they assert that the model legislation and priorities of ALEC constitute an "attack on wages, benefits, and unions."
One other notable challenge to ALEC's ranking is its disparity with those of other organizations. That includes market-oriented research centers such as the Fraser Institute in British Columbia and the Mercatus Center at George Mason University in Virgina. Only South Dakota, for example, features in the top five US states in Fraser's sub-national ranking for economic freedom, and Fraser's top choice of Delaware comes in at 27th in the ALEC ranking.