This week, New York City and the Atlas Network hosted perhaps the world's largest international gathering of classical liberal and libertarian policy institute professionals, including more than 500 attendees from 46 countries. The climax of Liberty Forum 2013 came on Wednesday evening with the Freedom Dinner, keynoted by Johan Norberg, author of In Defense of Global Capitalism.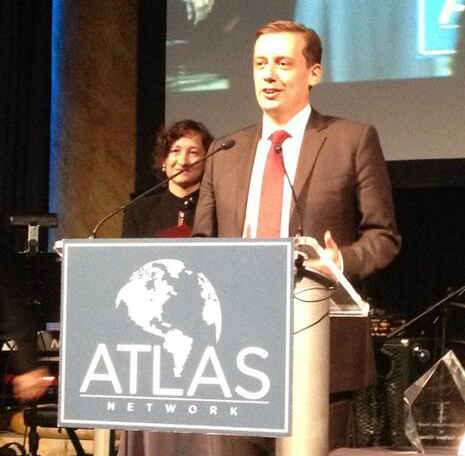 The evening also saw the announcement of the Templeton Freedom Award, worth US$100,000. The six finalist institutes included three from the Americas — CIDAC (Mexico), the Mackinac Center for Public Policy (Michigan), and the Texas Public Policy Foundation — but the UK Taxpayers' Alliance proved triumphant. Their 417-page "2020 Tax Commission and Single Income Tax Report" earned them the prize, and to applause they noted success against further hikes to beer taxes.
The Atlas Network's CEO, Brad Lips, commented that the alliance "has become such a force of nature in a relatively short amount of time . . . From impeccable research to clear messaging, they've really raised the bar for think tanks."
Named after the late investor and philanthropist John Templeton, the award "honors his legacy by identifying the most innovative and valuable contributions to the cause of freedom each year among think tanks." His granddaughter, Jennifer Templeton Simpson, attended the dinner and presented the award at the Capitale, Manhattan — although most of the event (November 13-14) took place at the InterContinental at Times Square.
Matt Bufton of the Institute for Liberal Studies, an Ottawa-based educational nonprofit, attended to "meet others who care about liberty, especially from countries where that's a real challenge. . . It was great [and] seems to get bigger every year."
Bufton is a graduate of Atlas's training programs and was a finalist for the "Shark Tank" competition. That is where various institute professionals pitch a specific project, with the hope of winning $25,000 in funding — and it went to Jacek Spendel of Poland's Freedom and Entrepreneurship Foundation. Spendel plans to release a pro-liberty television series to change the dialogue in his home nation and reach a younger and wider audience.