Now in its 39th consecutive year as the original haven for resource speculators and gold bugs, the New Orleans Investment Conference continues to be one-of-a-kind. With a reputation for contrarian analysts and an unabashed capitalist streak, this year's event (November 10-13) is no exception. Notably, Ron Paul is the keynote speaker on Wednesday evening, alongside heavy hitters such as Peter Schiff and Charles Krauthammer.
The first speaker for the event of more than 800 attendees, Chris Powell of the Gold Anti-Trust Committee, set the scene on Sunday evening. He alleged that central banks are intervening in the gold market on an everyday basis, since they want to neuter gold as a viable alternative currency. In particular, he said, they are devaluing gold with what he calls "paper gold" — the various claims on gold and derivatives schemes that far exceed its physical supply.
Powell goes so far as to say "all official gold data [published by central banks and national governments] is disinformation," parroted by a weak financial press. Further, given the secrecy, he contends their intervention constitutes a "totally undemocratic violation of accountable government."
His presentation led into a host of panel discussions, "Bullet Briefings," and "Corporate Previews," in addition to exhibitors, book signings, and private functions. And while gold remains a consistent topic of interest, many firms that specialize in other topics are present — from precious metals such as copper to energy and real estate.
On Monday morning, Frank Holmes of U.S. Global Investors picked up the discussion and broadened it into emerging markets. He is also a gold expert, coauthor of The Goldwatcher, and he sought to downplay gold's poorer performance over the past year. (See the image below, a slide from his presentation.) On this occasion, however, he emphasized the promise of a wider variety of resource investments in the "E7" emerging economies, as opposed to the traditional G7 developed or established economies.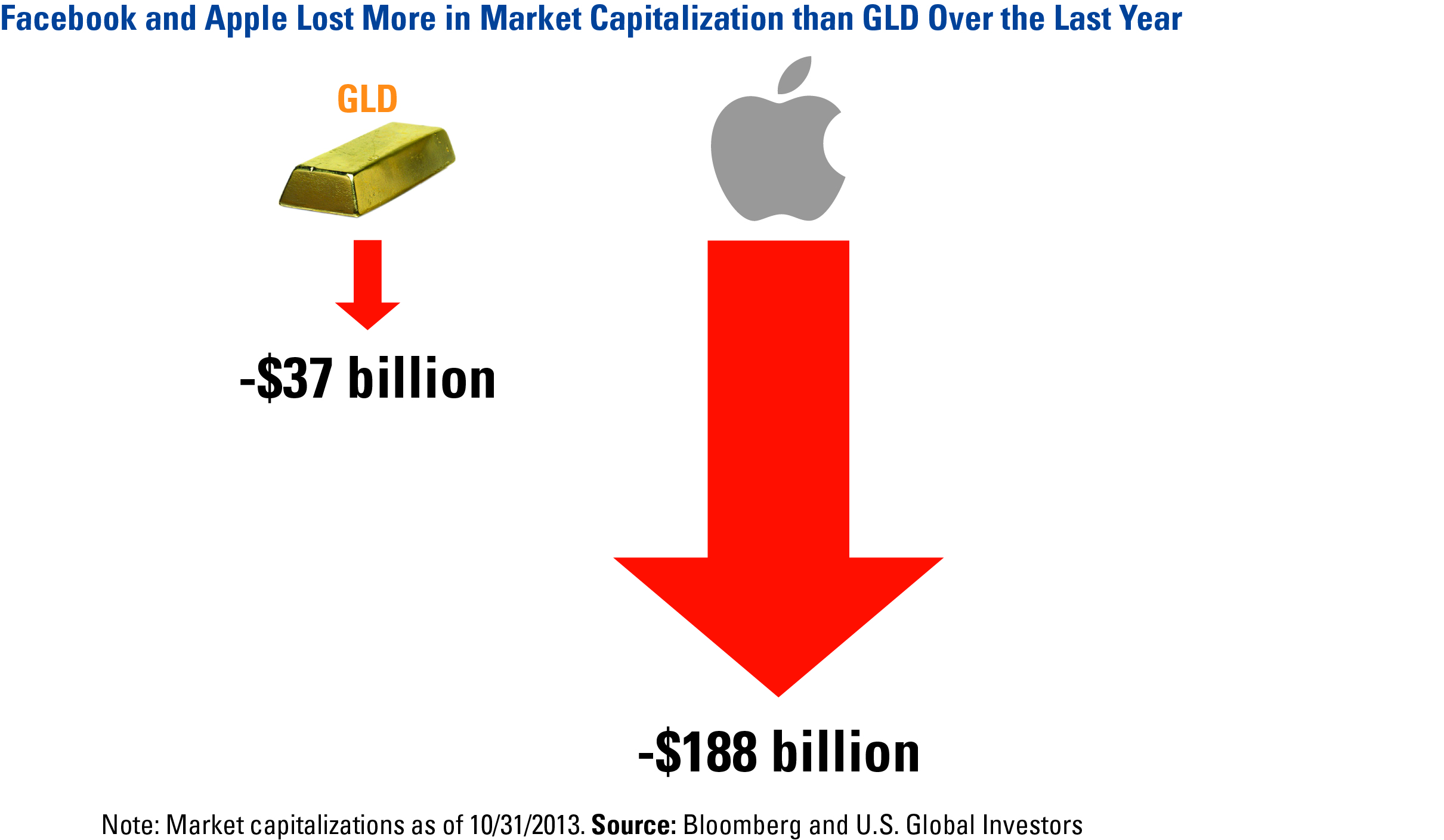 Then in the evening, Charles Goyette of Weiss Research addressed the boom and bust of the business cycle. In particular, he dismissed the notion that one cannot foresee the writing on the wall. In addition, he asserted, one can discern the presence of a bubble by the source of the money — whether it is from artificially low interest rates or actual savings. (See an exclusive PanAm Post interview with Goyette here, along with analysis from Ryan Hildebrand.)
More than the presentations, however — since they are available as recordings — attendees appear to come for the one-on-one interaction with speakers and the networking; the community and family atmosphere at the event is striking. The master of ceremonies, for example, Gary Alexander, is making his 30th consecutive appearance. On November 10, as the event opened, he noted that it would have been the 70th birthday of the event's founder, Jim Blanchard, whom he worked alongside for many years and who died in 1999.
Even Blanchard's son, Anthem (pictured), was manning a booth in the exhibit and promoting his AnthemVault venture. Anthem shared that his father was a "big believer in sound money . . . [He] basically came to the conclusion that government could never be trusted to issue sound money . . . it would have to come from private sources . . . We're basically taking that theory and applying it in practice with AnthemVault."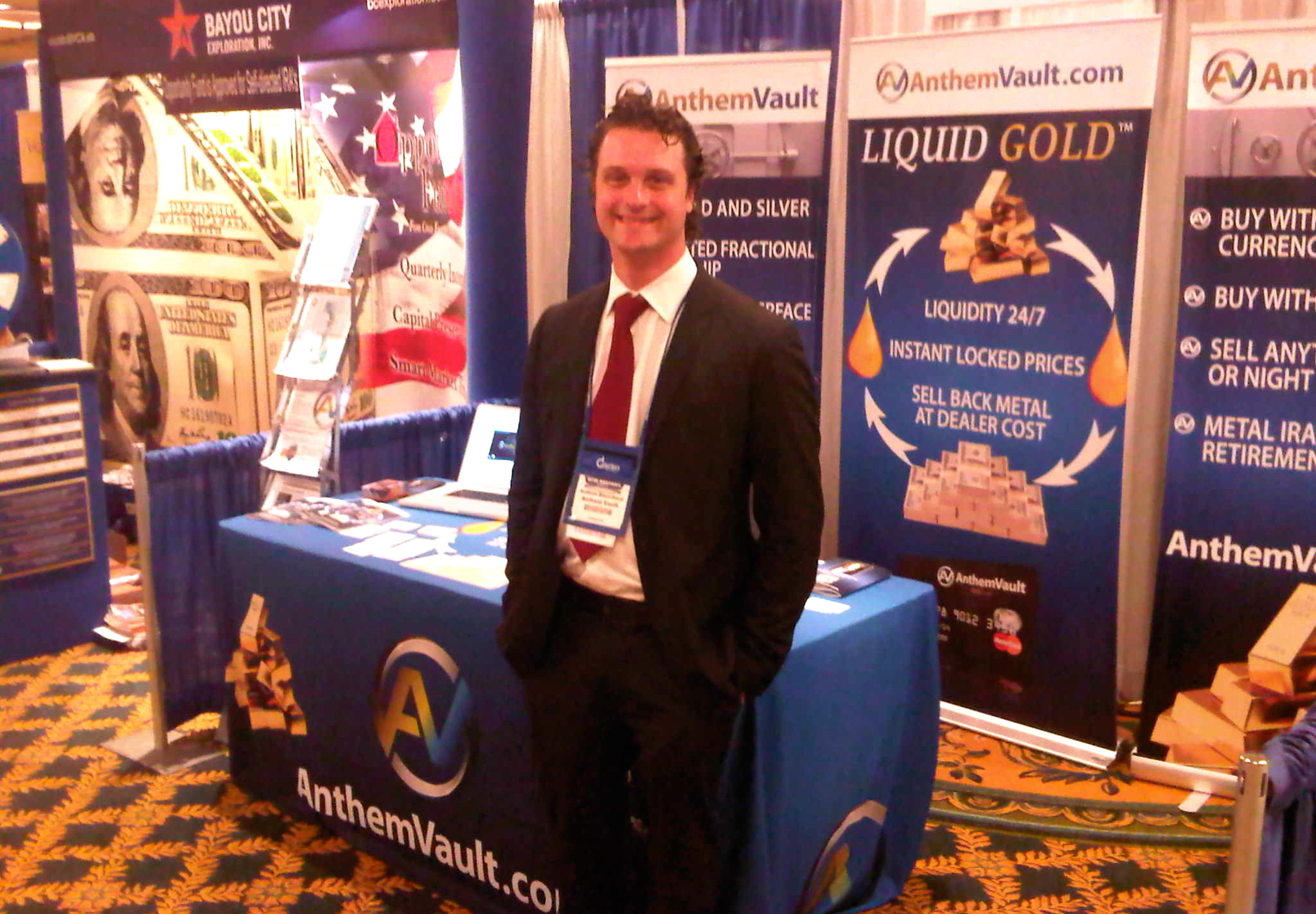 Jim Patterson, CEO of Kivalliq Energy, is a long-time exhibitor who traveled down from Vancouver, Canada. He remembers his first time in 1997, when Margaret Thatcher was the keynote speaker. He notes that the event is "steeped in tradition [with] libertarian, independent thinkers — generally very wealthy people who make their own minds up . . . So it's a very different vibe here, and you get to really connect with people . . . You keep in touch with them year after year."
Similarly, Rob Turner of Virginia is attending for the fifth time. As to why he keeps coming back, he highlights the social aspect, along with the "cutting edge [content] that's not specifically related to money systems . . . energy companies, solar power."
While the conference has established a tradition and continues to attract both elite investors and presenters, president Brien Lundin acknowledges that the falling gold price over the past year has hurt many of the exhibitors. In his letter to attendees, he notes that the widely-held prediction that gold would benefit from President Barack Obama's reelection has proved incorrect.
"This has been a tough year, to say the least, in the small-cap and resource markets. The companies that have managed to participate this year are truly among he strongest and best-positioned in the business."