EspañolCuba's most prominent blogger and critic of the regime came to Miami this evening, and her presence drew a captive audience of at least 70 individuals, along with a host of media outlets. A guest of the Institute for Cuban and Cuban-American Studies, Yoani Sánchez shared her reflections on the prospect of a civil society on the island, along with the challenges she faces, given her "amistades peligrosas" (dangerous friendships) with dissidents.
Her hour-long presentation and question-time, entirely in Spanish, was part of the Cuban Studies Certificate program at the University of Miami. However, the course professor, José Azel — who also introduced and questioned Sánchez on stage — opened the class up to other students on campus. In particular, members of the journalism program had a strong contingent, given their interest in her as a role model within a rapidly evolving media landscape.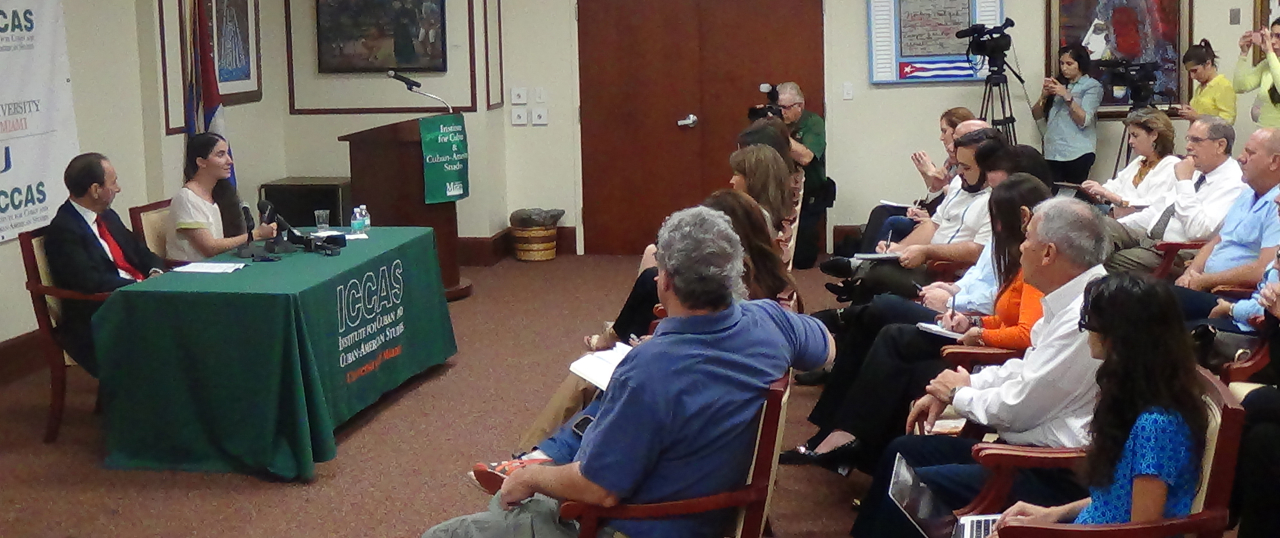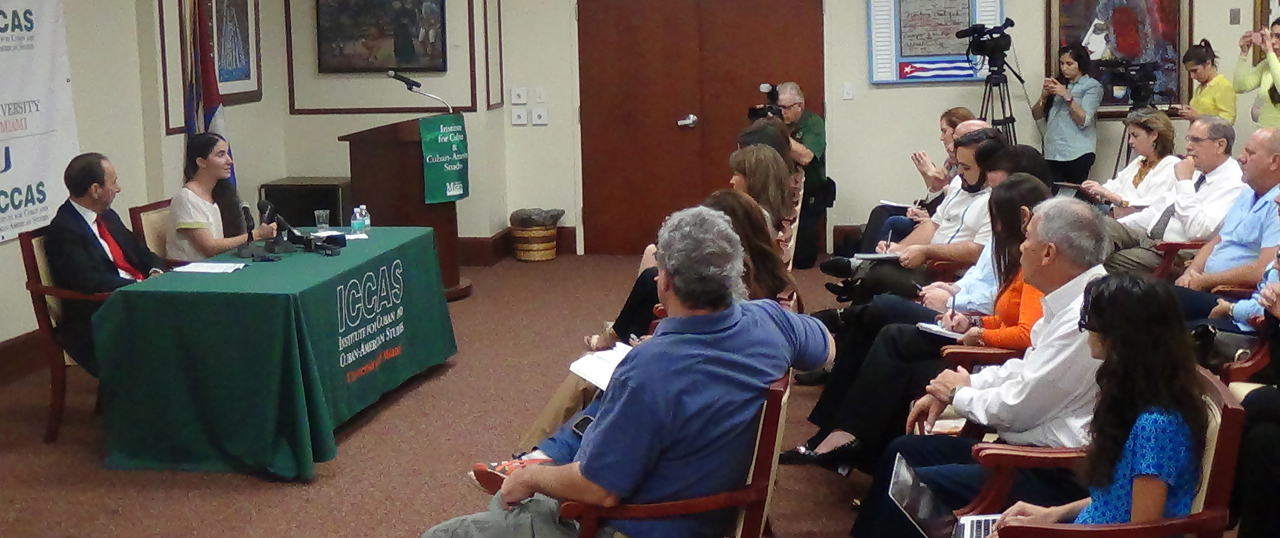 On that topic, she said, in addition to blogging, Twitter has been a life-changing and grand revelation for her. Although access to social media is extremely limited in Cuba, along with the internet in general, she manages to reach 527,000 followers with the help of cell phones, international servers, and the support of many people outside the country.
However, censorship is the just the start of the challenges that Cubans face to free speech via the internet, she shared. Even if the powerbrokers in Cuba were to permit the use of social media, people are so poor they could hardly afford the computers or technology to access the internet. Then the unreliable and slow connections on the island, at least those available to common people, present a further hurdle.
This monopoly on information, alongside an environment of fear, she said, is perhaps the biggest stumbling block to a bottom-up movement for change. Further, young people who are aware of the regime's failure to deliver a better way of life have few avenues to release their frustration, given the lack of political parties and room for public dissent.
One attendee asked whether Sánchez was afraid to return to the island, particularly given how prominent she has become. While she laughed it off a little and looked at Azel as one of the dissidents she associates with, she has had run-ins with Cuban enforcement before. That includes a violent kidnapping in late 2009, as she and associates sought to attend a march against violence.
Brenda Fernández, who left Cuba when she was two years old and returned more recently to visit, was one of the communications students in attendance. Sánchez's comments regarding the disparities across the generations of Cubans, in particular, caught her attention. She also agrees that the dire scarcity of technology is a "blockade of access to communication" and an explanation for why there are not more protests against oppression.
Fernández's one concern was with Sánchez's view of those who choose to leave Cuba and say goodbye to their homeland.
"She might feel that people that leave Cuba, in a sense, are losing faith in their country, their place of birth. But, at the same time, it's understandable if there's opportunity elsewhere, and there's a lack of opportunity in your country, and you might foster that sense of community and identity elsewhere."
Despite limited encouragement from her family, Fernández says that she still wants to get in touch with, understand, and maintain her Cuban roots.
"Now I'm more inclined to actually go and visit Cuba, visit my family, where I came from, instead of hearing so much about the 'story of Cuba.'"