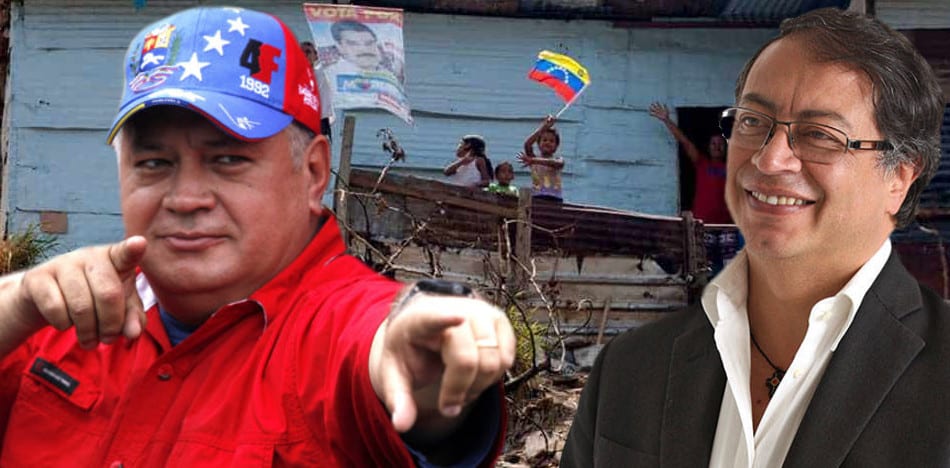 The second most important man in Venezuela, the Chavista powerbroker Diosdado Cabello, recently revealed an inconvenient development for Gustavo Petro in Colombia, but one which has been denounced on several occasions by his opponents: his search for political support with the Chavista government in Venezuela.
In his program "Con el mazo dando" ( or "Hitting with the mallet"), Diosdado Cabello, president of the Constituent Assembly in Venezuela, lashed out at the former presidential candidate and current senator Petro, lamenting that he now "speaks about Chavismo's pestilence."
"Look Petro…do not mess with Venezuela, you lost and more people will never support you, I guarantee you that," he said.
At the same time, Cabello broke his silence and affirmed that Petro was in Venezuela asking for support for his political campaign. "One time Mr. Petro came here to ask for support for his campaign, but now in Venezuela the Chavistas have soured on him. That is why he lost and he will never win; because the people despise cowards, the people despise the disingenuous, the people despise those who do not take responsibility for their own actions."
In his defense, Petro argued that the last time he had spoken with Hugo Chávez had been the year 2006 to "save Colombia and Venezuela from a war, and then later I went to his funeral." Petro continued, "I'm not interested in supporting Maduro because there is no revolution in an administration that's chief goals is concerning itself with oil revenues. That is not a revolution."
Faced with criticism from Cabello, the deputy of Zulia State in Venezuela, Rafael Ramírez Colina, told the PanAm Post in April that Petro's presidential campaign had been financed by the United Socialist Party of Venezuela (PSUV).
According to the Primero Justicia politician, there was a special interest in Venezuela in the former mayor of Bogotá and ex-member of the M-19 guerrilla, since Petro was rising in the polls, and a potential Petro victory would have reduced the international pressure on the Maduro regime.
Petro's flirting with Venezuelan regime
It is not new Petro's flirting with the Venezuelan regime. Petro had a far rosier view of Chavismo several years ago. Unsurprisingly, when the Maduro regime took over, destroying the economy and creating a massive humanitarian crisis in the process, Petro changed his tune in public.
The leader of Colombia Humana is described as being a "Castrochavista" ally of Bolivarianism, a promoter of socialism in the 21st century and of taking an uncritical view of the Maduro regime as a dictatorship, only deeming it as such during this year's presidential election. Since the last presidential campaign, Petro has been moderating his views, and rejecting the political class that governs the neighboring country.
However, just a little over a year ago he defended the election of the Constituent Assembly promoted by the ruling party in Venezuela, which is chaired by Cabello.
At the time, the former president of Colombia, Juan Manuel Santos, was asked about the electoral event, and stated that his government did not recognize the result of the vote. However, Petro indicated that the legitimacy of the Constituent Assembly would depend "exclusively on the number of votes obtained."
During the "election" of the National Constituent Assembly on July 30, 2017, Petro published photographs of voting areas in Caracas, Barquisimeto, Chacao, and Baruta, accompanied by the phrase, "you can not be against the people when they have sovereignty."
He added, "I do not believe that Venezuela is a socialist, nor do I believe that an economy can depend on oil without failing, but that is what the Venezuelans will decide," he said in the middle of the tumultuous days that left nine people dead.
Precisely, at that time the echoes of the military intervention towards Venezuela were already beginning to be heard. Despite the overwhelming evidence of fraud, Petro said that he respected the "self-determination" of the people.
Yo soy un demócrata y no apoyo ni un golpe de Estado ni una invasión extranjera a ningún pueblo del mundo, menos latinoamericano

— Gustavo Petro (@petrogustavo) July 30, 2017
Petro also went to bat for Chavismo when he insinuated that there were no shortages in Venezuela, suggesting that Colombian broadcaster RCN was deceiving Colombian public opinion.
Entre a un supermercado en Caracas y Miren lo que encontré? Me habrá engañado RCN? pic.twitter.com/EmZaGZNGKX

— Gustavo Petro (@petrogustavo) March 5, 2016
Petro's wishy-washy approach to Venezuela was further on display in an interview with journalist Jorge Ramos earlier this year. In the interview Petro is seen using every means at his disposal to evade the journalist's questions about whether Chávez was a dictator or not.
Petro told Newsweek that the Chávez government was not a dictator, and that Chávez respected freedom of the press, unlike the situation under his successor, Nicolas Maduro.