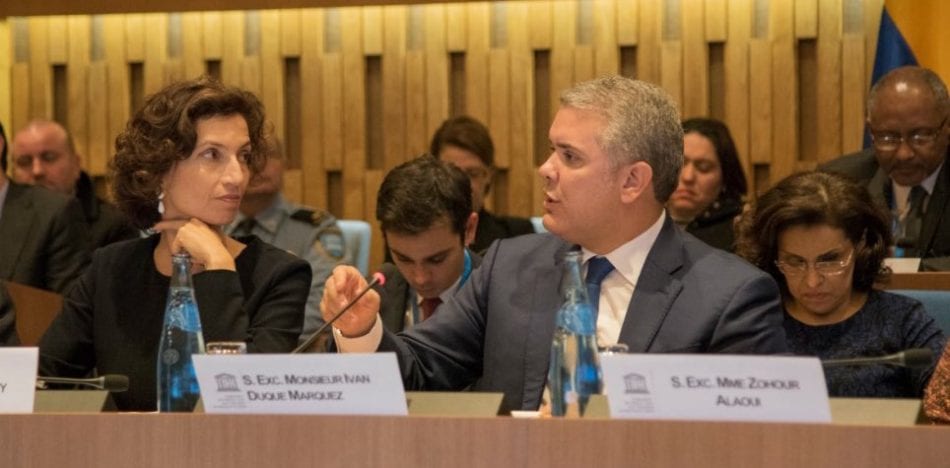 During his visit to France, President Iván Duque was insulted and booed by a group of Colombians who rebuked him. The protesters were so virulent that the Colombian president left the forum at the Institute of Political Studies in Paris after being called a "murderer."
The exchange occurred when Duque spoke about his administration and was interrupted by some in the audience. Among the questions raised by some attendees related to the extension of the value added tax (VAT) to more products of the "canasta familiar" or family basket (a list of common household food purchases in Colombia), the murders of social leaders, and "the persecution against social and student movements."
"We demand that the government of Duque and Uribe stop the systematic assassinations in Colombia and stop the persecution of social movements and the student movements," one of the students said aloud.
Duque replied, "Let me respond. No one here has killed students, dear friend. If your premise is to call me a murderer…we are talking about an issue of respect, you disrespecting me," he said.
Similarly, another audience member added, "We are talking about dictatorships elsewhere, but Colombia with its conflict has caused many more displacements and deaths than any other government."
Before the feisty exchanges, the president said that he endorses peaceful protest, although he does not agree with their sentiments, and does not approve of the rampant vandalism that took place during the last student demonstration that resulted in the attempted incineration of a police officer.
"I defend peaceful protest, that's why when I expressed myself I was very precise (in mentioning) some people, because I do not believe that throwing incendiary devices is a respectful way to protest, nor to paralyze traffic, which affects the rest of the population."
Another young man claimed to be "outraged" at the situation in the country, to which Duque responded:
"If you have outrage I think it's a legitimate feeling, what I do not think is legitimate is calling me a murderer, or insulting me, because that also detracts from what is a serious and collective discussion."
Duque ended his speech by saying "thank you very much, guys" and left the venue.
Unesco
Hours later, at the Unesco headquarters in Paris, two of the attendees were forcibly removed by the Unesco security teams.
The president faced criticism for having removed these people by force, many of them claimed "repression" by the president and those in charge of the logistics of the event.
Otro colombiano que fue sacado a la fuerza de recinto de la UNESCO en Paris porque no tenía credencial, cuando iba a hablar Presidente Duque. pic.twitter.com/g8tx5QcqlV

— Jairo Tarazona (@JairoReport) November 12, 2018
The individual in question did not have relevant credentials to be at the event.
Acaso creyeron que el "espontáneo" boicoteador en la UNESCO no era Petrista?#PetroIncendiaAColombia pic.twitter.com/Ddzcxp4ECb

— Ana Mañana (@scrappymas) November 13, 2018
This man who appears in the video explaining why to support Gustavo Petro for the presidency, was one of those expelled from the premises.
Also, a woman who rebuked Duque as a result of the student demonstrations and called for higher budgets for higher education is seen holding a sign in Paris supporting ex-presidential candidate and ex-peace negotiator of the Colombian government Humberto de la Calle.
According to the followers of President Duque, Gustavo Petro is behind the sabotage during the presidents trip to Paris. Petro, who finished second in the presidential race, is currently a senator, and has taken to social media to support the protests in Bogota and elsewhere against the Duque administration.
Duque's aims in France
The president announced that there will be USD $50 million of cooperation with France that will be channeled through Findeter, a development bank that offers integrated solutions for the planning, structuring, financing, and technical assistance of infrastructure projects.
Duque met with 50 businessmen and investors interested in investing in Colombia. Among the organizations involved were technology companies, investment firms, banks, and multinational corporations.
He suggested that if the new Finance Law is approved by Congress, it will provide greater guarantees for foreign businessmen to invest in the country. The company L'Oréal stressed its intention to invest in the country, which involves a 30 billion Colombian pesos (roughly USD $10.5 million) for a new plant in Colombia.
Ella es otra "espontánea" pic.twitter.com/HDCrJ4oMCF

— Ana Mañana (@scrappymas) November 13, 2018
In France, the peace agreement with the FARC guerrillas was generally viewed favorably, since they consider that this gives them a greater guarantee to invest in Colombia.
Duque also attended a meeting before the board of directors of the OECD (Organization for Economic Co-operation and Development), in which he signed two memoranda of understanding: one related to best practices in the fight against corruption and the second involved education and health issues.
#París | Tenemos un gran balance de esta visita, con una intensa agenda de dos días y medio. Destacamos el respaldo de la @OCDE_fr a nuestra agenda económica, que tiene como propósito fundamental la equidad y el mejoramiento de las condiciones de los más vulnerables. pic.twitter.com/eNus4rpOTz

— Iván Duque ?? (@IvanDuque) November 13, 2018
The president attended the Unesco facilities where he described his proposal to support Colombia's creative industries.