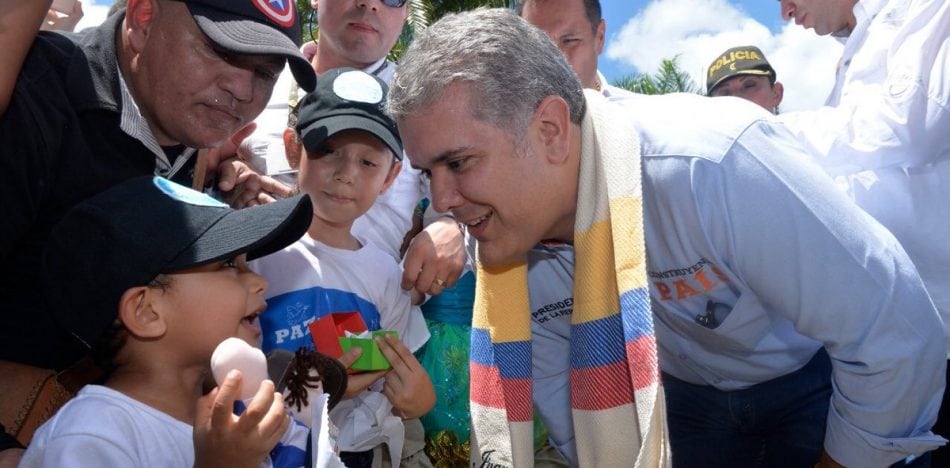 Colombian president Iván Duque recently signed a decree that allows the national police to confiscate any quantity of drugs found in public. However, according to experts, this measure will not achieve its public health goal of reducing consumption, and will also negatively impact the medicinal use of cannabis.
The Duque administration argues that the measure constitutes a "defense of the rights of citizens, of children, and a means to protect public space" on the grounds of public health; the government expects the measure to significantly curtail microtrafficking, particularly the "jíbaros" or street level dealers who often target parks, schools, and low income neighborhoods, and, consequently, consumption will be reduced .
For now the debate is focused on the new regulation; time is needed to assess its results. However, on the first day that Decree 1844 went into effect, the police seized just one pound of marijuana.
The PanAm Post spoke with medical doctor Paulo Gómez, who also has a master's degree in pain treatment from the University of Salamanca, and is a member of the International Association for Cannabis as Medicine (IACM). He argues out that the decree is worthless, since criminalizing marijuana will never be the solution to a public health problem.
Legal paradox
"If we contrast the current decree with the Decree 613 of 2017 that reiterates what is expressed in Law 30 of 1986 regarding self-cultivation, where the possession of up to 20 plants is authorized for personal use, we would enter into a legal paradox," Gomez explained.
He wonders how those users (or patients) will be able to store the harvest of their 20 plants without running the risk of it being confiscated, or subjecting themselves to arrest or fines.
"If we take into account that the Decree 1844 divides the users of psychoactive drugs into dealers and addicts, where are the patients? The president is unaware that, for example, hundreds of epileptic children use cannabis derivatives for treatment and that their mothers, for purposes of expediency and practicality, often obtain their medicine through the black market or associations and must transport it to their homes. What happens if they catch one of these mothers with a quantity of 'drug'?" he said.
The Ministry of Health has indicated that the demand for derivatives and medicines for patients, both Colombian nationals and foreigners, is what justifies the supply of cannabis and its respective cultivation. Therefore, the decree is aimed at the person who, at the time of a police inspection, is found to be transporting marijuana. The reason for transport must be justified.
In this regard, Justice Minister Gloria María Barrero has pointed out that the certification of addictions can be given by the parents and that the police agent will be in charge of determining, through a verbal process, whether the person is addicted or not.
On September 5, 2018, Minister Barrero argued, "Doctors can not issue prescription for drugs that are not legal. Parents can be relied upon to determine whether or not a patient is an addict. The police, through this verbal interaction, must determine whether they believe the patient or not. Let's get the drugs off the streets."
In this regard, Dr. Gómez warns of possible risks to public health that could be incalculable.
"As far as the recreational consumer is concerned, according to jurisprudence, the addict is a 'sick person' and it is known that the addict who abruptly stops using falls into a withdrawal syndrome. Confiscating the dose will make him compulsively search for a new one, which also will increase the price. Small-time drug dealers will thus have lower supply and greater demand, which in a sense will be benefiting and not weakening the micro-trafficking," he explained.
Additionally, he assures that the decree will result in paradoxical results in comparison to those initially expected.
"Increase in crime, insecurity, lack of guarantees for patients and non-recreational users. We hope in good faith that the high courts will be the ones who will give closure to this unfortunate setback in civil liberties and the construction of an inclusive and peaceful Colombia."
And what about medical marijuana?
While the current government of President Duque is attacking on all fronts the proliferation of drugs to counter consumption in children, a considerable local market for medical cannabis is booming, as evidenced by growing interest of stock markets in cannabis-related businesses.
Cannabis is the new business that is beginning to move on Wall Street. The federal Food and Drug Administration (FDA) recently approved a new product called Epidiolex to treat epilepsy. The drug is based on CBD, a cannabis compound with analgesic properties.
In April, Andrés López Velasco, former director of the National Narcotics Fund, told the PanAm Post that Law 1787/2016 establishes three aspects of regulation regarding medicinal marijuana: cultivation, production, and distribution, and that points towards a modern vision for public policy with respect to drugs for scientific and commercial purposes.
"The process is ongoing since August of last year and, to date, there are more than 30 companies licensed to manufacture cannabis derivatives and more than 50 licensed to grow cannabis. The next step is to apply for the quota when it comes to psychoactive cannabis, which is cannabis with more than 1% THC, the hallucinogenic substance that creates the user high.
This data of companies that have registered is based on the first quarter of this year.
"Legal products, medicines, we will not see them yet. We are waiting for 2019, because this year the companies will have to dedicate themselves to register their seeds with the ICA and to do the necessary experimentation to develop those products and standardize their quality. It is important that people know that what they sell on the streets, in some craft fairs and so on, are not legal products and can have health consequences, because they do not know their quality."