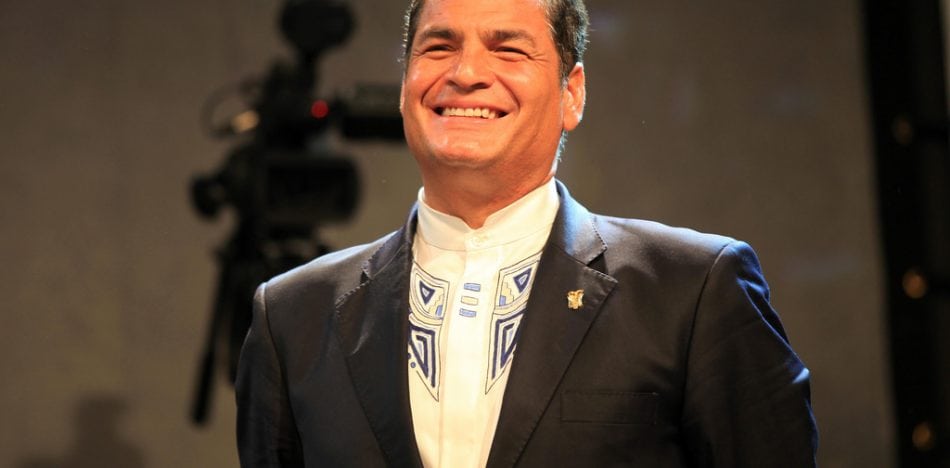 Former Ecuadorian president Rafael Correa, who has an outstanding warrant for his arrest, has allegedly requested asylum in Belgium, as reported by the newspaper La Capitale in Brussels.
However, Luis Fernando Molina, one of his defense lawyers, said that he is not aware of such a request, but that if there is one, Correa should inform him.
According to Molina, the request for asylum is a legitimate right, because Correa's wife is Belgian national, and his family resides there; in addition he referred to an alleged judicial "plot" against him, orchestrated by his political enemies.
On June 19 during a conference in Spain at the Universidad Complutense, Correa said that he was contemplating the possibility of requesting asylum in Belgium, after the decision of Judge Daniella Camacho to charge him in criminal proceedings related to the kidnapping in Bogota of ex-ambassador Fernando Balda, in 2012.
Judge Camacho ordered that, starting on July 2, he must appear every two weeks before the Criminal Chamber of the National Court of Justice. Correa instead appeared at the Consulate of Ecuador in Belgium, basing his justification on precedents in the Vienna Convention on Consular Relations, the Inter-American Convention on Human Rights, the jurisprudence of the Inter-American Court, and the Constitution and laws of the Republic, as Ecuadorian residing abroad. and in the exercise of their rights.
Thus far Correa has not commented on the matter on his Twitter account, which has been the normal channel through which he has waged his public relations campaign regarding the Balda case.
Meanwhile, Fernando Balda said that Correa's asylum request is as if "Trujillo, Hitler, or Stalin had done it."
Correa will not attend trial
Rafael Correa will not attend the judicial proceeding scheduled for the month of September for the preparatory hearing in the trial against him for the kidnapping of Balda. Alejandro Vanegas, another of his lawyers, confirmed that Correa does not plant to attend the trial in his home country, and at the same time indicated that they will ask for the annulment of the legal process.
Correa "will appear before the court by means of his attorney or representative before the National Court, which is Dr. Caupolicán Ochoa," he said.
He added that the prosecutor in the case will request that the trial stage be commenced in Correa's case. Balda's kidnapping case involves alleged political persecution he suffered during Correa's term in office, from 2007 to 2017.
The lawyer concluded that Correa's defense will reject the position of the prosecutor's office and will request "that all proceedings be declared null and void" against his client.
Correa has blamed his former political ally and current president, Lenin Moreno, for his current legal woes. Moreno, who served as vice president under Correa from 2007 to 2013, won a tight electoral contest against opposition leader Guillermo Lasso in 2017. He then enjoyed the strong backing of his former political mentor.
The relationship between Correa and Moreno subsequently deteriorated. First, Moreno's vice president Jorge Glas, a close Correa ally, was imprisoned on charges of corruption related to the Odebrecht case. Then, Moreno sponsored a national referendum that imposed term limits on the presidency, and was clearly aimed at preventing Correa's return to power.
Correa left Ecuador to pursue a career in academia in Europe. Now, as he awaits the asylum request, he faces a precarious legal situation.