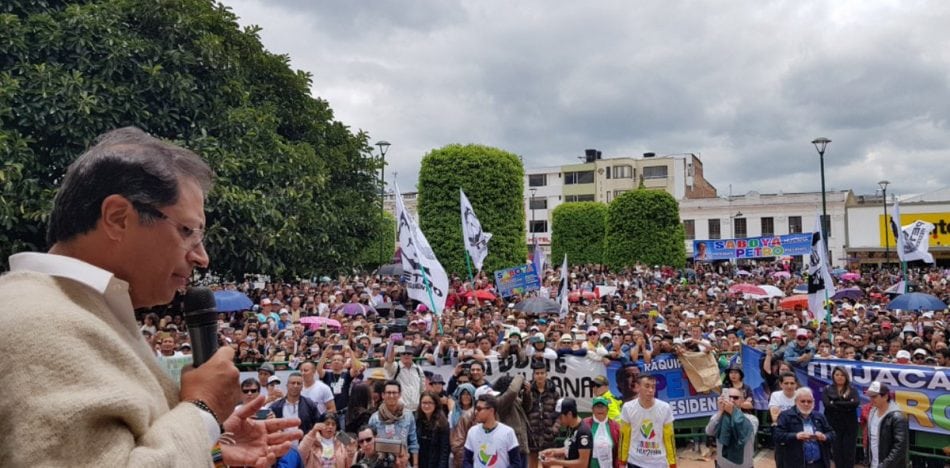 Next Monday, August 27, Colombia's National Electoral Council (CNE) will resume the discussion in its plenary session to vote on the proposal to grant legal status for the Colombia Humana political movement that nominated Gustavo Petro as its presidential candidate. The last vote was five to two against the leftist group.
Petro derided the decision as "arbitrary" and immediately accused President Iván Duque of being behind the decision of the CNE.
"It is the representatives of the political parties that support Duque in the CNE who vote against the right of Colombia Humana to be a political movement with legal status, despite its eight million votes and its representation in the Senate" he argued.
Son los representantes de los partidos políticos que apoyan a Duque en el @CNE_COLOMBIA los que votan en contra del derecho a que Colombia Humana sea movimiento político con personería jurídica a pesar de sus ocho millones de votos y su representación en el senado

Arbitrariedad

— Gustavo Petro (@petrogustavo) August 23, 2018
The arguments of Petro to justify the recognition of legal status for Colombia Humana are based on his tally of 8 million votes in the second round of the presidential elections. However, if the legal status is not approved, Petro and his former vice-presidential candidate María Angela Robledo, both current congressmen, would be unable to access the benefits of opposition status.
While the political leaders await the decision of the electoral council, they affirmed that if the CNE denies them the right to become a political party they will appeal to the Inter-American Commission on Human Rights to file a grievance.
The leftist politician aims to field regional leaders as candidates for Colombia Humana, aspiring to mayorships and governorships for local elections which will be held in October of 2019.
Al negarnos personería jurídica, CNE agrede nuestro derecho a la oposición.

Recurriremos a las altas cortes si es necesario, para proteger el derecho fundamental a representar desde la oposición política a quienes votaron por @petrogustavo y por mí y quieren otra opción de país.

— Ángela María Robledo (@angelamrobledo) August 23, 2018
According to magistrate Armando Novoa, the decision to deny Petro's movement legal status was allegedly taken "without deliberation."
"The vote count stood at 5 votes against the proposal and 2 votes in favor of it. As in the National Electoral Council a supermajority of 6 votes is required, a decision could not be reached. And the final decision was postponed until next Monday, when one of the councilors who was not there yesterday will be present in the Chamber: Bernardo Franco," he explained.
Through a press release, the CNE noted that with five votes against and two in favor, the former presidential candidate was not recognized the legal status of his movement.
Comunicado de prensa 214. 22 de agosto de 2018. pic.twitter.com/rqyXcO7lin

— CNE Colombia (@CNE_COLOMBIA) August 23, 2018
For this reason, the decision, which requires a full quorum in order to issue a decision on the merits, was postponed.
Gustavo Petro finds himself in a curious spot on the national political stage. Despite a successful presidential bid which positioned himself as the undisputed leader of the leftist opposition, he has just a handful of political allies in both chambers of Congress. He is notorious for longrunning feuds with other political parties and leaders, including the Alianza Verde and Polo Democratico.
Senator Jorge Robledo, for example, who is another eminent figure on the Colombian left, openly refused to back Petro's candidacy in any way, shape, or form, and accused Petro of being duplicitous.
Former Medellin mayor Sergio Fajardo, who came in a close third in this year's presidential elections, also refused to back Petro, and called on his sizable political following to vote their conscience. Fajardo had positioned himself as a moderate and ostensibly balked at endorsing a candidate such as Petro who has a long affiliation with the far left.
However, Fajardo's running mate Senator Claudia Lopez, did join a coalition that backed Petro. Many suspect that she did so in order to secure Petro's backing for her widely expected run for mayor in Bogota next year.
As it stands now, Petro remains a towering political figure, having won 42% of the vote in the second round of the presidential election. Yet, he remains without an official political party, and enjoys precious little support in the legislative branch.