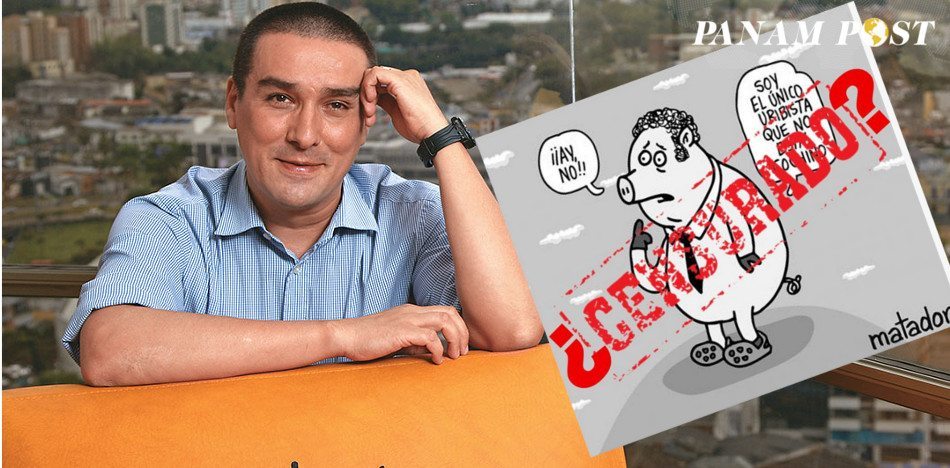 Attorney José Luis Reyes Villamizar, who describes himself as a supporter of the Centro Democratico party in Colombia, has filed a legal action against the newspaper El Tiempo and César González, known by the artistic name of 'Matador', for a caricature in which he portrayed leading presidential candidate senator Iván Duque as a "little pig".
The cartoon, published last February 24 in the newspaper El Tiempo, is titled "Duque Reflects" and says: "Ay No! I am the only uribista who is not a pig." Duque, who is currently tied for first place in the polls, has the backing of influential ex-president Alvaro Uribe.
Reyes Villamizar alleges that the Duque cartoon violates the candidate's rights to a good name, freedom of conscience, and freedom to choose; and, furthermore, it is offensive, which is why he decided to bring the legal action to force the cartoonist to retract his work.
"I do not think that Matador should draw a new cartoon, he should only retract it in the same space where he published the original," said Reyes Villamizar.
He added, "the audacity of the cartoonist, to call us uribistas pigs, was a degrading display, aimed at using personal insults to slander those who follow the guidance of former President Uribe and to influence the Colombian electorate," he argues.
Why does Matador compare Duque to a little pig?
According to Matador, the idea of ​​caricaturing Iván Duque as a pig was not originally his. "I was once browsing the internet…the idea was not mine. They sent me a meme of a photograph of Duque and then a photograph of Porky, and the similarities are many," he said.
Through his Twitter account he said that with the judicial action they intend to censor his freedom of expression.
"With their lawsuit, they want to censor my freedom of expression and ask me to retract this caricature," Matador said, adding that "the plaintiff is the lawyer José Luis Reyes Villamizar who defines himself as 'sympathizer of the Centro Democratico,' the same party that alters my cartoons and uses them illegally."
Con tutela quieren censurar mi libertad de expresión y piden que me retracte por esta caricatura. El demandante es el abogado José Luis Reyes Villamizar que se define como "simpatizante del centro democrático" el mismo partido que altera mis caricaturas y las usa de manera ilegal pic.twitter.com/fiCFoXhCPH

— matador (@Matador000) March 8, 2018
According to the cartoonist, what the Centro Democratico seeks is to cleanse its bad image with the candidate Iván Duque. "What's more, Duque is a young guy, well prepared, and relatively moderate. And they want to clear their name of scandals."
Matador will not back down: "I prefer to go to jail, and I will not issue a retraction. This is an attack on freedom of expression."
What did Ivan Duque say about it?
Although the caricature has not been well received within the ranks of Uribismo, Duque said he has always respected press freedom and caricature as a means of expression.
"One in life has to learn to laugh at everything, for me cartoonists are artists, they interpret reality, using the freedom that they have at their disposal. That does not bother me. I've never stopped being able to laugh at things and also see things through the prism of calmness that they deserve," he said in an interview with The FM in January.
Censorship of cartoonists
A landmark censorship case involved the French satirical weekly Charlie Hebdo, in the wake of a caricature that later led to a retaliation by two Al-Qaeda terrorists, who stormed the premises of the weekly newspaper's Paris headquarters, in a shooting that left 12 dead and 11 injured.
The Venezuelan political satire cartoonist Rayma Suprani also suffered censorship. Due to her caricatures, she was exiled and now resides in Miami. She was fired from the newspaper El Universal in 2014 shortly after publishing a cartoon satirizing former President Hugo Chávez.
On the other hand, the case of Bonil (Javier Bonilla) in Ecuador personifies the displeasure of political leaders for political satire. Former president Rafael Correa sued Javier Bonilla for his "infamous" satires against his presidency. On several occasions he was forced to issue retractions, and to pay monetary judgments for his criticism of the Ecuadorian government.
Who is Matador?
Julio César González known as 'Matador' is from the city of Pereira, in Colombia's Coffee Zone. He is famed for his animosity towards the right-wing in general, and Uribe's Centro Democratico party in particular. This is hardly the first run-in he's had with the party.
Ex-president Álvaro Uribe is one of the main subjects of Matador's cartoons, whom he describes as a "desperate" man and "political widow."
On one occasion, Matador accused Óscar Iván Zuluaga, former Centro Democratico presidential candidate, of having altered one of his caricatures for electoral purposes.
However, the famous cartoonist has also been accused of plagiarizing other works, a charge to which he has never responded.
The Foundation for Freedom of the Press (FLIP) has also weighed in on the lawsuit, and hopes that case sets a precedent that one can not be prosecuted for humor or for expressing freedom of opinion.
Reactions
The philosopher Said Falla, told the PanAm Post that the legal action against Matador, highlights the paradoxical tension of freedom, that still is subject so some government regulation.
"While the function of the media is to provide truthful and impartial information, it is necessary to clarify that the caricature, by virtue of its communicative intention, does not seek to express an 'alleged objectivity' of an event, but, on the contrary, to manifest an interpretation that the author, and his supporters, share about a given fact, if the intention of the caricature was to faithfully reproduce reality, it would fall into a contradiction, since one of the essential elements of this is to excessively distort the characteristic features of a person."
He added, "the caricature is humorous criticism and humor allows excesses that in the journalistic realm might not be permitted," he explained.
For his part, John Bermeo, president of the Mises Institute of Colombia, said that Colombians have already lost a lot of freedom of expression, especially in regard to satirical humor.
"The call of attorney Reyes Villamizar would leave a disastrous precedent for freedom of expression in the country. Anyone could claim that they feel disrespected for what they say about reggaeton music, narco-novelas, the skinny, the short, the ugly, and, as a result, someone would be responsible for saying what humor is good and can be expressed and which is not: this would amount to totalitarian regulation of thought."