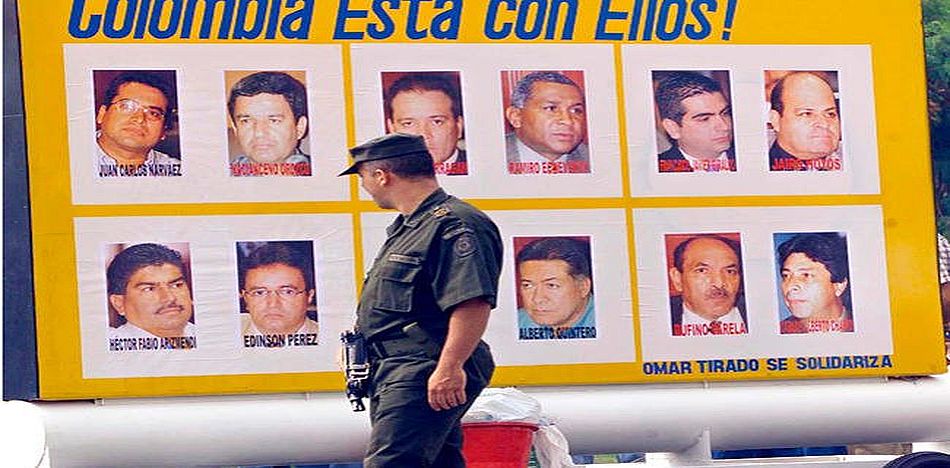 EspañolA judge has ordered the conditional release of Martin Leonel Pérez Castro, the former head of the 30th front of the Revolutionary Armed Forces of Colombia (FARC). He is responsible for leading a 2002 kidnapping of members of the Valledel Cauca parliament. Officials in the United States have called for his extradition.
Pérez Castro, also known as "Richard," was captured on July 20, 2014 during an operation involving nearly 200 men from the police, Army and Valle del Cauca Prosecutor's Office. He was charged with money laundering, aggravated conspiracy, forgery and embezzlement, and sentenced to 60 years in prison. However, he spent two years and 10 months in prison before being transferred to one of the Transitory Normalization Zones.
Richard has a criminal record that includes eight assaults on various military bases, as well as the creation of laboratories for the production of cocaine and the burning of cargo vehicles in the district of Buenaventura, among other crimes.
Kidnapping deputies 
The kidnapping of 12 deputies in the Departmental Assembly of Valle del Cauca was carried out by the FARC in broad daylight in the heart of the city of Cali.
On June 18, 2007, the FARC assassinated 11 of the 12 deputies, alleging that the government of former President Álvaro Uribe had deployed a military operation to rescue the politicians. The government denied it, leading the FARC to state that the execution was due to a "security failure" by their own men.
Treatment of alias Richard
Richard was a capitalist guerrilla because he was one of the few FARC members who amassed a fortune through organized crime while supposedly fighting for marxist ideals. He reportedly had close to US $400 million. Through a network of underground activity, he obtained luxurious vacation houses and haciendas with cattle in the Department of Caquetá.
The 30th Front was dedicated to extortion and kidnapping in the Department of Cauca, in addition to illegal mining and money laundering in other parts of the country. The Attorney General confiscated 70 assets possessed by the FARC boss, including 32 vacation properties, eight vans, six houses, two ATVs, an apartment and 15 savings accounts.
"It is totally unheard of for ordinary justice to act so lightly, granting conditional freedom to a person who is linked to a crime against humanity, and is in violation of our Political Constitution and the International Treaties signed by Colombia," the sister of the late Deputy Francisco Giraldo, Ángela María Giraldo Cadavid, said.
Amnesty is not applicable to those who are detained for having committed war crimes or crimes against humanity.