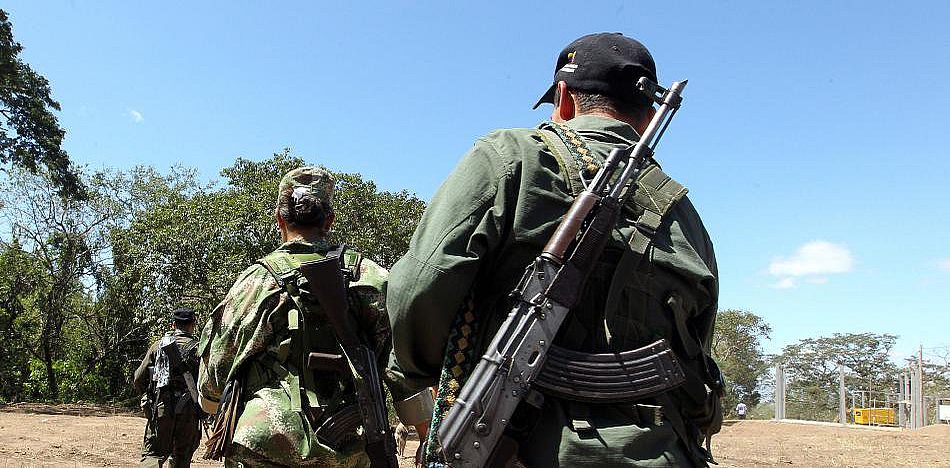 On December 31, the Colombian Navy captured five FARC dissidents in the rural area of Tumaco, Nariño. The guerrillas had weapons in their possession and had been carrying out drug trafficking and extortion activities in the region. In the course of the operation, leading to the capture of the four men and a woman, they searched four houses in the vicinity, resulting in the seizure of an M15 rifle, a 9 millimeter pistol, two 38 caliber revolvers, 418 cartridges of different calibers, and other military equipment.
"The five criminals were in charge of collecting extortion money from merchants and farmers of Tumaco, as well as protecting the drug trafficking routes that are in the sector," a government statement said.
According to the investigations carried out in the case, the captured dissidents were taking orders from Walter Patricio Artízala Vernaza, alias "William Quiñonez" or "Guacho", who is alleged to have controlled coca production near the rivers Mira and Mataje that run near the border between Ecuador and Colombia.
Those caught were charged with the crimes of drug manufacturing, trafficking, and the carrying or possession of firearms, accessories, parts or ammunition. In 2017, the Pacific Naval Force has managed to capture and bring to justice more than 90 FARC dissidents or other known Organized Armed Groups (GAO) that commit crimes in the volatile Colombian Pacific region.
Likewise, in the last week of December, a non-commissioned officer and three marines were wounded as a result of a terrorist attack perpetrated by FARC dissidents, while patrolling an area of Puerto Cachicamo, in the southeastern department of Guaviare.
According to Caracol News when the men patrolled the Guayabero River in four piranha vehicles of the Marine Infantry; when one of the vehicles arrived at the village of Puerto Cachica located 78 kilometers west of San Jose de Guaviare, the explosive charge was detonated. According to military sources, the men were taken to the military hospital in the capital city of Bogotá and are out of danger.
The military forces attributed the attack to 'Gentil Duarte', a FARC dissident who did not accept the agreement between the Colombian government and the FARC. Miguel Botache Santillana, alias 'Gentil Duarte', was in negotiations in Cuba and is today considered by the authorities to be a "high value target." He is widely considered to be a kingpin in drug trafficking, due to his control of lucrative cocaine smuggling routes, as well as his control over a force of 40 men.
The attack is considered to be retaliation for the military operations conducted by the Omega task force that has been charged with dismantling the FARC dissident organization.
The government and FARC are meeting this Thursday in the city of Cartagena to review the implementation of the peace agreement. The meeting will be attended by the former top FARC negotiators: Iván Márquez, Pablo Catatumbo, Jesús Santrich, Rodrigo Granda, Pastor Alape, and Victoria Sandino.