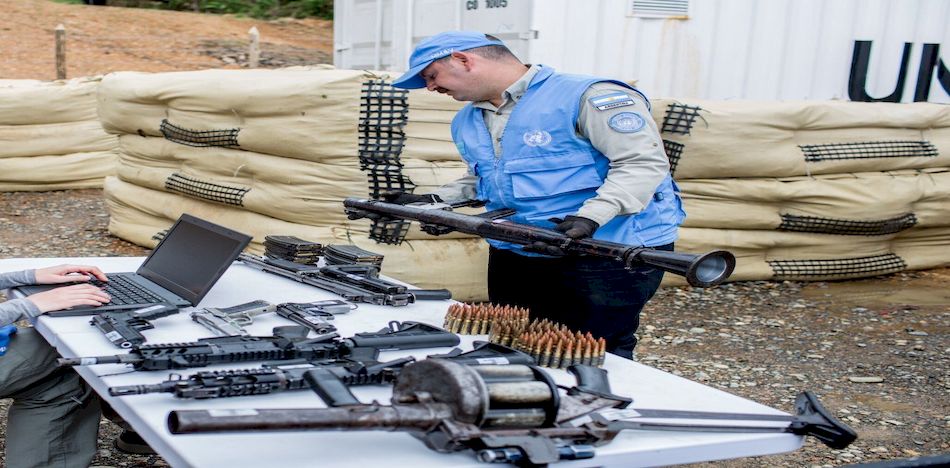 Español Inconsistencies in the Colombian government's records of the peace process with The Revolutionary Armed Forces of Colombia (FARC) have raised doubts that major progress is actually being made.
Colombia claimed that around 60 percent of guerrilla fighters have surrendered and given up their weapons, while the United Nations has said it is closer to 40 percent. So which is it?
A UN official denied that the government would announce the 60-percent mark this week, and then President Juan Manuel Santos did just that, tweeting out the statistic a day later.
The disarmament process carried out in La Elvira, Cauca contained reported discrepancies. Government officials claimed disarmament would take "a couple of days" while the United Nations maintained that only 40 percent of weapons had been surrendered.
Head of the UN Political Mission Jean Arnaud originally said that they were on course to reach 60 percent — around 4,000 weapons — but that they weren't quite there yet.
On Thursday, June 15, High Commissioner for Peace Sergio Jaramillo denied that the national government had announced the previous day that they had already reached 60 percent.
"What we expect to happen, is that between today and tomorrow 60 percent will be completed," Jaramillo said. "Our expectation is that they begin the process and that yesterday it was possible to obtain an additional 30 percent. That is not happening. It's taking a few more days. Now you know that the surrender of weapons is a matter between the FARC and the United Nations."
Secretary General Alfonso Prada came out in defense of President Santos' statements.
"As the president said literally on June 14, two days ago, the second stage of the disarmament process began, which should bring us to 60 percent."
Source: W Radio