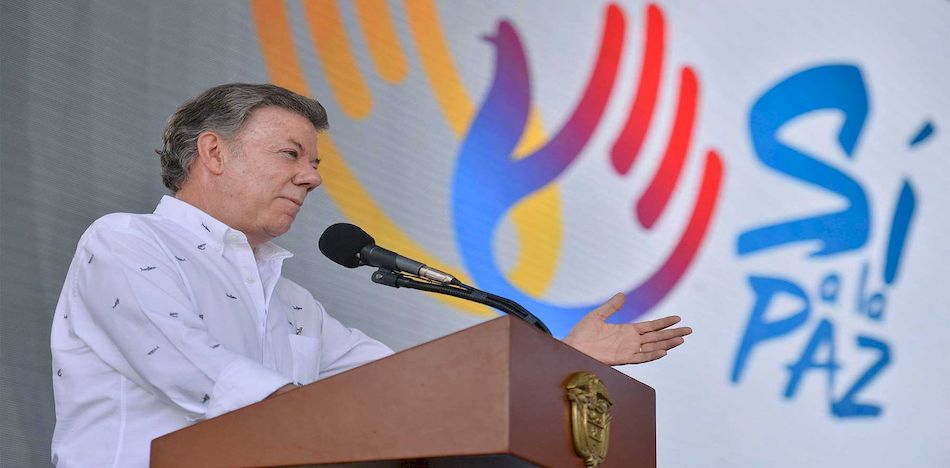 EspañolOver the weekend, President Juan Manuel Santos ran wild with executive decrees, pushing forward various agreements related to the government's peace deal with the The Revolutionary Armed Forces of Colombia.
He introduced projects involving land, education in conflict zones, rural electrification and mining while also creating a National Peace Council.
Santos is making use of extra power he was granted by Congress, which ends this Tuesday, May 30, to expedite the implementation of many components of his agreement with FARC.
The National Peace Council he created advocates principles of reconciliation, coexistence, tolerance, and non-stigmatization listed in the peace deal. It also gives priority to "political alternatives for negotiation of internal armed conflict."
The Council is supposed to meet every three months, "without prejudice to the fact that the President of the Republic, the Technical Secretariat or 40 percent of the members of the Council summon it to extraordinary meetings, when circumstances so demand, or public convenience so requires."
The rural electrification decree consists of adopting a National Rural Electrification Plan for Non-Interconnected Zones (ZNI) and for the National Interconnected System every two years. The plan sets in place "mechanisms that allow the administration, operation and sustainable maintenance of the energy solutions built for its use."
Construction projects will be financed by taxes on mines and ports. The Ministry of Finance will give priority to projects located in the areas most affected by the conflict.
Public education will be provided in areas affected by the conflict, organized through a merit-based competition with the Civil Service Commission.
A land decree created the National Land Fund, which is made up of uncultivated plots that can be bought by private entities. It will also define beneficiaries and create a single national registry. In addition, a new single system to access land will simplify the 52-step procedure currently in place.
At present, the land decree has caused unease in several parts of the country. For instance, Director of the political party Cambio Radical (Radical Change) Jorge Enrique Vélez, reacted with the following comment: "They want to create a 'Gestapo' for lands, that is to say a kind of secret authority that will watch over ownership and use of land in the country. "
Source: El Espectador