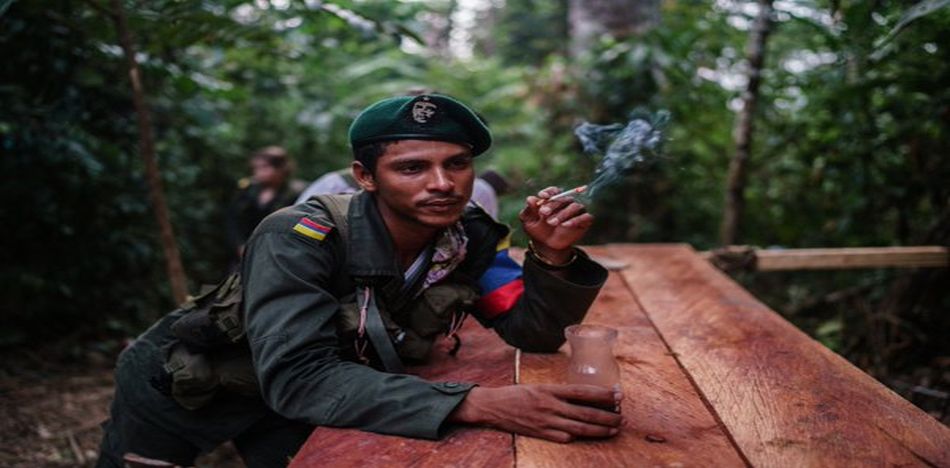 EspañolThe Peace and Reconciliation Foundation, one of Colombia's main organizations fighting against violence and lawlessness, has taken issue with FARC guerrilla dissidents illegally occupying territory abandoned after the peace deal.
The organization's study pointed out that territories abandoned by FARC after making a peace deal with the Santos administration have created a serious problem: There are 242 municipalities grouped into 26 rural transit zones, but there are new subversive groups taking up power there.
"In some municipalities, there are warnings about the presence of new illegal armed groups and criminal structures," the report said, "which control criminal-linked economies such as coca cultivation, illegal mining and extortion."
Much of this problem has been blamed on the country's second largest guerrilla group, the National Liberation Army (ELN), as well as on a rise of criminal gangs dedicated to drug trafficking, such as the Gulf Clan and FARC dissidents.
Though FARC land has been redistributed, much of it has simply shifted to other criminal organizations.
The organization's claims line up with those made by local media.
"In Anorí, Antioquia, the ELN charge money for vaccines. In Chocó there is a territorial war between the ELN and the 'Usuga.' In Cauca, the ELN try to take advantage of coca crops. In Nariño, the 'Usuga clan' disputes coca farming. In Meta and Guaviare, 'Usuga' face 'Puntilleros' and the areas run by dissidents of FARC's first front are in dispute. In northern Santander, ELN's northeastern war front has a non-aggression pact with 'Los Pelusos.' Catatumbo is being co-opted by the ELN through extortion," the Colombian newspaper El Tiempo recently wrote.
It also reported that management of post-conflict land distribution, which is the responsibility of the Minsitry of Defense, has been "deficient."
"If Minister Villegas' greatest victory is to say that in four months of 2017 more coca was eradicated than in all of 2016, the necessary conclusion is that nothing was done in 2016, and that's why we have 44,479 acres of coca," the paper wrote. "No, Minister (Villegas), your failure is not a matter of giving a right or wrong answer in an interview. You have not lived up to the challenge of filling the void left by the FARC. You've got big shoes to fill."
The research group also observed a "poor institutional response" to the withdrawal of the FARC from various territories. Authorities were not prepared "to respond to the minimum needs of security, justice, infrastructure," among other things.
The "fast-track" plan for carrying out the post-conflict phase of the Santos-FARC Agreement seems to be failing, leading the study to suggest that both sides "relaunch the process."