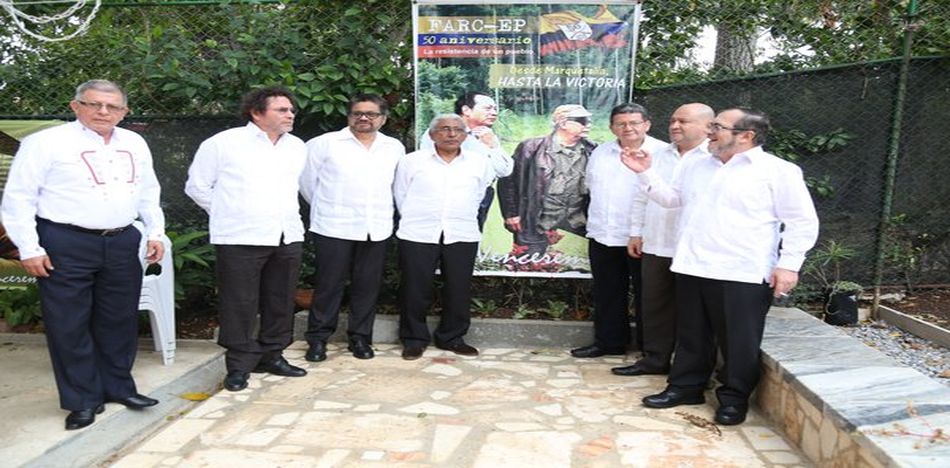 EspañolMembers of The Revolutionary Armed Forces of Colombia (FARC) traveled to Havana to meet with The National Liberation Army to discuss strategies for reaching peace with the Colombian government.
"The government delegation reports that, through the Office of the High Commissioner for Peace, a meeting was authorized between members of the ELN Central Command and the Secretariat of the Revolutionary Armed Forces in the city of Havana," a public announcement said.
Leader of the guerrilla group Rodrigo Londoño Echeverri, also known as "Timochenko" tweeted a picture of the meeting:
Me encuentro con el Secretariado de las @FARC_EPueblo en La Habana, Cuba, para llegar a consensos sobre la #Paz con el @ELN_Paz . pic.twitter.com/Gc2ot0U9f8

— Rodrigo Londoño (@TimoFARC) May 8, 2017
Tweet: I am with the FARC's Secretariat in Havana, Cuba, to reach a consensus for peace with the ELN.
The International Committee of the Red Cross was in charge of the FARC guerrilla's transportation to the Cuban capital from the city of Valledupar.
"From Valledupar leaving for Havana in search of formulas and consensuses to unlock the key to a peace process for Colombia," Luciano Marin Arango, also known as "Ivan Marquez" said in a video. "Its implementation is fundamental to consolidating peace and reconciliation."
The purpose of the meeting between the guerrilla groups was to exchange ideas about the Santos-FARC peace agreement made last year, which some hope can serve as a model for what ELN will propose as well.
The FARC-Santos agreement has come under fire for allowing transitional justice, as well as not addressing factions of the group that don't want to lay down their arms.
On February 7, in the city of Quito, Ecuador, officials from the Colombian government and ELN opened a process of dialogue aimed at ending the confrontation that has lasted more than 52 years.
Source: Cubanet