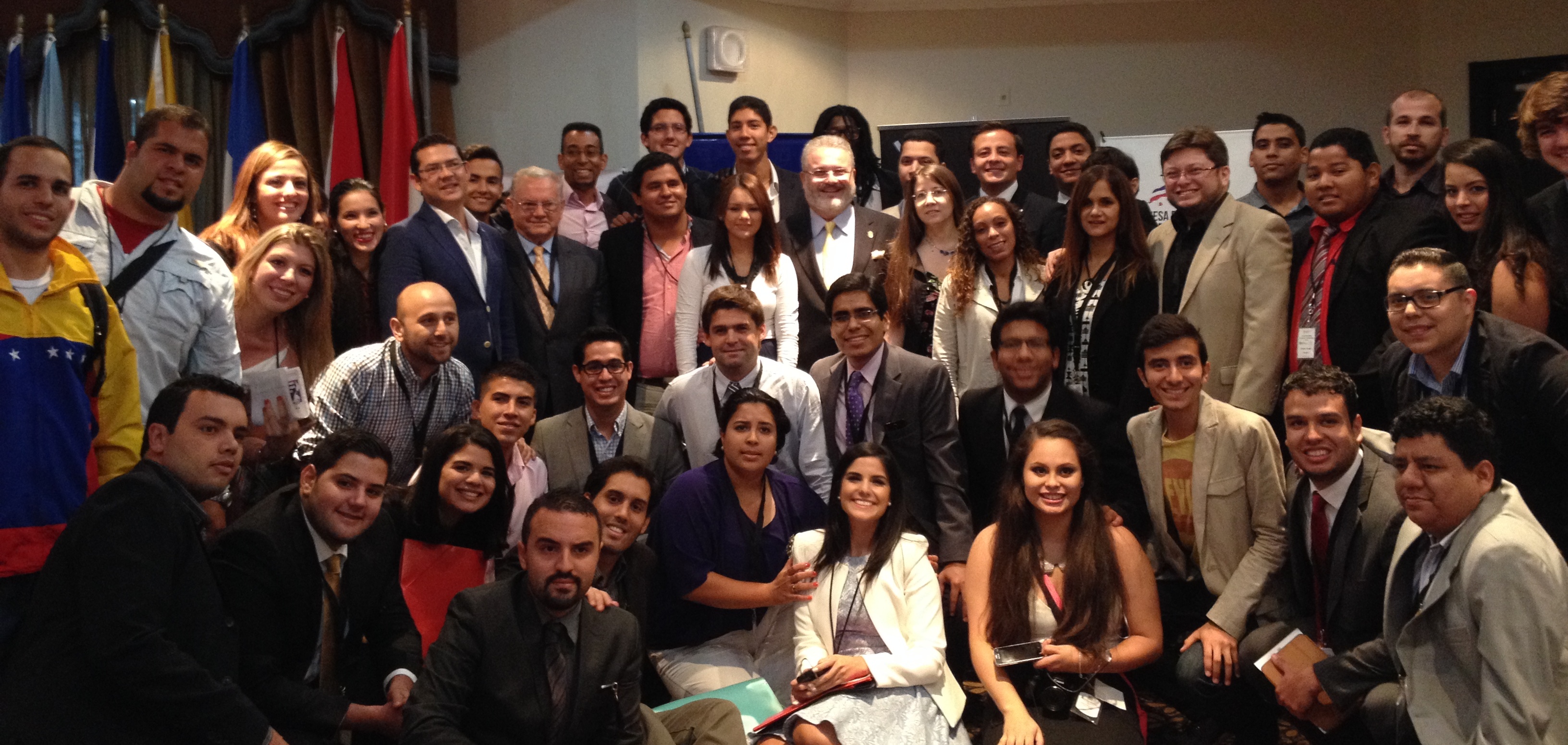 EspañolOn Monday, April 6, youth leaders from across the region kick-started the week leading up to the Seventh Summit of the Americas in Panama, by voicing their thirst for democratic reforms in Latin America.
The Democracy and Youth Regional Forum, held in Panama City under the auspices of the Latin American Youth Network for Democracy, saw Venezuelan and Cuban activists take the lead in demanding that regional governments support democratic transitions, labelling them "accomplices" to the crisis in their home countries.
The young campaigners were also addressed by Rosa María Payá, a prominent Cuban dissident who will participate during the Organization of American States (OAS) Summit as part of the Civil Society Forum. Along with a group of fellow Cuban activists, she hopes to secure international support for the Cuba Decides initiative, which seeks to hold free and fair elections on the island after 67 years of Communist rule.
Payá warned that the Summit could become just another routine meeting between presidents and produce few meaningful concessions from Caracas or Havana.
"That's why we encourage the heads of state to be brave and live up to their historical responsibility to the whole region, but in particular with Cuba … The time has come for them to stop talking exclusively to a general [President Raúl Castro] who was never elected by Cubans, and support the basic demands made by the people," she told the PanAm Post.
The youth forum also featured Darío Ramírez, a former councillor and spokesperson for Venezuelan opposition party Popular Will (VP), whose leader is the political prisoner Leopoldo López. Ramírez, who left the country in 2014 after Venezuela's intelligence agency ordered his arrest, urged the international community to prevent Venezuela's governing model since 1998 from expanding throughout the region.
"We cannot let the Summit pass by as if they were all democrats at the table, because everything shows that in Venezuela there is no democracy," he argued.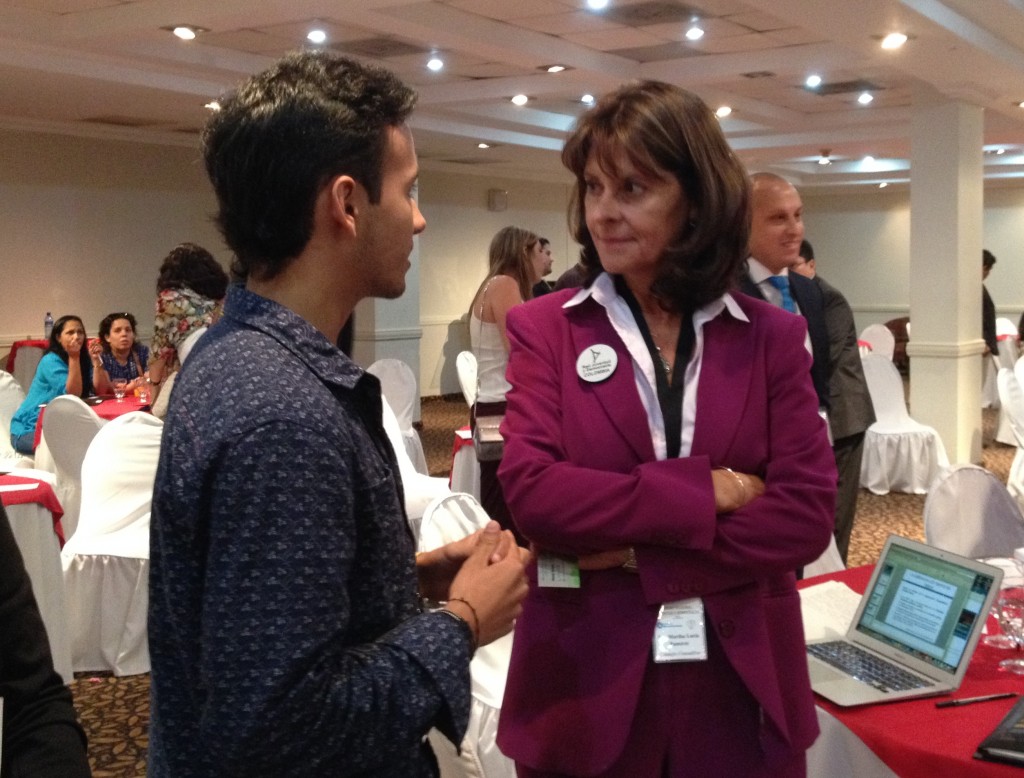 Marta Lucía Ramírez, a former presidential candidate in Colombia, also called on leaders present at the Summit to adopt a consistent attitude toward what she described as "democratic failure" in Venezuela.
"The same governments that in the past benefited from Venezuela's oil are now behaving, if not in a cowardly way, at least in complicity with this failure and arbitrary rulings against the Venezuelan opposition," she told the PanAm Post.
Representatives from Guatemala, Nicaragua, Ecuador, Cuba, and Venezuela similarly denounced instances of violations of human rights within their own countries and debated the Inter-American Human Rights Commission's role; the construction of the Nicaragua Canal, restrictions on the free press in Ecuador, and mass arrests of dissidents in Cuba and Venezuela.
Panamanian Minister of Government Milton Henríquez was present to support the group's demands, and welcomed the flurry of pro-democracy events coinciding with the diplomatic gathering. "We cannot allow a single issue to hijack the Summit," he said.
Travel Obstacles
Rosa María Payá was one of 10 activists who faced detention and abusive interrogation at Tocumen International Airport on Sunday upon her arrival to Panama. Authorities threatened several visitors with deportation if they engaged in peaceful protest during their stay in the Central American nation.
A few hours later, following negative press coverage, Panama's Foreign Ministry issued an apology and attributed the immigration officers' behavior to a "bureaucratic mistake."
In order to leave Cuba without incident, activist Eliécer Ávila chose to fly to Costa Rica first, where he spent a week before moving on to Panama for the Summit. "We thought they [the Cuban authorities] wouldn't let us leave, that's why we picked alternative routes in advance," he said.
A Venezuelan activist — who goes by the pseudonym of Ricardo Pérez for security reasons — meanwhile faced harassment in his own country. He told the PanAm Post that airport employees and officials inspected all the money he was carrying looking for currency control violations, and subjected him to an invasive search.
"They made me defecate to prove I wasn't carrying any illicit substances. I had to do that in front of a military officer, and then they had me sign a document saying they had not violated my rights, but they refused to give me a copy. Then I lied, and told them I was going to Panama as a Chavista [government supporter] to defend Venezuela at the Summit, and they let me go," Pérez explained.
Civil Society Surge
Beginning on Thursday, four official fora prior to the Summit will be tailored to university authorities, civil society, youth leaders, and regional business figures. On Friday, at the beginning of the Summit, representatives from the four events will present the results of these debates to the present heads of state.
During the civil society forum, 21 former presidents from Latin America and Spain will demand the release of Venezuelan political prisoners Leopoldo López, Daniel Ceballos, and Antonio Ledezma.
The initiative, started by former Colombian President Andrés Pastrana, will deliver a letter penned by the wives of the jailed opposition leaders to the outgoing Organization of the American States General Secretary José Miguel Insulza, and to Panamanian President Juan Carlos Varela.
Payá will meanwhile speak in the same venue on behalf of the Cuba Decides project.
Other unofficial gatherings and demonstrations organized by diverse civil society groups will also take place. On Tuesday, international advocacy group Congressmen for Democracy will hold a meeting with legislators from Ecuador, Nicaragua, Argentina, and Peru, along with activists from Venezuela and Cuba, to discuss human-rights violations in the latter two countries.
Panama's Liberty Foundation and the Inter-American Institute for Democracy will hold the forum "The other side of the coin" on Thursday, attracting opposition politicians from Nicaragua, Bolivia, Cuba, Argentina, and Venezuela, who will draft a document to be sent to the Summit.
Also on Thursday, an artistic exhibition will take place in Panama's Ciudad del Saber, where rap musicians from Cuba's Pro Free Art Association will offer a free concert.
The University of Panama will meanwhile host the Summit of the Peoples from Thursday to Saturday, attracting social movements, unions, indigenous groups, and other progressive organizations.
Translated by Daniel Duarte. Edited by Laurie Blair.