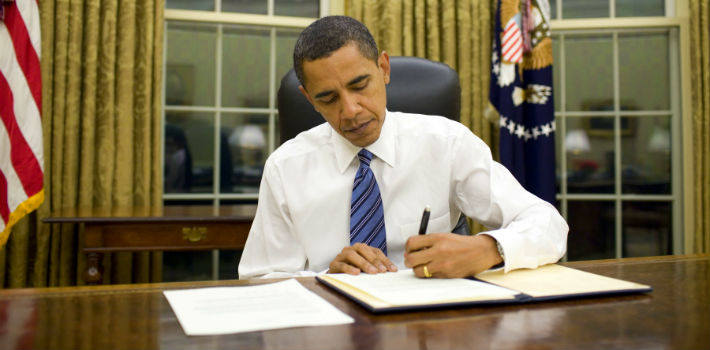 EnglishUS President Barack Obama issued an executive order on Monday, declaring a national emergency with regard to the "unusual and extraordinary threat" posed by Venezuela to the security and foreign policy of the United States. The same order applies sanctions previously approved by Congress against seven Venezuelan officials for their alleged role in human-rights violations in the South American country.
"We are committed to advancing respect for human rights, safeguarding democratic institutions, and protecting the U.S. financial system from the illicit financial flows from public corruption in Venezuela," the White House statement continues.
The order implements the Venezuela Defense of Human Rights and Civil Society Act of 2014, signed by Obama on December 18, 2014.
The seven sanctioned individuals include Antonio José Benavides Torres, commander of Venezuela's armed forces (FANB) for the country's central region; security service (SEBIN) Director General Gustavo Enrique González López; former National Guard Commander and current President of state firm CVG Justo José Noguera Pietri.
They're joined by Katherine Nayarith Haringhton Padron, national level prosecutor of the 20th District Office of Venezuela's Public Ministry, who is heading the majority of the cases against political prisoners in Venezuela. Also targeted are Police Director Manuel Eduardo Pérez Urdaneta; former SEBIN boss and current chief of the FANB's 31st Armored Brigade of Caracas Manuel Gregorio Bernal Martínez; and FANB Inspector General Miguel Alcides Vivas Landino.
Monday's extraordinary measure is also directed against those involved in: business activities or policies to the detriment of democratic processes and institutions; violent acts or human-rights abuses; actions which prohibit, limit, or punish the exercise of freedom of expression or peaceful association; and public corruption committed by senior government officials.
Those sanctioned will have assets and properties in the United States seized by the government, and US citizens are forbidden from engaging in business activities with them. The executive order also bars the seven named individuals, as well as any future targets, from entry into US territory.
Monday's order authorizes the US Department of the Treasury, in consultation with the Department of State, to apply sanctions to any person who is a current or former leader of any entity which has engaged in the activities described, alongside current and past members of the Venezuelan government.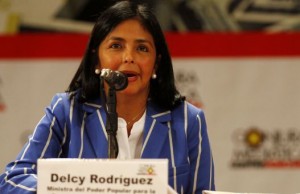 "Venezuelan officials past and present who violate the human rights of Venezuelan citizens and engage in acts of public corruption will not be welcome here, and we now have the tools to block their assets and their use of US financial systems," White House spokesman Josh Earnest said in a statement on Monday.
Two weeks after Venezuelan police violently detained Caracas Mayor Antonio Ledezma, the press release added that the Obama administration was "deeply concerned by the Venezuelan government's efforts to escalate intimidation of its political opponents. Venezuela's problems cannot be solved by [criminalizing] dissent."
Sanctions were announced in December 2014, and already-tense relations between Caracas and Washington have passed freezing point. Since 2010, the two countries have withdrawn ambassadors, although both maintain a presence in the other's capital.
Last week, Venezuelan President Nicolás Maduro called on the United States to reduce the number of its personnel in Caracas to 17 individuals (80 percent fewer than at present) and made it obligatory for all US citizens visiting Venezuela to acquire a visa.
In July 2014, the US government suspended entry visas for 24 Venezuelan officials, and on February 2, 2015, State Department Spokesman Jen Psaki reported that the US government would extend sanctions to current and former officials believed to be complicit in human-rights abuses. The total figure of those sanctioned now reaches 56 individuals.
Venezuela Prepares to Respond
As of late Monday afternoon, the Venezuelan government said it would quickly respond to the measures signed by the White House and the US declaration of a "national emergency."
Foreign Minister Delcy Rodríguez said via Twitter that Venezuela had recalled its chargé d'affaires in the United States for "consultations."

https://twitter.com/DrodriguezVen/status/575014633993453568
"We have called an immediate consultation with Maximilien Arveláiz, chargé d'affaires in the United States."
The National Assembly president meanwhile rejected the US measures, calling for a public demonstration against them, and saying that the Venezuelan government was surprised that the United States "is going to do something against the Venezuelan people." He also noted that both countries would likely encounter each other in Panama at the Summit of the Americas from April 10 to 11.
On February 20, Venezuela's Supreme Tribunal of Justice issued a ruling stating that the United States had no jurisdiction outside of its territory to apply any law, legal norm, or sanction against the sovereignty and democratic institutions of Venezuela, despite the fact that US sanctions are only applicable within the United States.
Monday's executive order further stated that the measures taken by the White House aren't directed against Venezuelan citizens in general nor against the Venezuelan economy.
Sabrina Martín contributed to this article. Translated by Laurie Blair. Edited by Fergus Hodgson.