EspañolVenezuelan citizen Carlos Odín Velazco founded the company Tecnobreaks Inc. in Panama in 2011. He was the company's director until July 17, 2014, when his lawyer, José Alejandro Quiodettis, filed a document without his authorization removing him from his position in the company.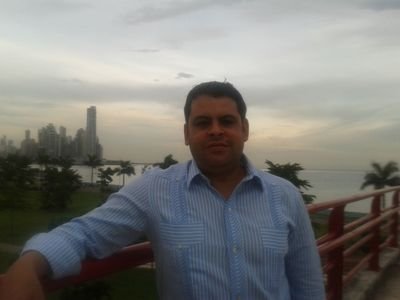 The move placed three Spanish citizens in management positions within his company, as director, treasurer, and secretary — positions which use to belong to Velazco, his father, and his ex-wife.
Velazco says a week before his life changed, he learned from the journalist Alek Boyd that his company was the first and only shareholder of Epalisticia, the Spanish company that bought the Venezuelan news outlet El Universal in June.
On social media, Velazco was called a Chavista puppet, among other epithets that characterized him as the man who backed the purchase of El Universal with the Maduro regime's dirty money.
Velazco has always denied these accusations, but on July 17, the rumors lost all legitimacy when it was the discovered that the three Spaniards who usurped the Velazco family business were Epalisticia employees: Eduardo Escribano López de la Osa, José Luis Otero Basanta, and José Antonio Lopez de la Torre.
On Tuesday, Velazco announced through social media that he will file both criminal and civil lawsuits against Quiodettis, the witnesses of the alleged fraudulent sale, and the Spanish Epalisticia employees. Velazco claims that he still has the documents that prove he is the legal owner Tecnobreaks Inc., and that his lawyer completed the transaction without his knowledge, using falsified documents.
Why was Tecnobreaks Inc. created?
The first thing that I wanted was to be able to immigrate from Venezuela to Panama, and through that company be able to send merchandise to our company in Cumaná (a city in eastern Venezuela). In 2006, I traveled to Panama, and in 2011 I finally moved there in the hopes of formalizing the company as an exporter of breaks. We could never get in done, and after six months I began to stay there illegally and changed my immigration status to a student visa. I no longer needed the company to be here.
A while later, I told Alejandro Quiodettis that I wanted to sell the company, because he said I could get US$2,000 or $3,000. But he always told me he couldn't find a buyer.
This year I called him twice: once in February to see if there was anyone to buy the company, and he told me no — no one had come forward. I called him another time in May, because I needed documentation to leave Panama, and again he never mentioned a possible sale of the company.
When did you file the lawsuit? And why now?
It will be filed next week. I have only just now authorized the power of attorney for my lawyers to file the criminal and civil suits. We were waiting until last week to do it, but I informed José Alejandro Quiodettis — who was behind all of this — and he asked me for an extension.
An extension for what?
When all of this started he asked me to give him some time and to trust him. He said he was going to fix the situation, and that he made a few mistakes, not having told me about selling the company.
He never gave you a reason for what he did with Tecnobreaks?
Never. In the first meeting, in July, he told me he had made a lot of mistakes and he was going to fix them. Two or three days later I went back to meet with him. I stood firm. I told him what I was going to do [sue him], and he was very nervous.
Each time he'd tell me the same thing: "Look Carlos, remember this is a very powerful group," wanting to intimidate me.
I made a few requests. I wanted my entire family here in Panama, because I have a daughter, my sister, and my parents in Venezuela, and if they were here I would feel much better. I told him that whatever happened to me or my family was his responsibility.
They threatened me for a little while. They weren't direct threats; they came through Alejandro. We spoke personally, and each time he'd tell me the same thing: "Look Carlos, remember this is a very powerful group," wanting to intimidate me.
Did he explain how he could make all of these changes to the company without your consent?
I don't know how he executed the sale, because I have the original papers that certify that I am the owner of the company. There are a few certificates that were delivered at the time of registration. I don't know how these people allowed a company to be purchased for such an important negotiation without the actual owner of the company being there.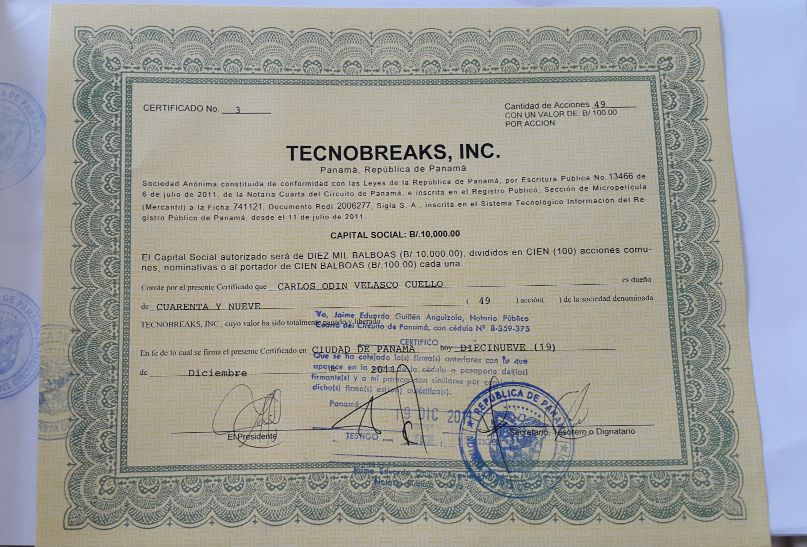 From the moment this happened, he was no longer my lawyer. I am almost certain they offered him a nice amount of money to do this type of negotiation, and to me, he can no longer be trusted.
Now we are concentrating on gathering the documents we need to file the lawsuit. I had to pay to get some documents, because they were archived in other places, but I got them.
Do you have documents that prove they falsified the sale?
No, that I do not have. That will have to come from them. The owner of El Universal should have them, because those that bought El Universal are from Epalisticia, but at the same time Epalisticia has a single shareholder, which is my company. I imagine they executed this scheme from three different countries to make it very confusing as to who the actual owner is.
Why do you think they used your company? Part of what Alek Boyd reported is that it went from having $10,000 in capital to $1 million in a single day.
Exactly, Alejandro Quiodettis does this so the company is more suitable for investment. My personal opinion is that you have to look at the Official Gazette 34.930 implemented in 1992 by [former Venezuelan president] Carlos Andrés Pérez, which stipulates that any person who is the owner of a media outlet has to be Venezuelan.
I do not believe this was a coincidence, but a very well-orchestrated plan. And here in Panama, anything can be done.
The first thing they did was find three normal people, to make it difficult for investigators to determine who the true owner of the newspaper is. Once the public realizes that Epalisticia can't be the owner of El Universal, because they are not Venezuelans, they reveal their sole partner is Tecnobreaks, which is Venezuelan. I do not believe this was a coincidence, but a very well-orchestrated plan. And here in Panama, anything can be done.
Among my suspicions is that these people — which we believe is the Venezuelan government — told Quiodettis to keep the situation quiet, because here in Panama he would be protected. [In Panama], the formation of corporations is not entirely public. You can form the board, but the real owners can remain hidden.
So do you think the goal was to find a Venezuelan owner of a company to satisfy the legal requirement for owning a media outlet? You don't suspect money laundering?
Almost all of these things are done the same way as Globovisión, and how it was done with Cadena Capriles, whose actual owners are not known to the public.
Almost all of these things are done the same way as Globovisión, and how it was done with Cadena Capriles, whose actual owners are not known to the public. They find a way to do business like this, with various companies, to make it more difficult for investigators to find out who the real owners are.
If it wasn't revealed to the public yesterday [on Monday], it would already be forgotten. No one would have taken an interest, because the investigation is very difficult. The only person who could come forward was me, no one else.
Where does the lawsuit go from here? And who is being accused?
The complaint is primarily directed at those who now sit on the board of my company: Otero Basanta, De la Torre, and López de la Osa, the same people who turn up at Epalisticia. There will be a criminal and civil suit against those four, and those that served as witnesses to the signing of the purchase.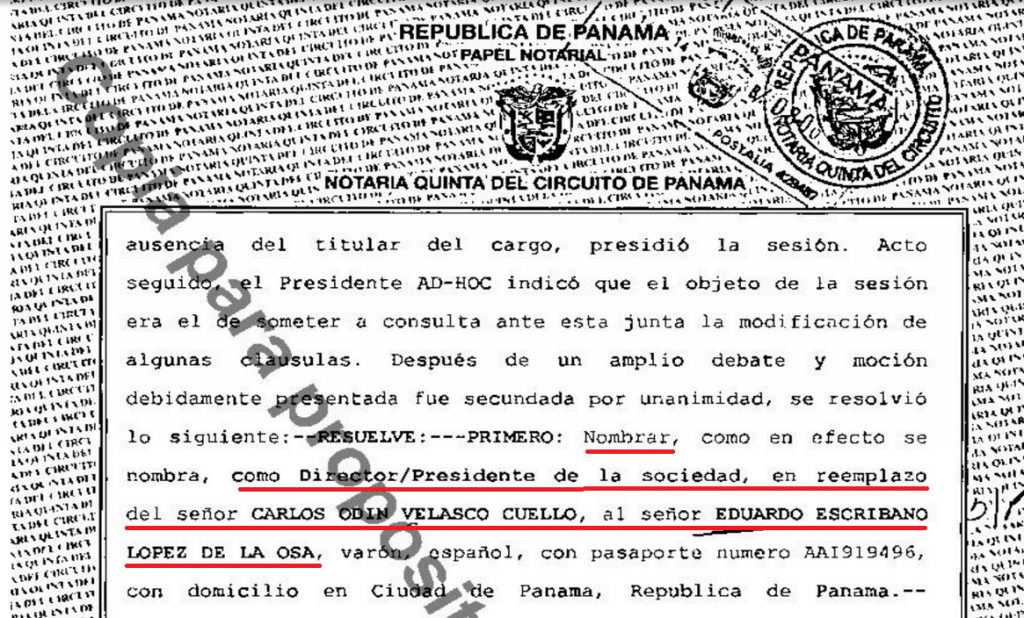 I checked online. There is a Aristeo Boyd [named as a witness], who is a little Indian from here who I imagine they manipulated. They would have given him something to sign as a witness stating all of the owners and shareholders of the company were there, but I was never in that meeting.
I don't know the Spaniards. I have never seen them. I saw Basanta a month or so ago on Runrun.es. The lawsuit will be against them — these six, seven people, and the people who appear to be connected, according to the investigation.
The first lawsuit will be for misrepresentation, for the falsification of documents, and any other wrongdoing the investigation finds.
The first lawsuit will be for misrepresentation, for the falsification of documents, and any other wrongdoing the investigation finds. I asked the lawyers to file a suit for damages.
We will see what we are going to do for moral damages, psychological damages, because my life has really changed. Like I told you, for eight to 10 days I didn't sleep. I was extremely worried and nervous. My mother was as well. My mother is 70-odd years old. She has high blood pressure, and it bothered me very much when there were days at three or four in the morning, and she was speaking with me and praying, asking how it was possible for someone to get involved in a problem like this.  Psychologically, they really harmed us; they damaged us.
What is your ultimate goal with the lawsuit?
The primary purpose of the lawsuit is to clarify the facts, and to distance myself and my family from what they are doing. Secondly, to get compensation for the damage they have caused my family. I asked them to move my family here, and they have not done it.
If I have to sell them the company, I will sell it. But it will happen publicly, not hidden again. Like they say: "We are what we buy."
Are you only going to take the suit to courts in Panama?
I am trying to find a way to bring it to Spain. A US lawyer who specializes in international issues is interested in the case. My intention is to see it through. The only thing I hope for is the support of the media, because you all will decide if I continue or stop. If [the media coverage] continues, I will have a form of protection. But if it doesn't, I will have to accept — and I hope this doesn't happen — what they ask, or what they want to do.
I am particularly interested in the case gaining attention in Spain, because there the laws are very different. There the laws mean something. There is more confidence in the judicial system. Here, in Panama, things are similar to how they are in Venezuela — you pay and it everything changes, or the case is delayed.
And how will you afford all of the legal costs?
I came to an agreement with my two lawyers, since I am not able to make any payment at the moment. I presented the case to them, and we agreed we will handle that issue when we finish the process. They charge a percentage and will be concerned about a just compensation.
If I file the suit, and Alejandro Quiodettis doesn't get his act together, he will probably go to jail, and then he will have to talk.