EspañolThe Chavista war on shortages and the black market is heating up. Their two latest measures for Venezuela are point-of-sale biometric scanners and a tightened, centralized distribution system for domestic transportation.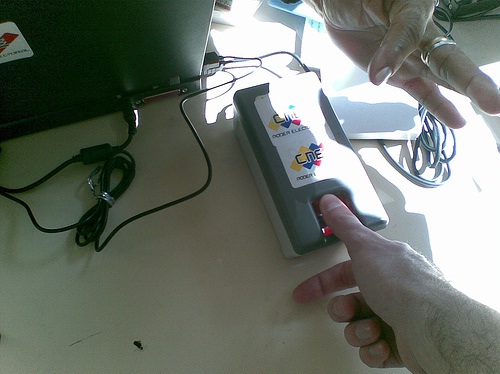 Andrés Eloy Méndez, superintendent for fair prices, has declared that the most notorious of the two will be in force from November 30. All food-related supply chains, private and public, will have to be equipped with biometric technology capable of recognizing fingerprints, to impede consumers from buying more than what the regime considers adequate.
"All supermarkets and department stores in the country must have biometric readers … for the control of the quantity of products purchased … a fairer distribution and a cut in smuggling [will be achieved]," Méndez declared during an inspection he personally conducted on Wednesday at Makro, a chain of department stores.
Similarly, President Nicolás Maduro has indicated he will expand the implementation of the centralized distribution scheme to yet other areas of the economy, to "ensure" items reach consumers. At present, the Agri-Food Integral Control System (SICA) "guides" food items.
Méndez has clarified that the distribution scheme will expand to personal hygiene products (such as deodorants and shampoo), concrete, and iron for construction purposes. In his view, implementation will demonstrate that there is sufficient supply of basic consumer goods that Venezuelans require.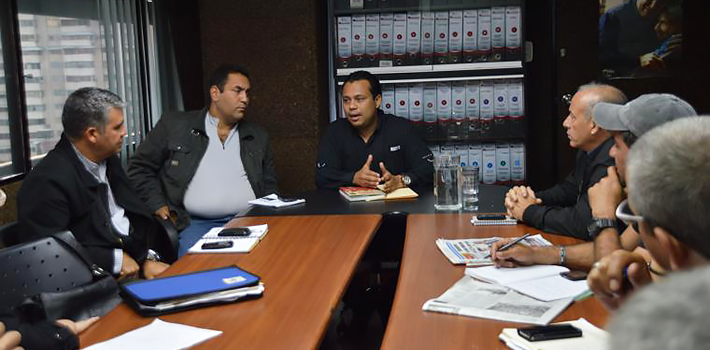 The predecessor to the new biometric system, the Superior System of Assured Supply — now present throughout the state's outlets and some private-sector participants — has drawn ire as an updated version of Cuba's infamous ration card. However, the superintendent has dismissed such concerns, and says the new biometric system will expand far beyond the 446,000 people already on the rationing system.
Producers, Traders: Hoarding or Suffocated?
Those who stand against these measures — both industries and consumer organizations — maintain that the shortages do not arise because of contraband. Rather, they contend that prevalent shortages are an inevitable outcome of a greatly reduced productive sector.
The poor performance of previous control systems appears to make their case. Newspaper El Universal has highlighted that food and medicine have been subjected to the centralized distribution controls for many years. Yet even the Maduro administration has admitted that the level of smuggling has only accentuated, as it diverts 30-40 percent of the local market.
José Rozo, ex-president of the Fedecámaras business association in Táchira state, goes even further and alleges that those in office really want to forge their own black markets for their allies.
"Thanks to the scheme established by the government in this country, you cannot drive a truck containing food without a permit issued in Caracas. But then, how do trucks arrive to Cucúta (Colombia)? Only those who have contacts with the highest government authorities can export their merchandise and bypass border control. We are dealing with a chain of corruption," the business leader opined in an interview with the PanAm Post.
Rozo asserts that the government criminalizes bachaqueros — the people who cross the border into Colombia with Venezuelan products for resale — but that they are not the true culprits.
The minimum wage in Venezuela earns individuals around 240 Bs. (US$3) per day. With this money they can buy two meals. If someone makes a purchase of 2,000 Bs. ($25) and sells these products in Cúcuta, he will generate 1,000 Bs. in profits ($13). Rationally, many people will resort to this practice because of need.

The government is reproaching men and women who can only carry between five and 10 kilograms of food. We demand the dissolution and imprisonment of the true mafia groups that are currently under government protection.
Mere Dependence, Survival as a Way of Life
By "mafia groups," Rozo is referring to the relationship between the control schemes and corrupt officials. When supplies are limited, those in control of the distribution systems face a great temptation to divert them for their own benefit.
Economist Alicia Sepúlveda, of Cedice Libertad, a Venezuelan liberal policy institute, affirms that "the expansion of state powers … [and the granting of rights] has given a great stimulus for corruption in a society already affected by increasing inflation and where salaries do not cover the needs of families."
Sepúlveda points to the smuggling on the Colombia-Venezuela border: "If one or more individuals are to decide whether one can cross to the other side, and someone is facing it as an extreme necessity, he will offer bribes … Often the officials on duty are agreeable, even more so because they too are paid really low wages."
Beyond isolated incidents, Sepúlveda warns that these incentives have found their way into many parts of the Venezuelan economic system. This problem, she explains, is on aggravated by the growing number of interventions from the state, including the new biometric scanners and amplified distribution controls.
Caricatura EDO: Control Biométrico y papel tualé pic.twitter.com/4PsWnwEuQv

— EDO (@edoilustrado) August 21, 2014
"I'm sorry, you bought toilet paper two weeks ago. According to the biometric control, you still have to wait 15 cleans."
Consumers: Guilty until Proven Innocent
As the restriction on goods with regulated prices come into force — ranging from grains to meat and even toothpaste — consumers will have to register information regarding their household, occupation, and economic status, among other details. That is according to the Superintendency of Fair Prices, presumably for them to formulate precise rationing metrics.
Sepúlveda points out that this will implement the consumption-reduction goals that the Chavista regime has been trying to impose since its inception: "They are trying to decide how much and which products people should consume."
The economic analyst believes this fosters dependent people, as those in power want — mediocre and just "trying to cope with daily life in the face of a state that seeks to enslave them."
The core problem is oil-resources management, which is only operated by the state and only generating wealth for government agents, thus making citizens dependent on them. This is in contrast to countries in which the state's income comes from taxes, which are perceived as more worrying to citizens and call for more monitoring in how they are spent.… In our case, the government manages wealth which is foreign to citizens… This, together with the boycott to the private sector, ends up strengthening the state.
Roberto León Parilli, president of the National Alliance of Consumers, adds that the two strategies assume the Venezuelan consumer is to blame for the shortages and current crisis: "there is no presumption of innocence … on the contrary, there is a presumption of guilt, and because of this, [the governments says] 'we are going to inspect all Venezuelans.'"