EspañolThe US Agency for International Development (USAID) announced on March 19 at the University of Texas A&M a US$5 million partnership with World Coffee Research (WCR) and private companies in the coffee industry. The mission is to find crop species that are resistant to the rust fungus, which, ccording to the agency, has caused more than US$1 billion in losses for Latin America and the Caribbean since 2012.
USAID acknowledges that the fungus "seriously threatens the livelihood of those who depend on the coffee industry, especially small farmers," according to its press release.
Besides having an interest in the survival of Caribbean coffee production, US officials have expressed concerned about the possible migration backlash.
"We're tackling this disease outbreak to ensure that farmers and workers enjoy a stable income, so they won't have to plant illegal crops or be forced to leave the country because they cannot make a living there. This partnership will employ innovative solutions to address the immediate and long-term impacts caused by the coffee rust, while aiding this key agricultural sector's resurgence," said USAID Administrator Mark Feierstein.
The plan is to engineer disease-resistant species that can be then introduced into the region. The University of Texas A&M, which specializes in agriculture, will be responsible for developing these new crops.
EU acelera esfuerzos para ayudar a agricultores centroamericanos a combatir la roya del café http://t.co/U5wVJxVsbK pic.twitter.com/pUSHnytUOu

— Frente Pro Agro (@FrenteProAgro) May 19, 2014
According to the Regional Cooperative Program for Modernization and Technological Development of Coffee (Promecafé) 27 percent of world coffee exports come from Central America and the Caribbean, and nearly 2 million people depend on the industry. USAID estimates that not addressing the disease would cost 500,000 jobs in the region over the coming years.
No Definitive Solution in the Short Term
Leonardo Lombardini, deputy director of WCR, told the PanAm Post that it is impossible to eradicate the coffee fungus, but he believes that one could engineer a number of genetic variations to make new species more resistant to the coffee rust, and with time, replace the disease-ridden crops.
Lombardini cautions that the outcome may not be seen until approximately 10-15 years have passed, since this partnership's research program includes two lengthy phases. The first one, beginning in September, requires planting 30 resistant coffee species in 20 countries. That includes Promecafé members, an alliance of coffee research centers — El Salvador, Panama, Guatemala, Costa Rica, Honduras, Dominican Republic, and Jamaica — in addition to Nicaragua, Colombia, Peru, and Brazil.
The second stage includes a genetic test on 600 coffee species to determine a rust-resistant gene. This is where the research may take the longest, since before a new species is spread throughout the world, years are needed to verify its crop yield and quality.
The Threat Is Now
Although the rust has appeared repeatedly since 1980 in Guatemala, El Salvador, Honduras, Costa Rica, and Jamaica, the losses derived from the disease have escalated in the last two years — perhaps on account of elevated temperatures. The latest coffee harvest from March 2014, for example, was 15 percent less than Costa Rica's last output, Ronald Peters, executive director of the Coffee Institute of Costa Rica (ICAFE), told the PanAm Post.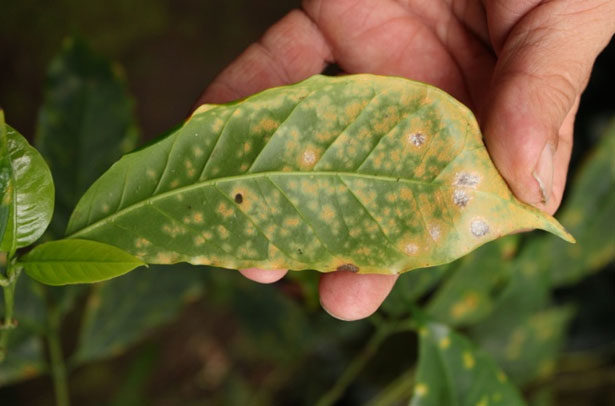 According to El País from Spain, El Salvador suffered a 20 percent drop in revenue from coffee exports in recent years. Similarly, Honduras has earned 50 percent less, Guatemala 40 percent, and Nicaragua 35 percent. The plummeting production in all these countries is largely due to the rust fungus.
In Venezuela, Vicente Pérez, a coffee farmer and executive director of the Confederation of Agricultural Producers (FEDEAGRO), says the disease can reach anywhere from 50 to 80 percent of all plantations. He believes the more aggressive strain of the fungus arrived in contaminated coffee bags that the Venezuelan government imports from Nicaragua.
Immediate Crisis Controls
Until WCR concludes its investigations, farmers will be dependent on unstable environmental behavior, international commodity prices, and occasional help they may receive from NGOs and their governments to alleviate the fungus's devastating effects.
Ronald Peters hopes that in Costa Rica the technology-transfer programs and newer chemical products, along with the rising price of coffee in 2014, will help control the fungus outbreak. The Costa Rican government also created a US$40 million trust fund to address the situation and replace affected crops.
In Venezuela, state price controls over the product prevent farmers from taking a proper course of action and investing in prevention measures, says Vincente Pérez. Producers have sent samples to the Ministry of Agriculture for authorities to analyze and consider implementing some sort of aid for the affected communities. However, they have yet to receive an official response, Pérez laments.
In neighboring Colombia, the National Coffee Research Center (CANICAFÉ) is conducting similar genetic research about coffee and the rust fungus. On its website, CANICAFÉ states that it has successfully identified 70 percent of the genes that make a plant resistant to rust.