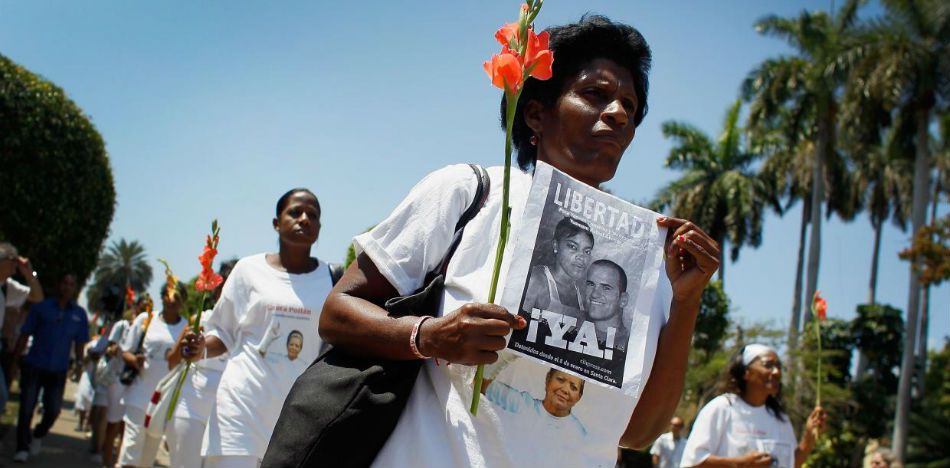 EspañolRaúl Castro's regime in Cuba continues to repress dissidents, protesters and independent journalists. The most recent case involves reporter Enrique Díaz Rodríguez, who was assaulted by a Cuban security agent last Friday, December 8.
Rodríguez' wife Lismeris Quintana reportedly attended mass with her sister Aliuska Gomez García, a fellow member of the activist group Ladies in White. Two police officers were reportedly waiting for them there as they left the church. Both women were arrested and put into a police vehicle.
Rodríguez allegedly filmed the arrest on his mobile phone until an officer tackled him to the ground, injuring his knee, rib and elbow, the publication Cubanet, where Rodríguez is a contributor, said.
In addition to lashing out against Rodríguez, Castro's officials went afte José Luis López Rojas, his neighbor, who was reportedly standing in the hallway of the church at the time. Rojas — who claimed he isn't involved in dissident activity — said he suffered head injuries as a result of the confrontation.
Since January, the island's dictatorship has carried out a reported 4,665 arbitrary arrests, according to the Cuban Observatory of Human Rights. Out of those nearly 5,000,  306 occurred in November and 211 of them were against women.
According to the OCDH, "The Cuban government persists in its repressive dynamics," the Cuban Observatory of Human Rights said. The organization said the confiscation of personal assets and work- related tools and equipment has become common. Castro's regime said blocking dissidents from traveling abroad to attend international events and forums is also becoming commonplace.
Cuba is going through what can only be described as one of the darkest chapters in its history in terms of repression of basic human rights. On the other hand, the island's increasing access to those violations is also being published for an interntional audience like never before.