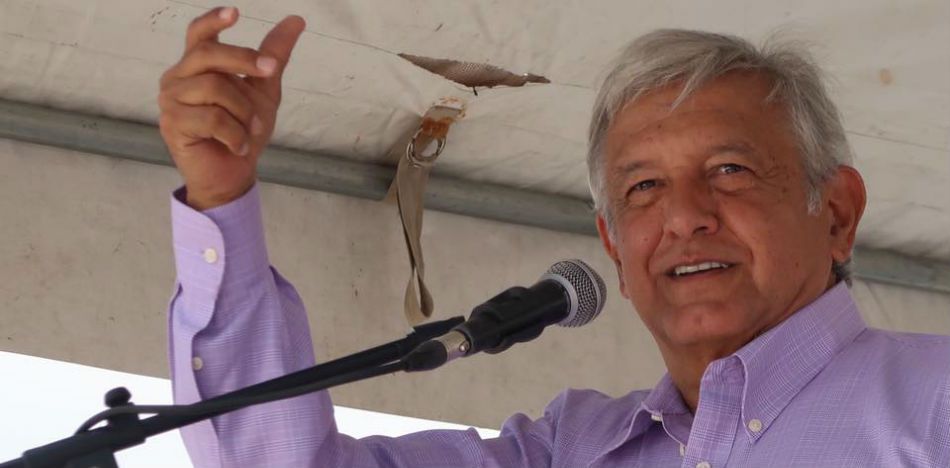 EspañolAndrés Manuel López Obrador (AMLO), the President of Mexico's leftist National Regeneration Movement (Morena) and presidential candidate, said this week that he will do everything in his power to achieve peace in the country through an amnesty deal for drug traffickers.
AMLO made his comments during a weekend visit to the municipality of Quechultenando, Guerrero, a state that has been especially effected by the violence of drug trafficking. He spent part of that time discussing the 43 missing teachers from Ayotzinapa, and promised to appoint an investigative commission tasked with uncovering the truth about what happened to them.
In that same event, he floated the idea of making a treaty with drug traffickers — an effective amnesty deal with large criminal organizations.
"If necessary, we will call for a dialogue to grant amnesty, as long as such a treaty has the support of the victims and the relatives of the victims," AMLO said. "We can't rule out the possibility of forgiveness. In my land, there is a saying 'never forgive and never forget,' but I don't agree with that. I do believe that we must not forget, and we must forgive for the sake of peace."
A strong critic of AMLO, independent presidential candidate Margarita Zavala, tweeted that AMLO's proposal would create "a country of impunity."
AMLO quiere amnistía para corruptos y criminales. Su propuesta es un país de impunidad. Yo quiero un México donde se respete la ley y los delincuentes estén en la cárcel.

— Margarita Zavala (@Mzavalagc) December 3, 2017
Tweet: AMLO wants amnesty for criminals and the corrupt. He is proposing a country of amnesty. I want a Mexico where laws are followed, and criminals are put in jail.
AMLO and those who support his proposal have been criticized by various groups and politicians, including comedian Chumel Torres, who said those who support amnesty should take a closer look at how organized crime has destroyed the state of Chuihuahua.
Siguen defendiendo a alguien que dijo que iba a pactar con el narco.

Ojalá nunca vean qué de la verga dejaron Chihuahua esos maleantes.

Ojalá nunca vivan esa madre.

— Chumel Torres (@ChumelTorres) December 4, 2017
Tweet: People continue to defend someone who wants to make a pact with the narcotics cartels. 
I hope they never get screwed as bad as Chihuahua has been by these thugs. 
I hope it never happens to them. 
The controversial proposal comes at the end of a year marked by notable violence, the majority of which relates to criminal organizations working with narcotics. There are currently six recognized drug cartels affecting Mexico. Many of them ship drugs into the United States.
A precedent exists for establishing some form of a peace or amnesty treaty with criminal organizations in Latin America. Colombia may be the most prominent example. The Santos administration organized a peace accord with the Revolutionary Armed Forces of Colombia (FARC). In El Salvador, a controversial "treaty" has been reached with gangs in hopes of fostering "peace." However the approach has not yet shown the intended results, as violence there has doubled.