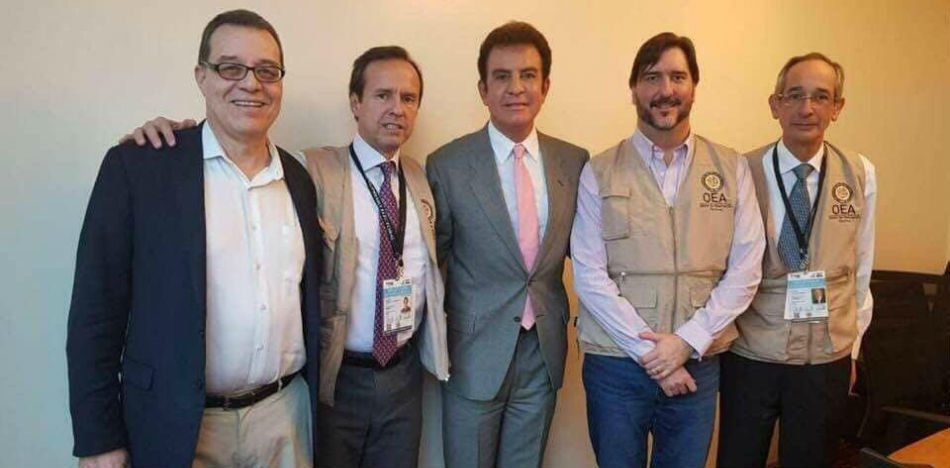 EspañolAfter four days of uncertainty in Honduras following November 26's elections, the country continues to await definitive results about the country's next president.
In order to keep the peace, the Organization of American States sent a team of representatives — led by former Bolivian President Jorge Quiroga — to meet with the two primary candidates: leftist Salvador Nasralla and incumbent president Juan Orlando Hernández. Together, they signed a "Democracy Resolution."
The document establishes an agreement to honor the results of the Electoral Supreme Tribunal and calls on both sides to commit to peace regardless of the outcome. Meetings with each side took place on separate days, the last of which took place with Nasralla last Wednesday. Each candidate was accompanied by leading members of their parties.
Documentos firmados por los candidatos @JuanOrlandoH y @SalvadorAlianza con #OEA llamando a la calma, comprometiéndose a respetar resultados de #EleccionesHonduras #OEAenHonduras pic.twitter.com/ojg3QRQOmy

— OEA (@OEA_oficial) November 30, 2017
Tweet: Documents signed by @JuanOrlandoH and @SalvadorAlianza with #OAS calling for peace, and a commitment to respect the results of the #HondurasElection #OASinHonduras
During a press conference, the OAS announced the agreement, and reassured the public that tensions would calm later in the week.
Tensions have been high in the country after the results published on the Electoral Supreme Tribunal's website began to show a favorable outcome for the current President, which stirred up controversy.  OAS Secretary General Luis Almagro tweeted a celebration of the agreement, calling it a "sign of civility."
Saludamos el compromiso de los candidatos @JuanOrlandoH y @SalvadorAlianza que da señal de civilidad #EleccionesHonduras #OEAenHonduras https://t.co/unsmvAQ6pY

— Luis Almagro (@Almagro_OEA2015) November 30, 2017
Yet only four hours later, Nasralla gave a press conference along with several militant leftists from the Libertad y Refundación (LIBRE), party during which he claimed the agreement he signed with the OAS was not valid, and that they would not accept the results unless they favored him.
"This is an attempt to cheat, and I'm not falling for it," Nasralla said. Zelaya claimed that Nasralla had retracted his signature.
Queremos soluciones pacíficas : pero ese documento no tiene nuestro conocimiento ni aval como CG de la alianza porque entrega a JOH los resultados y Salvador ya retiró su FIRMA . https://t.co/DFSfW0Sr7j

— Manuel Zelaya R. (@manuelzr) November 30, 2017
Tweet: We want peaceful solutions: however we do not recognize or endorse this document as the general council of the alliance, because it submits Honduras to their decision even though Salvador has already retracted his SIGNATURE. 
In response to these statements, the OAS tweeted their sadness over Nasralla's retraction to a "commitment to the people," which would have facilitated the process of finding a "peaceful and impartial" result by "counting all votes with openness and transparency."
Lamentamos q @SalvadorAlianza se retracte de "Declaración x la Democracia", un compromiso con el pueblo, q facilitó #OEA d buena fe xa q en calma e imparcialidad se cuenten todos los votos d forma transparente. OEA seguirá trabajando a favor d la justicia en #EleccionesHonduras https://t.co/ll7cfhPME2

— OEA (@OEA_oficial) November 30, 2017
Tweet: We regret to to inform that @SalvadorAlianza has retracted his support of the "Democracy Resolution", agreement with the people created by the #OAS in order facilitate a calm and imparcial way of counting all votes transparently. OAS will continue to fight for justice in the #HondurasElections.
The latest results from the Electoral Supreme Tribunal website give a 22,677-vote advantage to Juan Orlando Hernández over Nasralla. According to the President of the tribunal David Matamoros Batson, 100 percent of the remaining votes will be tallied, and the final result made available this week.