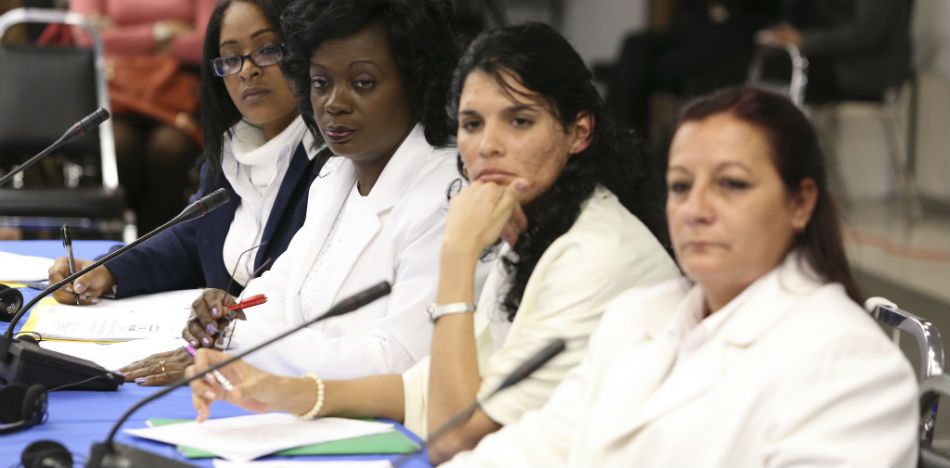 Español Sunday, November 26 turned out to be a perfect storm of events in Cuba. Not only did it mark the one-year anniversary of Fidel Castro's death, but regional elections took place as well. On top of that, the activist group known as the Ladies in White continued their protests against political prisoners despite repressive measures carried out against them by the government.
It was the 125th weekend of demonstrations by the group. This one proved somewhat different because activist Ángel Moya was able to photograph government officials in the act of repressing civilians, and then uploaded it Youtube.
In his video, the Ladies in White protest with signs and slogans like "Yes Cuba, No Castro!" Then, law enforcement arrive and take them away.
Complaints about dissident arrests and disappearances have also come from other opposition members like graffiti artist Danilo Maldonado — also known as "El Sexto" — who reported the arrest of Jiménez Gutiérez via Instagram. He said Gutiérez was arrested "without justification or explanation," and has not been seen since.
https://www.instagram.com/p/BcAzBJjFrK7/
My friend Roberto Jimenez Gutierez who was arrested without justification or explanation, or any indication of his current whereabouts. He has disappeared completely, and those close to him fear the worst.
Meanwhile, José Daniel Ferrer, a member of Unión Patriótica de Cuba (UNPACU) tweeted a video narrating the history of oppression against his political movement, which protested when regional elections were shut down. He described the decision as "electoral fraud."
Repression in Cuba against the Ladies in White and other opposition groups continues to increase all of the time. However, the spread of information through social media — thanks in part to WiFi areas opened by the regime throughout Havana —have allowed dissidents to expose that repression to the world.