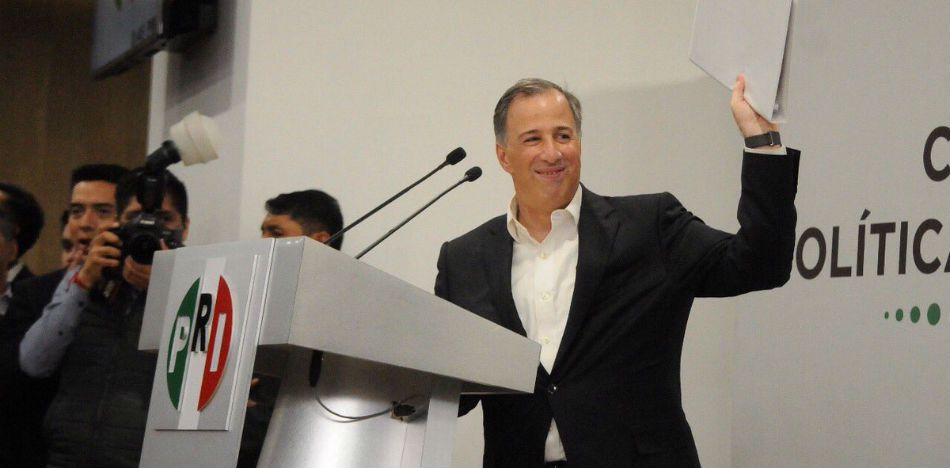 EspañolMexico's Institutional Revolutionary Party (PRI) has officially announced its 2018 presidential candidate, José Antonio Meade, who served as Secretary of Finance and Public Credit until this Sunday. The governing party appears to be trying a new strategy following six years of scandal and controversy from President Enrique Peña Nieto.
On Tuesday, November 28, Meade went on TV to announce his candidacy, and his plan to "explain solutions, pose problems and how to solve them." His opponents, meanwhile, said that he is as corrupt as the rest of the PRI despite that the official's career has been characterized by "transparency, effort and commitment."
For this reason, Andrés Manuel López Obrador — often referred to as AMLO in Mexico — will have a difficult time facing off against Meade, some political analysts have said. Meade has been a non-partisan politician throughout his career, a well-respected entrepreneur and academic.
Ricardo Anaya, President of the opposition National Action Party (PAN), said that Meade was arbitrarily chosen as a pre-candidate, to which Meade replied that his party wanted him because he "was not partisan." Rather, he represents "the vanguard" — an important change from party norms that previously excluded normal citizens.
Though his leftist opponent AMLO is leading in polls, Meade expressed confidence about facing off against him.
"I don't know Andrés Manuel López Obrador," he said. "But I think all his approaches are old. He has a correct diagnosis, but the way he wants to resolve these issues is very old. Power has to be used in order to help and transform and someone who is so hungry for power may not be willing to do that."
Ha sido un privilegio servir a México desde diferentes lugares. Agradezco al Pdte. @EPN por su confianza y por la oportunidad de encabezar @SRE_mx, @Sedesol_mx y @SHCP_mx. Hoy me despido de esta gran institución para seguir nuevos proyectos. Mi reconocimiento al equipo hacendario pic.twitter.com/RCEGzGIMpI

— José Antonio Meade?? (@JoseAMeadeK) November 27, 2017
Meade said Mexico is up against very important challenges, which he intends to resolve by closing gaps in thinking rather than widening them, like AMLO appears to be doing. As for independent candidates Miguel Ángel Mancera and Margarita Zavala, he only said he has an appreciation for them.
Meade will not only be "a complicated opponent" for each of them, as well as the Frente Ciudadano — a coalition formed by the Democratic Revolutionary Party (PRD), the National Action Party (PAN) and the Movimiento Ciudadano — which claims to represent the Mexican people but is made up entirely of political actors.
Perfilan a un candidato del PRIAN y otro supuestamente opositor, pero en realidad palero, PAN-PRD. Les vamos a ganar pic.twitter.com/a6aOJVTanh

— Andrés Manuel (@lopezobrador_) June 29, 2017