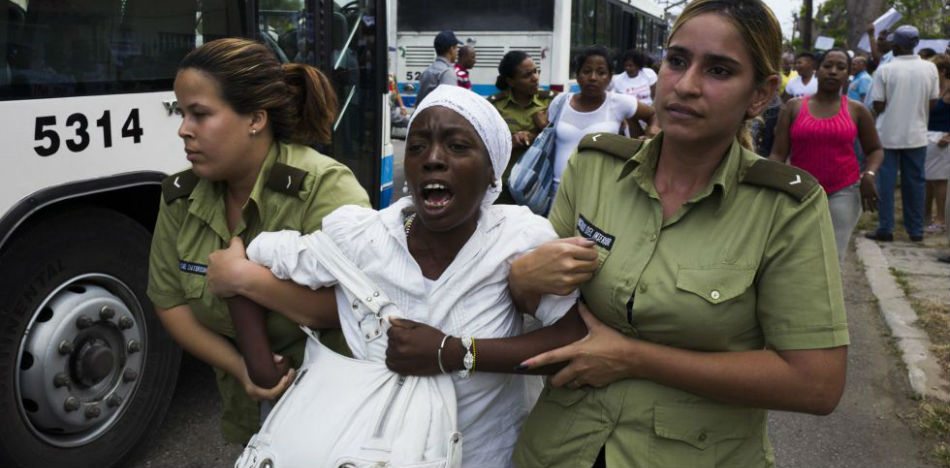 EspañolDespite international accusations of human rights violations, the oppressive government in Cuba continues to violate the freedoms of dissidents by imprisoning, beating and threatening them when they attempt to exercise their right to protest.
The Ladies in White have taken center stage in this struggle thus far. The organization, which demonstrates on behalf of their jailed husbands and family members, saw 38 of its members arrested last weekend, marking 124 days of continues repression by the Raúl Castro regime.
María Cristina Labrada, a member of Ladies in White, said there were 21 arrests in Matanzas and 15 in Havana while Ciego de Ávila and Holguín had one arrest each.
"The Cuban regime prevents us from attending mass at all costs, or anywhere else where we have our group meetings: at home, on the street, or anywhere near where we have groups around the country," she said.
Berta Soler, one of the most distinguished dissidents in the group, was arrested on Sunday in front of her house while holding a sign that read "#TodosMarchamos' 101 days for political prisoners." That particular hashtag, which reads as #WeAllMarch in English, has become popular in Cuban social media circles concerned about the growing number of political prisoners on the island.
Soler's husband, Angel Juan Moya, said that during the arrest, state security officials said they would not give a truce and would not stop "bothering" their relatives.
Lourdes Esquivel, also a member of the Ladies in White, explained that Soler's arrest "was rough" and that the agents "carried her by her feet and hands."
Sources: Damas de Blanco, Cubanet