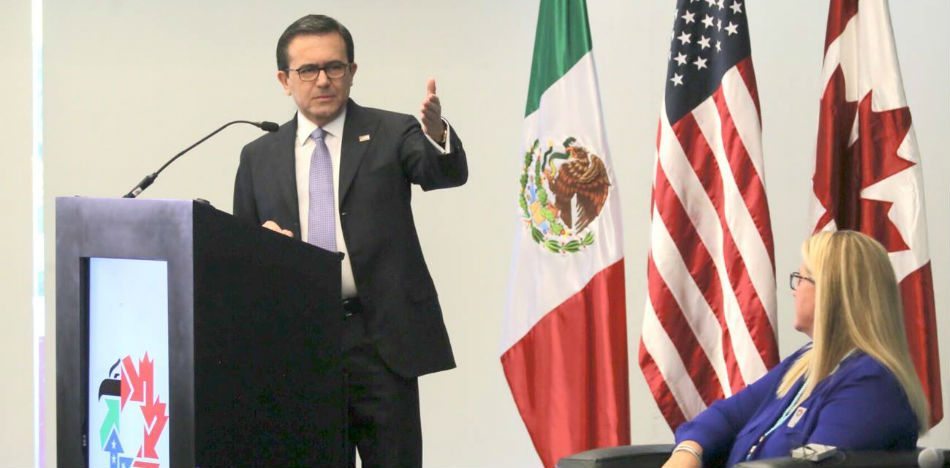 EspañolMexico looks to be on the verge of accepting one of the United States' most radical requests for renegotiating the North American Free Trade Agreement (NAFTA): Requiring that the trade agreement be renegotiated every five years or else be terminated.
Officials in Mexico have not fully conceded to the request yet, according to the country's Minister of Economy Ildefonso Guajardo, but there are serious discussions happening. The US is reportedly proposing that NAFTA be automatically terminated every five years unless each of the three member countries agree to renew it. Mexico reportedly intends to propose that the five-year revision take place, but keep the agreement in place while that happens.
Guajardo said Mexico rejects the notion of a "sudden death" option for NAFTA, and intends to make that clear during the fifth round of negotiations on November 21. "We believe that the sudden death option is too extreme and won't work, though we do believe that we should add more formality to the five-year evaluation of the agreement," Guajardo said.
The five-year review policy currently in place already applies 12,000 product classifications, including sugar and tomato exported from Mexico to the United States. The "Sunset Clause" would just be a more "unsustainable" version of that policy, according to Francisco de Rosenzweig, a partner from the White & Case firm.
Secretary Guajardo has changed his position considerably since last September, when he was adamant about not considering Trump's request. "The sudden death mechanism would send a very bad message to potential investors. It's not in anyone's interest to have a situation of that nature …. There are things (being proposed) that really do not benefit anyone in these negotiations," he said at the time.
Due to the instability of the NAFTA renegotiations, Mexico is looking into modernizing and diversifying its other commercial agreements around the world, including with Brazil, Argentina, Europe and members of the Pacific Alliance.
Sources: Milenio, El Economista