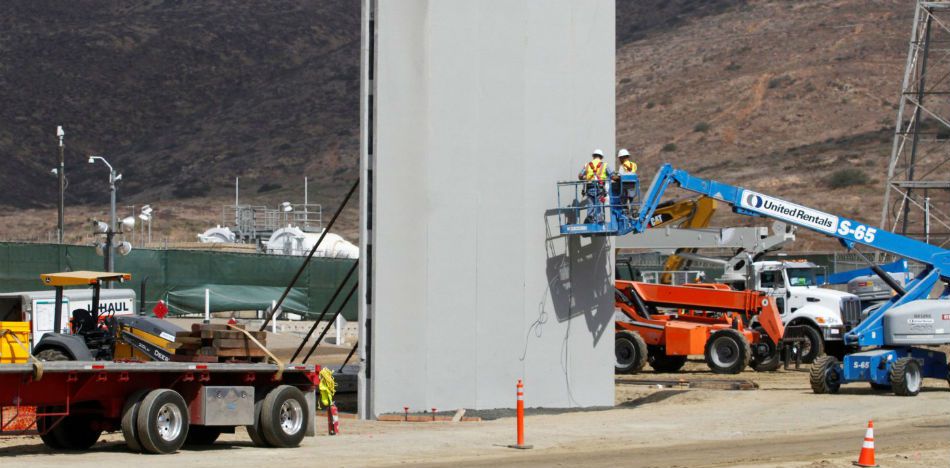 EspañolPresident Donald Trump's wall along the Mexican border is looking more and more like a possibility as the first stage of a million-dollar project continues to make progress within view of Tijuana — the border town known as crossing point between the two countries.
Large concrete and metal walls, visible through a desert that has claimed many lives of people trying to reach the US, is being monitored by police while construction continues in Baja California.
The various wall styles have brought up questions about what exactly the point of the construction is. Some walls are opaque while others have spikes on the top, suggesting that Trump intends to keep out illegal drug trafficking, illegal immigrants or both.
Each of the models has cost the federal government US $500,000. Between 5.5 and nine meters high by nine meters wide, the walls were built using reinforced concrete steel, or sometimes "alternative materials."
The deadline for the prototypes will be finalized this Thursday, October 26, at which time they will be evaluated by Customs and Border Protection agents, who will consider their feasibility, endurance, cost and safety.
"People jump over walls, and if they are too high people can tunnel underneath them, as has already been demonstrated," Sergio Tamay, President of the Ángeles de la Frontera said, adding that drugs continue to cross the border in large amounts, as "this is a correction that needs to be made with the personnel."
The 3,000-mile-long border wall has been one of President Trump's most controversial agenda items, supported by a large section of his supporters, and rejected by perhaps as many, who feel that it creates a division that is not only geographical but also racist.
At the start of Trump's administration, officials expressed doubts about whether the project would get off the ground, but now that the prototypes are up, they seem much closer to reality. The project not only threatens immigration, but also free commerce with Mexico.
Currently Mexico exports 80 percent of its production to the United States, making it the country's main trading partner. Commercial transactions reached US $480 billion in 2016. All of this could change if no joint agreement is reached on the North American Free Trade Agreement (NAFTA). Trump's wall does nothing to makes those talks more cordial, critics said.
Sources: El Economista, Actualidad RT