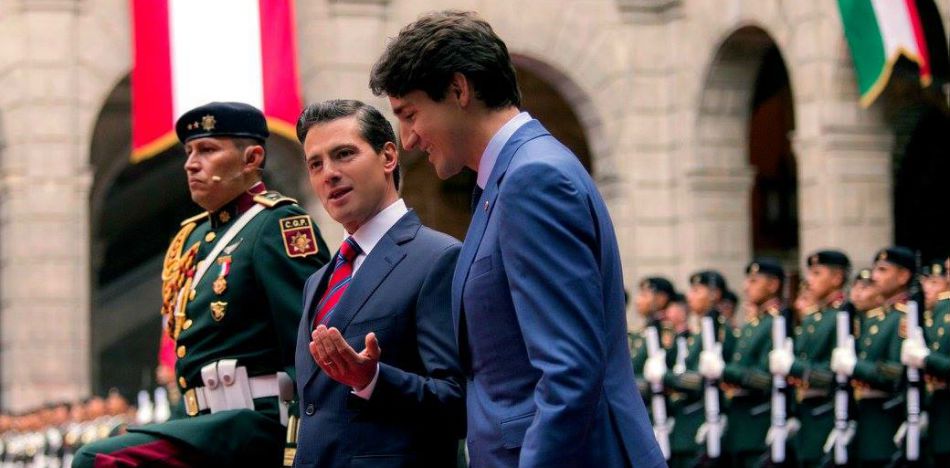 EspañolMexican President Enrique Peña Nieto said Tuesday that his country and Canada would agree to remain in the North American Free Trade Agreement (NAFTA) even if the United States pulls out.
He added that in addition to working on alternatives to a failed  NAFTA deal, his administration is looking into strengthening and diversifying commercial markets involving the Trans-Pacific Partnership Agreement and modernized trade agreements with the European Union.
"In terms of NAFTA, we are working to achieve an acceptable, bilateral agreement," Peña Nieto said during a press conference at the Official Residence of Los Pinos.
Despite announcing the bilateral agreement, Peña Nieto said he feels optimistic that the three countries can reach an agreement. These statements come after Canadian Prime Minister Justin Trudeau made an official visit to Mexico two days prior.
"The tradeoff is: either we improve NAFTA or we trade with new rules, those of the World Trade Organization (WTO), but trade with the United States will continue (either way)," Peña Nieto said.
The fourth round of NAFTA renegotiations came to an end on Tuesday amid tensions and concern over the future of the agreement, as the proposals made by the United States were rejected by Mexico and Canada.
Both countries have repeatedly voiced their disapproval of the United States' demands for new policies on dairy products, cars, conflict resolution panels, government purchases and future drafts of NAFTA.
The United States proposed raising origin rule figures in the automotive sector that are currently between 62.5 percent and 85 percent — 50 percent of which are of American origin. The US also expressed its desire to weaken the dispute settlement system in the treaty, in addition to including a sunset clause so that NAFTA can be renegotiated every five years.
Canada is currently the country in the best bilateral position, as both Mexico and the United States have expressed interest in continuing trade agreements with the country. However, the same is not true of Mexico, as Trump has made it clear on several occasions that their interests do not always coincide.
Sources: El Financiero, El Economista.