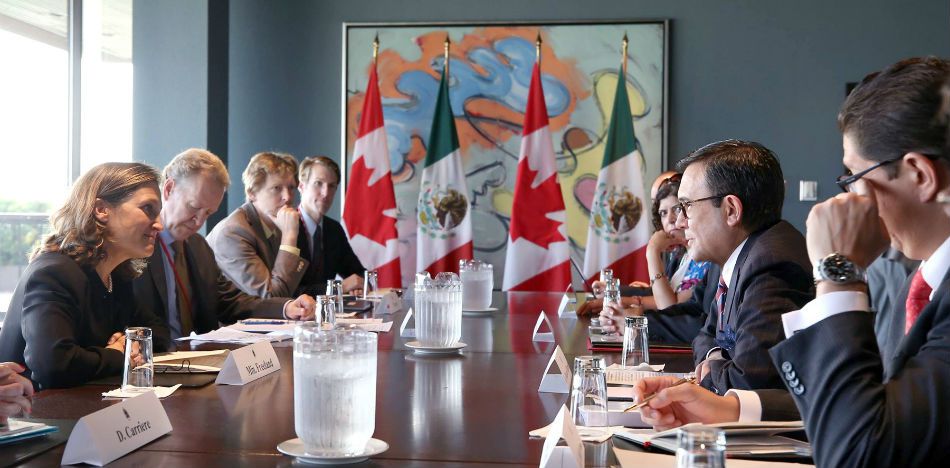 EspañolOfficials from Mexico, the United States and Canada said they are making "significant progress" on renegotiating the North American Free Trade Agreement (NAFTA). Recently, the three countries met to discuss small- and medium-sized businesses (SMEs) that will be effected by changes in the trade deal.
Through a joint statement, the three countries said that "negotiators have made significant progress in a number of areas by consolidating text proposals, closing gaps and agreeing on elements of the newly negotiated text."
This is just one of the 28 chapters they discussed in the third round of NAFTA renegotiations, which lasted from Saturday, September 23 to Wednesday, September 27 in Ottawa, Canada.
"The inclusion of a chapter on SMEs in a modernized NAFTA recognizes the contribution that SMEs make to our economies. The chapter will serve to support the growth and development of SMEs by enhancing their ability to participate in and benefit from the opportunities created by this Agreement, including through cooperative activities, information sharing, and the establishment of a NAFTA Trilateral SME Dialogue, involving the private sector, non-government organizations, and other stakeholders" the three countries' statement said.
"Our teams have been working hard between each meeting to move quickly," Mexico's Secretary of the Economy, Ildefonso Guajardo, said at the end of this round of renegotiations. "The latest meeting on small- and medium-sized businesses reflects this effort."
Declaración Trilateral sobre la Conclusión de la Tercera Ronda de Negociaciones del #TLCAN #Comunicado https://t.co/yOraLWKIDH pic.twitter.com/L1nLswtko5

— Ildefonso Guajardo Villarreal (@ildefonsogv) September 27, 2017
Trilateral deceleration on the Third Round NAFTA Declarations 
United States trade representative Robert Lightizer announced various advances in the renegotiation, such as deals related to electronic commerce. "Additionally, we continue with significant advances in various areas such as competition, digital commerce, state-owned companies, sanitary and phytosanitary measures, customs, and telecommunications," he said.
"Nobody was upset during this latest round," Lightizer said, "and everyone is saying that they agree, and are happy with the results. I think it is only going to get better from here on."
Sources: El Economista, El Financiero, La Jornada.