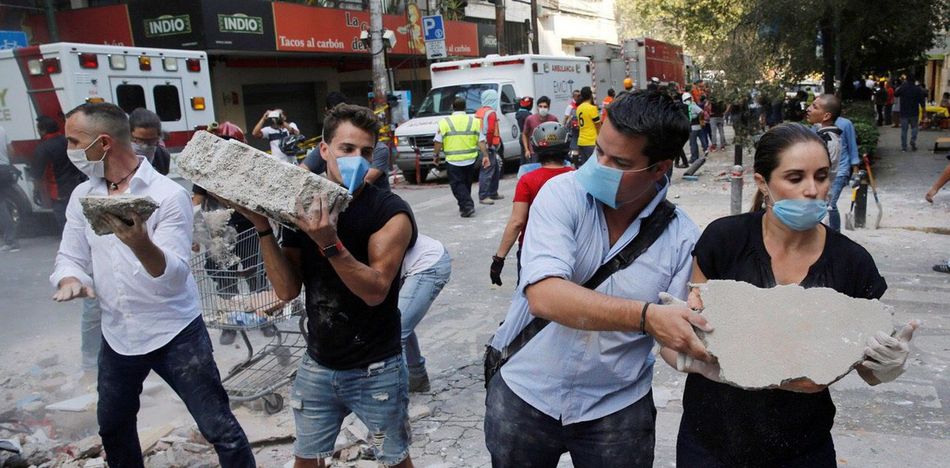 EspañolAuthorities in Mexico City issued a statement this Tuesday, September 20 urging people to volunteer with earthquake rescue operations if possible.
The statement said those who are willing to answer the call should refer to the Medical Emergency Rescue Squadron of the Public Security Secretariat located in the heart of the Mexican capital.
President Enrique Peña Nieto and his administration said people can also contact the Red Cross for assistance dialing the national emergency number 911, or the firefighter line 068. The police number is 060.
https://twitter.com/PresidenciaMX/status/910254771906457600
If you, or someone around you need help, don't hesitate to call the the emergency lines.  #FuerzaMéxico
In order to provide an efficient method for finding people, Google activated a location service that allows users to quickly obtain information about missing loved ones.
Facebook also activated an application called Safety Check, through which people in affected areas can let friends know they are safe.
Si sufriste alguna afectación o sabes de algún daño, por favor, ayúdanos a contestar este formulario.#FuerzaMéxico https://t.co/hDP2uCPu8n pic.twitter.com/p3PbMl85op

— Presidencia EPN 2012-2018 (@PresidenciaMX) September 20, 2017
If you were effected, or injured, please help us by filling out this questionnaire. #FuerzaMéxico
As for government organizations providing other types of assistance, Locatel is updating a list of people hospitalized in Mexico City who have been injured by the earthquake.
President Nieto is also reportedly working on establishing various ways of sharing the extent and details of damage caused by the 7.0-magnitude earthquake, so that the public can check to see how they were effected. Authorities at different levels of government have made use of social media to keep the population informed of these different efforts and also to publicize designated checkpoints for seeking help.
Sources: Animal Político, El Economista.