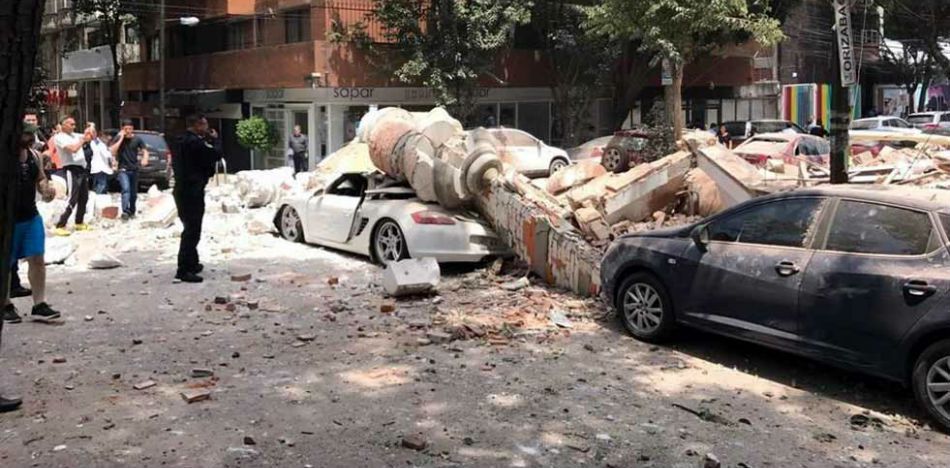 EspañolMore than 217 people in Mexico are dead following a 7.0-magnitude earthquake that rocked the town of Raboso in Puebla Tuesday, September 19.
The earthquake occurred just weeks after an 8.2-magnitude earthquake hit Mexico City on September 8, and also happened to fall on the 32nd anniversary of the devastating earthquake that killed thousands in the capital of Mexico City in 1985.
Tuesday's quake has reportedly left 86 dead in Mexico City, 71 dead in Morelos and 43 dead in the state of Puebla, while authorities continue to search through rubble for survivors. Around 70 people have been hospitalized, according to local authorities.
President Enrique Peña Nieto confirmed that over 4o buildings collapsed in Mexico City, and many more were severely damaged. Local media has reported that many people were trapped in these buildings because earthquake alerts were not activated in some places.
Drone footage shows destruction in Mexico City caused by the 7.1-magnitude earthquake; at least 42 people killed. https://t.co/DcnljWzUDf pic.twitter.com/JYQZYiLKYF

— ABC News (@ABC) September 19, 2017
Among those collapsed buildings were a kindergarten and many elementary schools. Twenty-one children have been reported missing in total, in addition to 15 people who died in a collapsed church.
Many streets in Mexico City have also collapsed, and those that remain intact overflowed with survivors heading back to their homes on foot, as public transportation systems were down. Most of the city remains without electricity, local reports said.
President Peña Nieto asked people to stay inside rather than walk along the streets so emergency vehicles could get through.
Importante evitar circular por calles y avenidas para permitir el paso a los vehículos de emergencia.

— Enrique Peña Nieto (@EPN) September 19, 2017
It is important to avoid walking on streets and highways to allow emergency vehicles to move along.