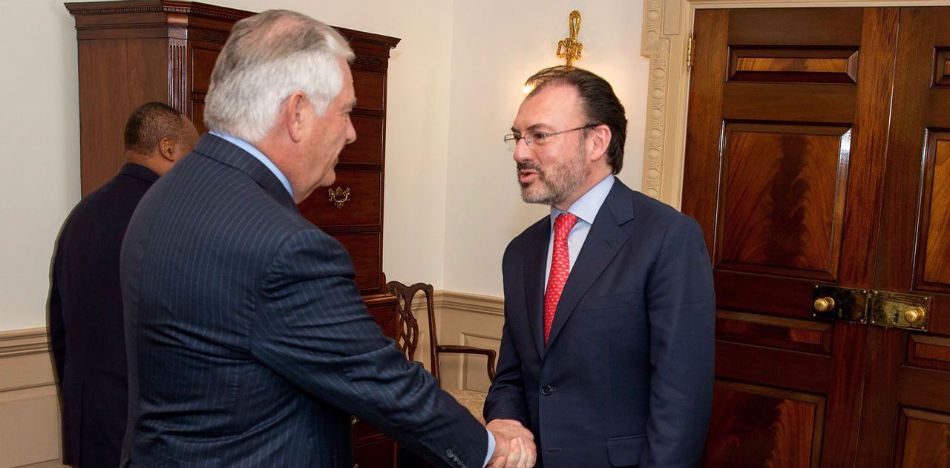 EspañolMexico's Foreign Minister Luis Videgaray begins his visit to California this Monday, September 11, during which he will meet with Mexicans struggling with the United States' immigration policy. US President Donald Trump remains determined to fund the construction of a border wall to keep more from coming into the country, and has recently announced the end of the Deferred Action for Childhood Arrivals program that allows people who entered the country at a young age to stay and work.
Videgaray was scheduled to meet with Governor Jerry Brown this Monday as well as state legislative leaders in the California capital of Sacramento. He will then head to Los Angeles where he plans to meet with business and community leaders, as well as to announce support for young immigrants no longer protected by DACA.
According to officials from the Los Angeles consulate, the chancellor will also visit Washington, D.C. The trip comes at a critical crossroads for the two countries due also to ongoing efforts to renegotiate the North American Free Trade Agreement.
Inicia Canciller @LVidegaray gira de trabajo por EU; se reunirá con Dreamers y autoridades federales y estatales. https://t.co/0Tv0yZ3Hdi pic.twitter.com/HdP35x08oV

— Relaciones Exteriores (@SRE_mx) September 11, 2017
Chancello @LVidegaray begins his visit to the USA; he will meet with Dreamers and state and federal authorities. 
Rafael Fernández de Castro, Director of the Center for US-Mexican Studies at the University of California at San Diego, said the trip aims to awaken Mexico's "natural allies" while sending a message to Washington that both countries must work together.
"It is complicated to have a strong relationship with the White House because of who is there, so now Mexico is playing the Washington game and the Washington game is very decentralized," he said. "He is coming, I would say, to friendly ground in which his message is going to be well-received."
Source: ABC News