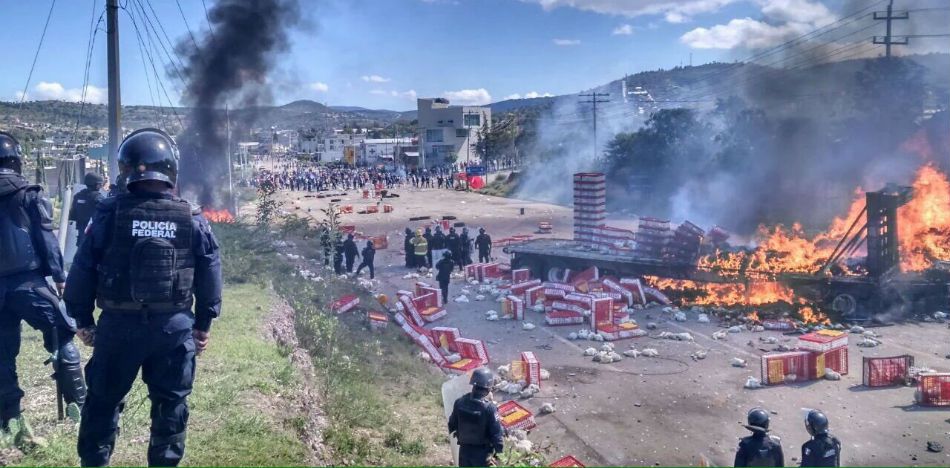 EspañolTeachers in Oaxaca, Mexico attacked a helicopter belonging to President Enrique Peña Nieto's convoy, Thursday, September 8.
Peña Nieto was on his way to the Cultural Convention Center to deliver the 2017 National Exportation Award, but had to take a helicopter due to heavy protests and blockades by The National Coordination of Education Workers, who have been fighting for democracy in education for over 35 years.
When its members realized the President was about to land, they began firing shots and managed to hit one of the helicopters. The cabin reportedly filled with smoke, causing the pilot to fly at a higher altitude to avoid further damage, but eventually was forced to make an emergency landing. Journalists on board covering Peña Nieto's activities were reportedly unharmed.
El Pdte. @EPN condena los hechos que ocurrieron afuera del Centro Cultural y de Convenciones Oaxaca que afectaron a invitados y prensa. pic.twitter.com/yYob6iKBhk

— Presidencia EPN 2012-2018 (@PresidenciaMX) September 7, 2017
The president @EPN condemns the acts that occurred outside of the Cultural Convention Center in Oaxaca that affected the invited guests and the press. 
Members of Mexico's state police covered the area and threw tear gas at the protesters, forcing them to retreat to nearby streets.
President Peña Nieto condemned the acts "because no matter the flags or the causes that are being pushed, or those that are pursued, I think that resorting to violence in this way is something that we should always condemn."
He also said that protests by the teachers in the National Coordination of Education Workers aimed to raise awareness about educational reform, "one of the structural changes we have worked toward."
Source: Animal Político.