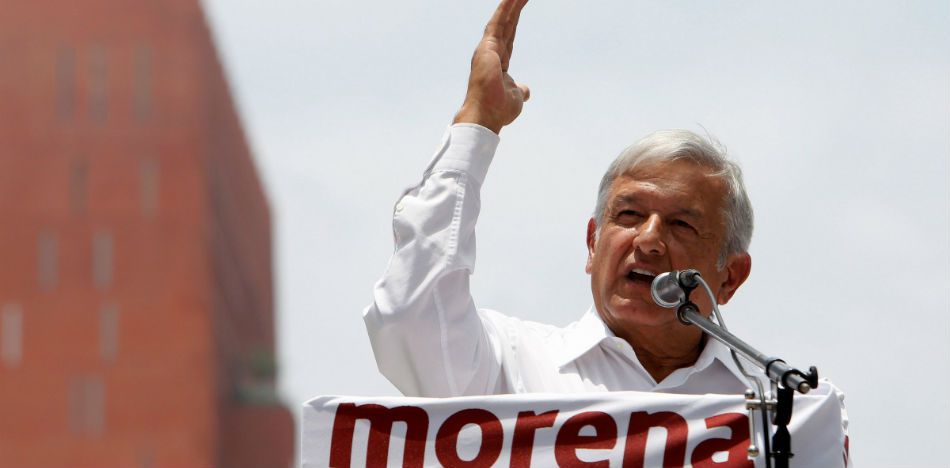 EspañolMexico's left-wing presidential candidate Andres Manuel López Obrador — better known as AMLO – leads early polls with 10 months to go until the country's election.
Currently, he's ahead of the Institutional Revolutionary Party's Miguel Angel Osorio Chong, Jose Antonio Meade and Aurelio Nuño. He's also ahead of National Action's Margarita Zavala, Ricardo Anaya and Rafael Moreno Valley and Democratic Revolution's Miguel Angel Mancera. He's also ahead of independent candidate Jaime "El Bronco" Rodríguez.
AMLO has been at the top of polls since July, and it looks as if he will stay there after a recent survey by The Economist — titled "Preferences and Scenarios for 2018" — showed that he would win right now with 25.9 percent of the vote.
Margarita Zavala, with 19.7 percent, would take second place followed by Osorio Chong, with 14.8 percent.
Current Mayor of Mexico City Miguel Ángel Mancera came in fourth in the poll with 4.8 percent. "El Bronco," meanwhile, has 4.6 percent.
Zavala dropped a percentage point in this particular survey, while Osorio Chong lost 0.4 percent, Mancera 2.2 percent and Aurelio Nuño .04 percent. Meade also lost .04 percent.
On the other hand, Anaya, looking to be the likely PAN candidate, improved by 0.7 percent while Rafael Moreno Valle improved by 0.7 percent.
An alliance between the Institutional Revolutionary Party, Democratic Action and Citizen Movement could help turn the election in 2018, as they would have 21.2 percent of the vote.
Source: El Economista