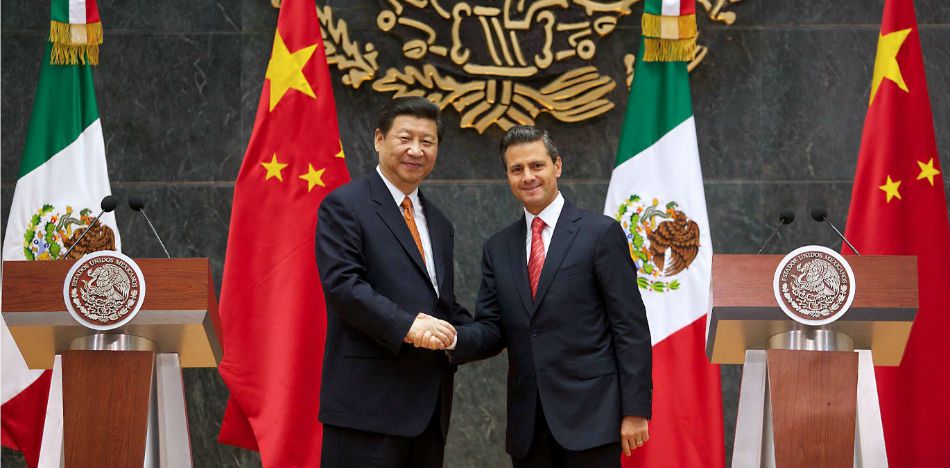 EspañolAs United States President Donald Trump continues to make threats of ending the North American Free Trade Agreement, Mexico has turned to improving its commercial relationship with China.
The two countries have long behaved as natural competitors, as both excel in low-cost labor markets and the manufacturing of goods exported to wealthy western nations.
But China has more than doubled its market share in the United States since joining the World Trade Organization in 2001 and last year accounted for 21 percent of products sold — far more than the eight percent reported in 2000, according to the US Department of Commerce.
China usually targets the Latin American market for the purchase of raw materials such as Brazil's iron ore, Chile's copper and Peru's gold, but the country is now promoting an increase in trade with Mexico as well.
President Enrique Peña Nieto will visit China next week to meet with President Xi Jinping. Meanwhile, US negotiators will be in Mexico completing the second round of NAFTA negotiations.
"This is a deliberate effort by the president to show that Mexico has alternatives to the United States," said Vice President of the Council of the Americas business group Eric Farnsworth. "They are in the midst of NAFTA negotiations and the US President says publicly that the agreement may have to be revoked."
For leaders in Mexica and Canada, it's only natural to start looking for a plan B.
Mexican officials said that during the last two decades operating under NAFTA, they did not work to improve possible trade relationships, as they assumed the existing trade agreement would continue. That could change in the coming years, as Mexico reevaluates the potential of its trade agreements with more than 40 countries.
Even so, 73 percent of exports go to the United States, according to the International Monetary Fund.
"We have to expand the opportunities here," said Director of Bancomext Francisco González. "Faced with changes in the US government, many opportunities open due to the risk" of continuing with a primary business partner.
Source: El Financiero