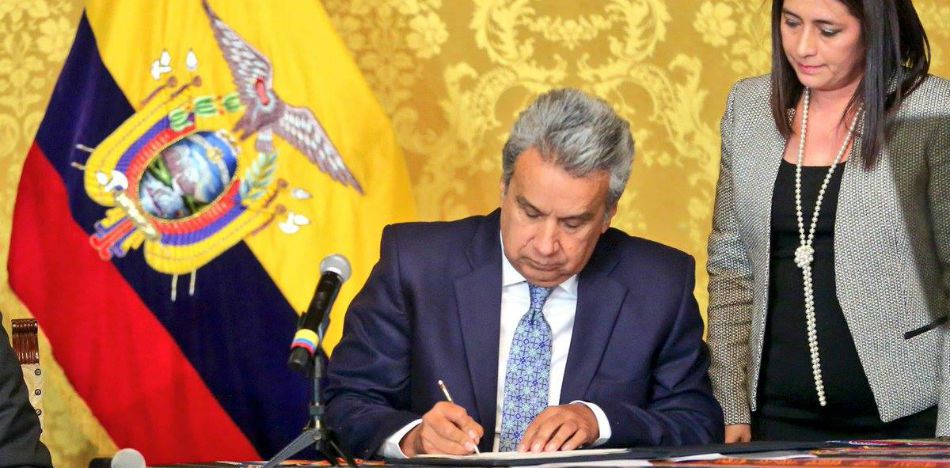 The Ecuadorian government informed Peru of its decision to halt the construction of a border wall that had strained diplomatic relations between the two countries.
Ecuadorian Foreign Minister Maria Fernanda Espinosa made the announcement on the decision to stop the controversial construction project during her visit to Peru.
"Ecuador's Foreign Ministry confirms the suspension of the construction of the border wall," Espinosa said in a statement. The Peruvian government instructed the ambassador in Quito earlier this week to express his indignation at Ecuador's decision at that time to proceed with the construction of the wall despite objections from Lima.
The government of Ecuador had planned to build a four-meter-high barrier along its western border, located in its southern city of Huaquillas, with the objective of separating it from the Peruvian city of Aguas Verdes, located just across a river.
The issue of border walls has become particularly sensitive in Latin America in recent months after US President Donald Trump promised to build a wall across the south of his country to prevent undocumented immigrants coming from Mexico and Central America to cross into US territory.
Peru and Ecuador have endured a rocky relationship in the past. culminating in a brief border war in 1941. Tensions long simmered over territorial issues, and military conflict erupted again in 1995's Cenepa War, which saw a negotiated settlement and an end to military hostilities between the two Andean nations.
Left-wing president Lenin Moreno's geopolitical move appears motivated by an attempt to cultivate a stronger relationship with the center-right government of Peru's Pedro Pablo Kuczynski. While Peru has traditionally aligned itself with Alliance of the Pacific partners such as Mexico, Colombia, and Chile, Ecuador has generally developed relationships with other left-wing regimes such as Venezuela, Cuba, and Bolivia.
However, in the past several years, the "Pink Tide" of left-wing governance promoted by Venezuelan Hugo Chavez and his successor Nicolas Maduro, appears to be on the wane.
Source: The Indian Express