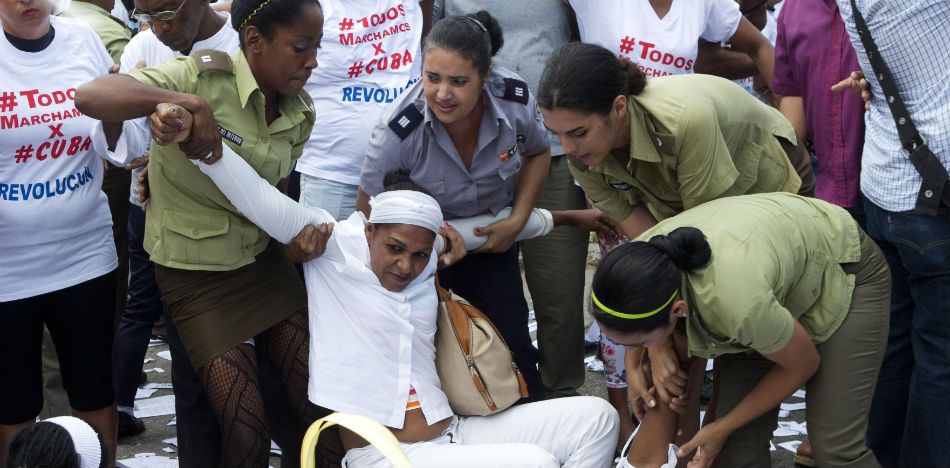 EspañolThis weekend marked the 106th wave of violent suppression of the Ladies in White, a Cuban opposition group known for protesting the island's dictatorship with a march every Sunday.
More than 50 women were detained in order to prevent a march that had been growing in popularity with the help of the hashtag #TodosMarchamos.
Political activists Ángel Moya took to Twitter this Monday, July 3 to announce that his wife remained in police custody along with other group members.
The region with the most reported arrests was Matanzas, with 18, followed by Havana, with 16. Other arrests occurred in the Ciego de Ávila and Bayamo regions, where at least one member of the Ladies was detained. Two were able to avoid arrest in Guantánamo by running away.
All of the arrests were classified as "forced disappearances," according to Moya, since officials do not announce the detainees' location or allow them to communicate with family members.
Additionally, members of the Cuban Patriots Union (UNPACU) were also detained over the weekend.
The island's Communist Party allegedly assisted in preventing the march and other demonstrations from happening. Moya claimed the group colluded against the Ladies in White with the protection of national security and federal police forces.
The Ladies in White march each Sunday in protest against the regime, which has prevented them from going to church, held political prisoners and committed other human rights violations on the island.
Yohanny Beltrán Gamboa and Rafael Fuentes Cremé remain under arrest since Saturday at 10:00 a.m. (local time) according to sources close to those involved. They were detained on kilometer 14 of the ¨Autopista Nacional¨ highway, while on their way to the city of  Santiago,  Cuba where they were intercepted and detained under charges of ¨dissemination of fake news against international peace¨.
Source: Cubanet.