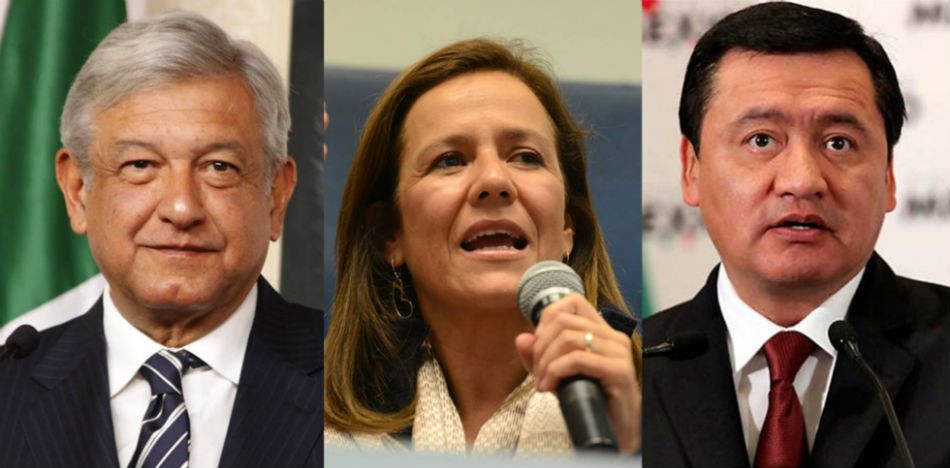 In the most recent opinion poll, Obrador has a two point lead over Margarita Zavala, and a six point lead over Osorio-Chong. (El Txoro)
Andrés Manuel López Obrador, presidential candidate and the leader of the leftist party Movimiento Regeneración Nacional (Morena) has taken a slight lead over his closest rival in the Mexican presidential elections, the conservative Margarita Zavala from the right-wing Partido Acción Nacional (PAN).
At the moment, Obrador leads with 30%, while Zavala has 28%. Miguel Ángel Osorio Chong, who had been considered to be a strong candidate from the ruling Partido Revolucionario Institucional (PRI), is in third place with 24%, according to the most recent poll conducted by El Financiero.
Within the PRI other candidates fare worse than the potential candidacy of Osorio Chong, with Luis Videgaray polling at 18%, while current Finance Minister José Antonio Meade has 17% of preferred candidate votes, the same as Aurelio Nuño, and José Narro has the support of 16%.
Zavala, on the other hand, has support oscillating between 28% and 31%, and Obrador is consistently polling between 30% and 33%. Meanwhile, Miguel Ángel Mancera, who was considered the anointed choice for the Partido de la Revolución Democrática (PRD) party has a level of support fluctuating between 10% and 12%. And Ricardo Anaya, who was also considered a strong potential candidate from PAN, has the support of around 22%, six below Margarita Zavala.
With respect to independent candidates, Armando Ríos Piter, has 2%.
¨A stage set with Ricardo Anaya as a candidate from a potential PAN-PRD alliance, and Margarita Zayala as an independent candidate indicates that neither one of them has enough support to win with these formulas, leaving  López Obrador  in first place¨, according to El Financiero.
Mexico has seen several tightly contested presidential contests in recent election cycles.
Source: El Financiero