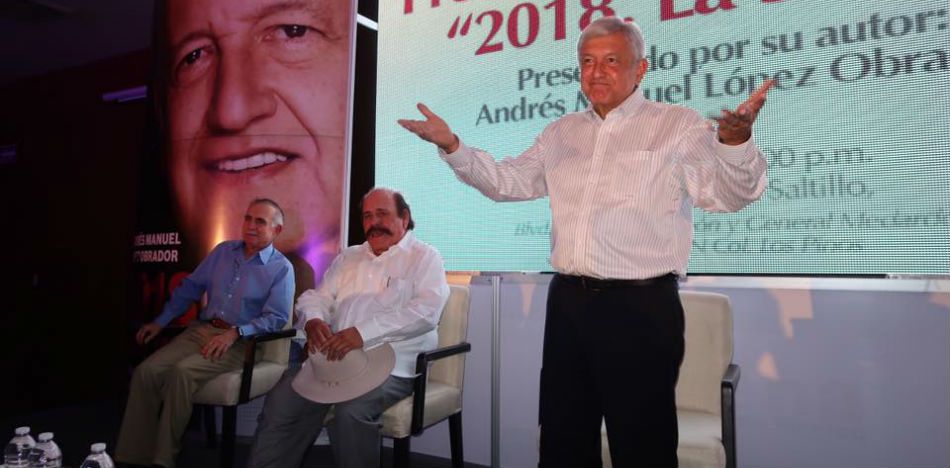 EspañolMexico's leading left-wing presidential candidate Andrés Manuel López Obrador (AMLO) is trying to play down controversy this week after a recording was released on Youtube and other social media sites in which his son Andrés Manuel López Beltrán can be heard discussing questionable campaign activities with Yeidckol Polevnsky, the General Secretary of their party, Movimiento Regeneración Nacional, also known as Morena.
The conversation appears to involve illegal campaign funding. An unnamed company is discussed as well as costs and the hiring of an unnamed service.
"I have relied on a firm that we know and that we trust," AMLO's son, who is a Morena coordinator, can be heard telling Polevnsky. "So Morena is going to do the transaction with that company."
Four states will open their voting booths this Sunday, June 4 for gubernatorial elections, leading many to believe that the release of the recording was a strategy carried out by AMLO's opposition.
The state of Mexico is expected to have the biggest impact on the election results this time around. Morena candidate Delfina Gómez is at a virtual tie with incumbent Alfredo del Mazo, of the Institutional Revolutionary Party.
Yeidckol Polevnsky defended herself from accusations, saying that the country is currently in a dirty electoral war. She told Mexican newspaper El Universal that the audio was from 2016 and had been edited to suggest illegal funding.
According to Polevnsky, the conversation was about how to hire a music group without breaking campaign finance laws. AMLO tweeted that he would not comment on the scandal due to the electoral ban that will last until Monday.
Reactions from politicians opposing Morena, however, did not hesitate. President of PRI Enrique Ochoa Reza tweeted:  "AMLO, you always cite the electoral ban when your nearest circle is corrupt. Are you innocent or cynical?"
No puedo, por la veda electoral, contestarle a EPN, Reforma, Televisa, OHL, Yunes, etc. No se pasen. Se las apunto y el lunes nos vemos.

— Andrés Manuel (@lopezobrador_) June 1, 2017
Tweet: I can't answer EPN, Reforma, Televisa, OHL, Yunes, etc., due to the electoral ban. Don't get excited.  I'll take a note and we'll meet on Monday.
Sources: Sin Embargo, Aristegui Noticias