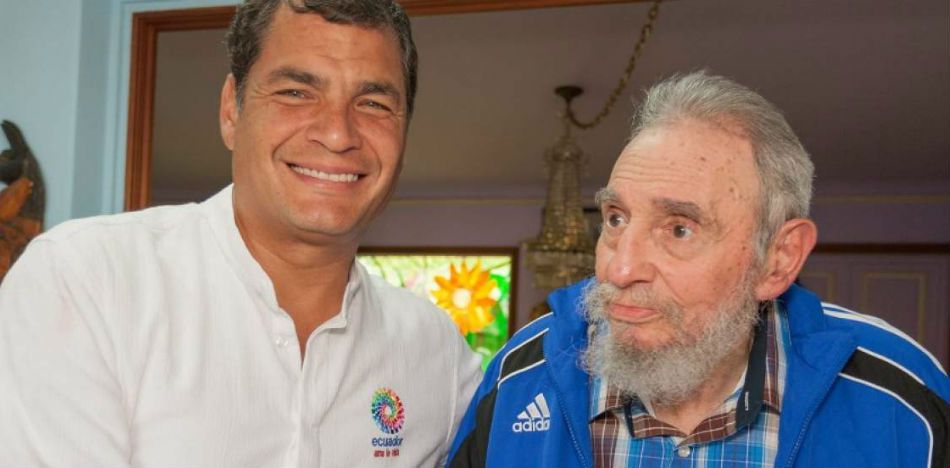 The outgoing President of Ecuador, Rafael Correa, arrived in Cuba on Wednesday night as part of an official visit in order to receive the Order of José Martí, the highest distinction awarded by the Castro regime, and will also receive a doctorate "honoris causa" from the University of Havana.
The Ecuadorian president will take advantage of this as one of his last public acts as ruler of his country, to pay tribute to the late dictator Fidel Castro by visiting his tomb.
The tomb of Castro is a rock which contains his ashes, and is located in the cemetery of Santa Ifigenia.
After this visit, Rafael Correa will visit the Moncada Barracks, which was attacked in 1953 by a group of young militants led by Fidel Castro himself and which was the act that marked the beginning of the insurrection that brought him to power in Cuba where he remained for more than half a century.
Following his visit to Santiago de Cuba, the second most important city in the Caribbean country, Correa will move to Havana where he will meet with the current leader of the regime, Fidel's brother Raúl Castro, where they will celebrate the festivities.
This will be one of the last public events which Rafael Correa attends as head of state, since next May 24 he will transfer power to Lenin Moreno, who won in the nation's disputed second round presidential election.
Moreno, who is Correa's handpicked successor, is the former vice president. He narrowly defeated former Guayas governor Guillermo Lasso in an election that has been marred by accusations of fraud.
Correa, who dominated Ecuadorian political life for more than a decade, will be heading to his wife's native Belgium to pursue a career in academia. An economist by training, and former Finance minister, he holds a PhD from the University of Illinois.
Source: La Republica